Read this in: German
Diversity is a term that is currently on everyone's lips. Similar to self-love and bodypositivity, long-felted PR people of one brand or another have taken up the cause. But is there really so much diversity in it, as it says? At the first Diversity Fashion Days by Tanja Marfo, I'm sure for sure, because she's been pioneering the topic in Germany with her blog and her agency for years. With a team of around 50 people, the Diversity Fashion Das became the next logical step from the Plus Size Fashion Days. And in addition to All Size or Plussize labels, this year too diversity has been seen on the catwalk in a manic fold way.
Fahionshow in a different way
No matter if big, small, fat, thin – the fashion show alone is something special, because you usually only on invitation or against accreditation to Fashion Week may on the local fashion shows. Here you only need one ticket and can choose if you want to go to the front row, if you want to visit both days or just want to be present for one of the days. This is something special and there is something for everyone: meeting friends, parties, shopping, networking, or, in my case, taking the opportunity to do many interviews with various designers about their collections and visions. The fact that you can watch such a show costs a lot of strength and e-mails and so it is just nice that everyone can be here and show themselves how he or she wants. Maybe diversity is already celebrated at Fashion Weeks like in New York. But in Germany it is quite different. Lots of brands just have the typical Model size on the catwalk. And it is already kind of diversity if any model wears a 42.
A colorful bunch of fashion labels
Every year, of course, I also research in advance and look at all the labels that will be represented on the evening of the fashion show. Nevertheless, every year it is a surprise on the catwalk, a color storm that falls on one and the one or other time astonished. Both myself and the Diversity Fashion Days team have put together this day in a video. I think you can find it on Instagram, luckily I can embed it here on Kurvenrausch TV. Let us now turn to the labels that were represented at this year's Fashion Days.
Jeanne Paulin Atelier
A big surprise came already at the beginning of the show – Jeanne Paulin from Berlin makes magical, tailor-made dresses. And the prices surprised me very positively. As this year's bride with a tailor-made outfit, I can therefore recommend these magical dresses of the designer as an occasion fashion very much. Unfortunately, I only noticed when I saw the pictures that I could have bought sketches by the designer – fashion sketches are really a passion of mine. The young designer with Russian roots, who only came to Berlin 3 years ago, was also honored with the Young Talent Award on this evening.
Adam Brody Zürich
One of my favorite labels was the simple elegance and the precise cuts of the label Adam Brody from Zurich. The All Sites label convinced with a mix of glamorous adenoids and everyday fashion with excellent cuts. Extraordinary cuts and finely struck garments can be found here in a fantastic quality.
Happy Size
The Happy Size online shop has been working closely with Kurvenrausch for years and was once again one of the main sponsors this year. The mail order business, which has existed for over 20 years, has had other actions in the past for more diversity and visibility in society, such as the Bodylove actions of photographer and model Silvana Denker. Happy Size once again showed a large selection of colorful fashion for the office and everyday life. Because as beautiful as evening wear and elegant fashion is – sometimes it has to be simple and casual.
Engbers Männermode
Even for the men there was a fashion show with men's fashion in large sizes even this year distributed in 2 parts throughout the show. From casual to casual fashion, everything was there. The company has been specializing in men's clothing for 70 years.
To Act
Of course, last year's winner of the designer award Anna-Carlota Theis could not be missing either. At the Diversity Fashion Days 2019, this designer presented her graduation campaign, which was already featured on the campaign photos of the Diversity Fashion Days. The creations in soft pastel colors combined with many fringes I had already seen on Instagram in the development phase. And no less impressive was the performance of the models with this fashion in motion, which showed in every facet in a different facet.
Auf Augenhöhe Design
This year was the first year that the label Auf Augenhöhe from Berlin joined the fashion show – this label creates ready-to-wearable fashion for short people. Especially for my husband, a prospective special needs teacher, who arrived fresh from work in Berlin and who had researched nothing, but nothing in advance to information about the Diversity Fashion Days, was thrilled by the label. Diversity is not just about fashion for everyone, but also about well-fitting fashion for the different niches. For a design for one does not necessarily have to be a good design for the other. The label is very strong in the exchange with short people and has a selection of different lengths in its clothing.
Inan Isik
The Copenhagen-based label focuses on silk fashion in sizes 44 to 54. Designer Inan Isik grew up in eastern Turkey in a large Kurdish family. For sisters and a brother, of course, there were different body types, and their many years of experience in the textile industry, their label works with really excellent quality. The cuts are timeless and also the clothes are so high quality that they can be worn for years or maybe even decades. Iran Isik says even about her fashion, that she wants to create future vintage fashion. And why should one have 20 parts in the closet, which one never wears, instead of a few pieces that fall softly like water over the skin and which one then likes to wear several times a week.
Favie
Favie Fashion from Hamburg is a relatively young label with high-quality pieces and an online shop, which also sells numerous other Plussize labels such as Love Lage or Elvi. Many of the everyday to festive pieces are just a kind of fashion in excellent quality, which is often in vain in the fast fashion brands. Favie shows good opportunities to find his favorite games – whether sporty, casual or holo.
Mother and daughter on the catwalk – Nina Wortmann and Scarlett Wortmann for Gatsby Lady
Gatsby Lady
The Roaring Twenties and glamorous festive fashion from London – that's what Gastby Lady stands for. With a lot of good humor and dancing on the catwalk this label caused a sensation. The short, sometimes long dresses in the style of the 20s often consist of an underdress and hand-embroidered overdress, which is always good for celebrations as well as for special occasions like the opera.
Süperb
Made in Hamburg – from design and cut to sewing. That's what Süperb stands for. This year's autumn and winter collection takes us into mystical worlds and shows that body-conscious cuts that do not hide and conceal the shapes of a woman and comfortable fashion for everyday life is not mutually exclusive.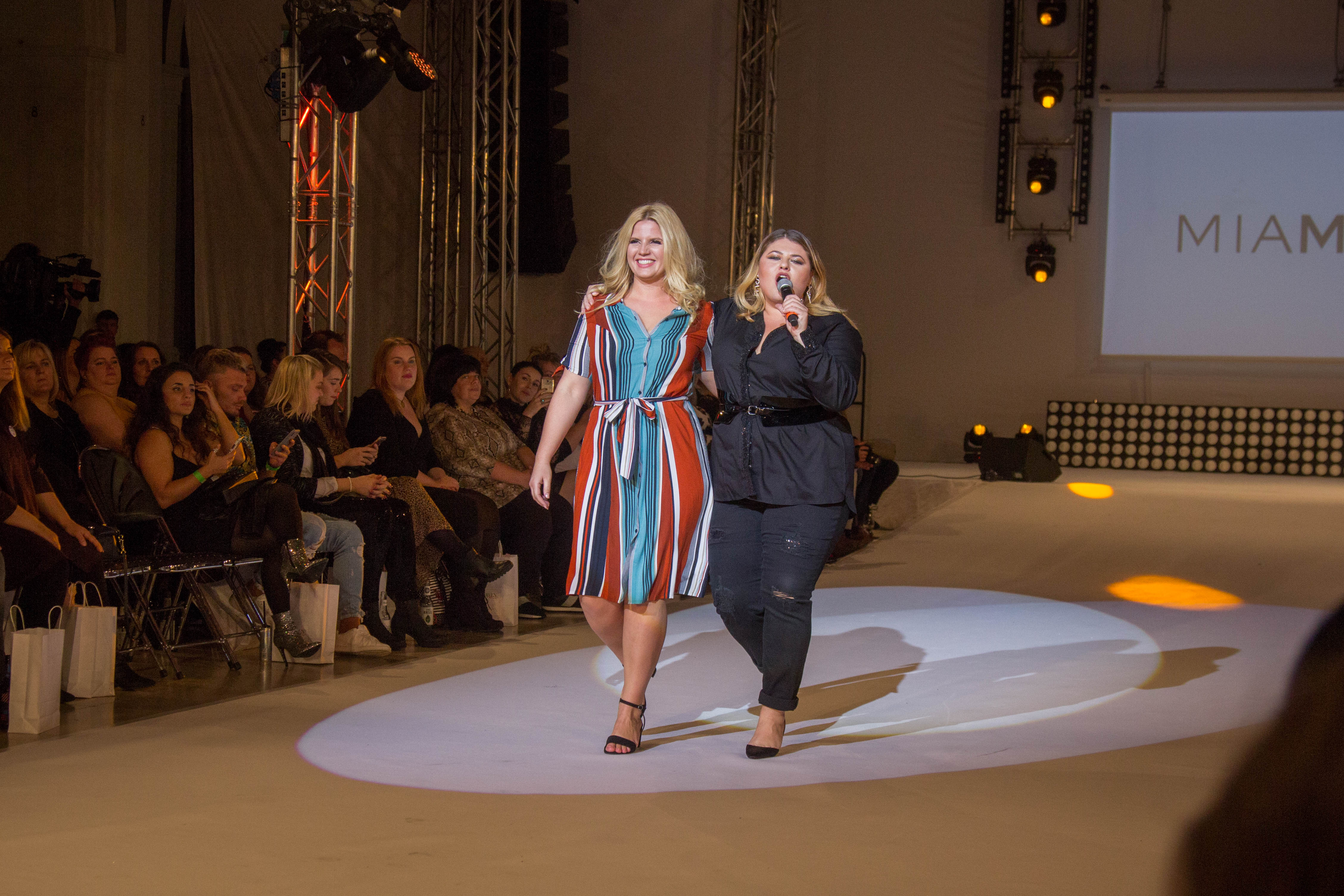 Mia Moda
Musically accompanied by the Berlin singer Alina Mia Mode presented her fashion. From everyday clothing to glamorous evening wear, this mail-order business has a wide selection.
DivaBigg
For this American label from Florida even Tanja Marfo personally ran. Of course, I had looked at the labels in advance, but live, this fun-loving brand is simply something completely different. You will find both simple and very extravagant fashion in great quality. Unfortunately, it is also known as Plussize too often that you can find fancy fashion, but the quality does not meet your own requirements. Even fashion for curvy women may be comfortable. DivaBigg shows his fashion in self-confident shapes and colors, close to the body.
On Saturday I put on a skirt saying "My Fat is my beauty" and the model that accompanied me remarked that I should take off my pantyhose. I think in terms of self-confidence this label is really next label. That, you see, that's what makes me – and I like that, I celebrate it hard! Especially these bold cuts for our German eye makes this label so interesting for me.
Luna Largo
Until just a few years ago, only a few people were familiar with the disease of eyelid edema. There is now more education and also this label that comes from the medical field. The family business from Erlangen specializes in trousers that women with eyelid edema can wear. Also new this year is the brand's first skirt, which is also cut specifically for the figure of lipoedema sufferers, but also works well with curries in general.
Mable
Eyecatcher Pieces dominate the collections of this label from Munich. On this evening two collections of the designer Katja Heidrich were seen: Firstly the Signal collection, which was already arrived with a coat of red lacquer last year. On the other hand, she also presented the Signal Urban Capsule Colle, which includes 5 different pieces for prices from 69 euros.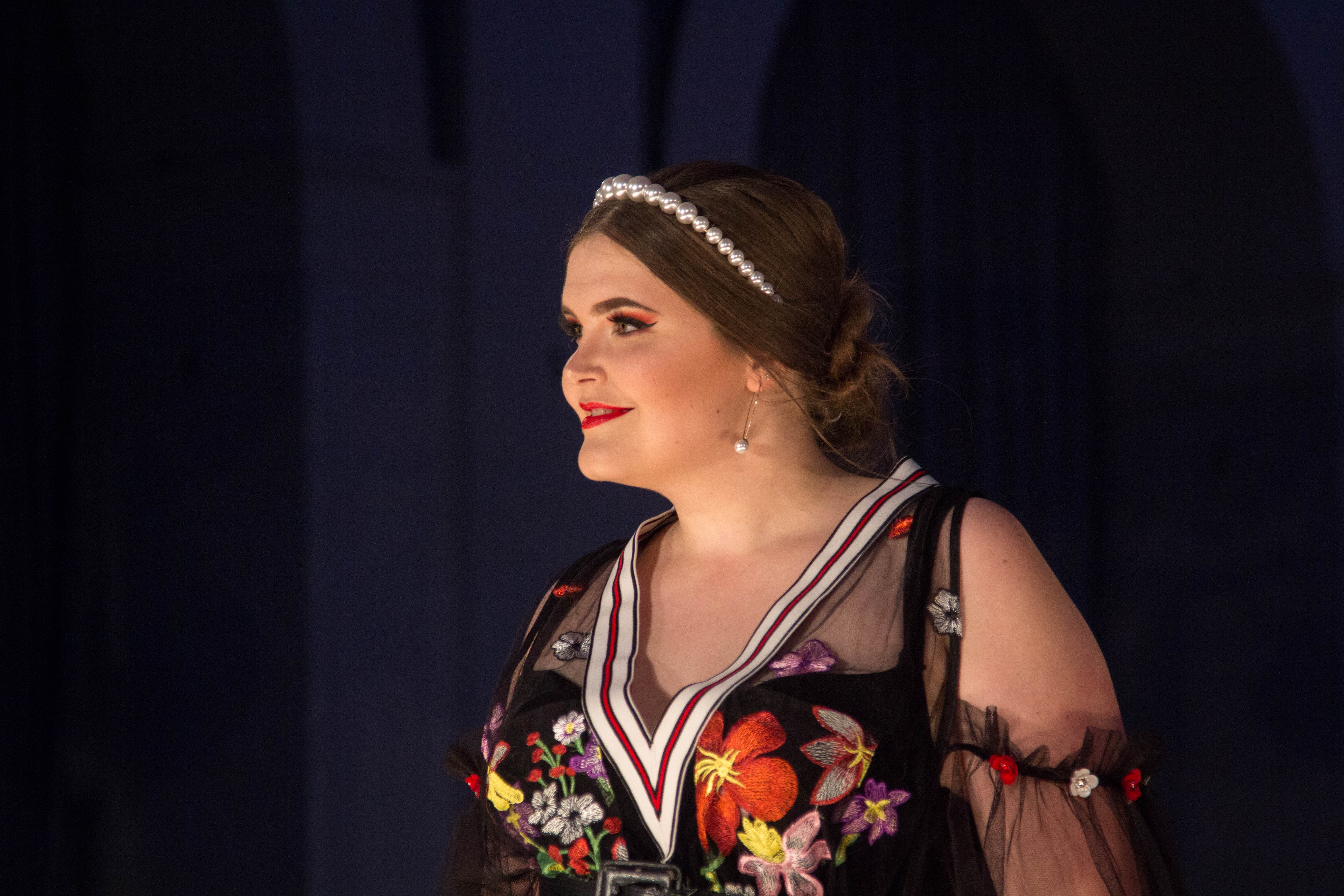 Vollkommen Braut
The Curvy Bridal Boutique made the glamorous graduation with bridal gowns. Also, I have already shot for this label as a model and to be advised at the beginning of the year as a budding bride, to determine that these dresses are all a dream – whether soft tulle or princess dress.
Saturday – the shopping day
Partly well on Friday was celebrated quite a long time, because on Saturday at 11 o'clock was the crowd on the stands of the individual labels still manageable. In addition to shopping at trade fair prices, you could of course also try on clothes locally or participate in activities such as yoga or dance sessions. There were also panel talks on various topics. This day is the quieter experience. Therefore, my mother was to take a look this year even on Saturday. Next year we will both come for the whole weekend.