Read this in: German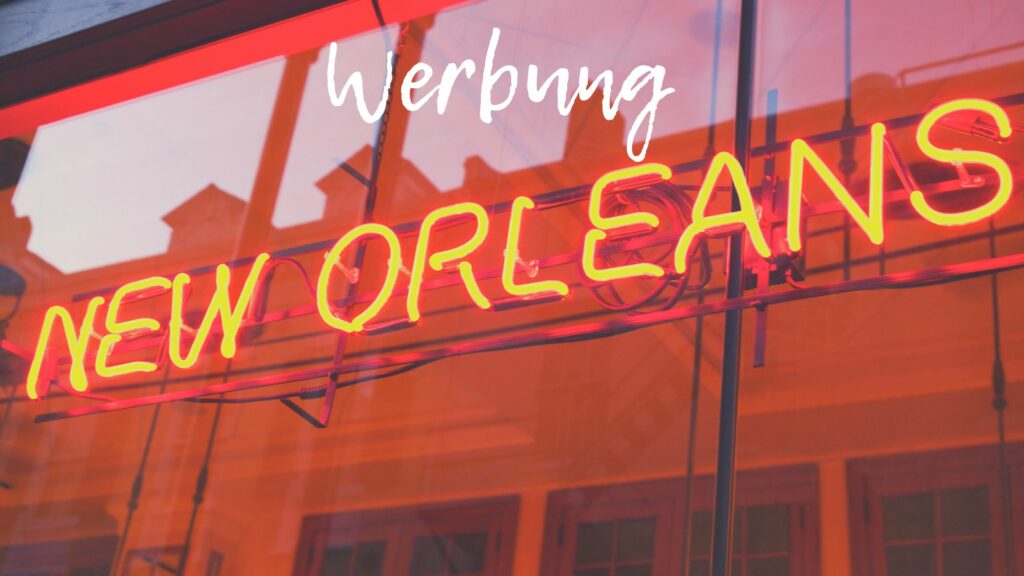 Come on a delicious journey through the restaurants and culinary center of the Big Easy.
In New Orleans, also known as NOLA or simply the Big Easy, there is a true treasure trove of vibrant music, diverse culture, and above all, unforgettable food.
Today, we want to focus on the vibrant and diverse food scene of New Orleans because it captivates everyone. It certainly captivated me, if I may say so.
Let's dive into the vibrant heart of New Orleans and discover a special treasure: the invaluable influence of German and Sicilian immigrants on the delicious food scene of New Orleans. You will see that it's not just the Creoles and Cajuns who pamper the taste buds here.
Imagine strolling through the streets of New Orleans, inhaling the aromas wafting from the small restaurants and street stalls. Now you're ready to discover the hidden culinary gems left behind by the German and Sicilian immigrants who flocked here in the 19th and 20th centuries.
New Orleans History
First, a brief digression: New Orleans is a city full of history, and that is evident in its cuisine as well. The combined culinary scene, influenced by French, African, Spanish, and Creole elements, produces an unparalleled diversity of flavors.
The Germans, known for their heartiness and baking skills, brought more than just a piece of their homeland. When you think of sausage and sauerkraut, think of New Orleans! The German immigrants were masters of sausage-making and perfected the art by integrating local spices and techniques. You can taste the touch of New Orleans in every slice!
But wait, that's not all. The Italian immigrants, especially from the picturesque region of Sicily, also made their mark. They brought not only their trading skills but also a culinary tradition rich in flavors and love. The Muffuletta sandwich, oh, the Muffuletta! Imagine a hearty sandwich filled with an assortment of Italian cold cuts and an irresistible olive spread. It's a Sicilian invention that has found a place in the hearts of New Orleans locals.
And if you think that's enough magic, let me remind you of a very special day: St. Joseph's Day. Sicilians in New Orleans celebrate this day with magnificent altars adorned with an abundance of food. It is a tribute to their roots and a celebration that warms the heart.
What is truly impressive is how the city of New Orleans has embraced all these influences. By blending traditions and flavors from around the world, a unique culinary identity emerged, which is now considered one of the treasures of New Orleans.
Of course, there is much more to tell about the history of New Orleans, but I have focused here on my roots (Italy) and the country where I grew up (Germany), at least historically.

Dishes
The geographical location of New Orleans, situated on the Mississippi River and near the Gulf of Mexico, means you can indulge in an abundance of fresh seafood. Crabs, shrimp, oysters, and fish are not simply served here – they are celebrated!
But what is truly remarkable is the community behind the food. The people of New Orleans take pride in their culinary identity. They understand that food is not just sustenance, but also culture, history, and soul, which strongly reflects Italian culture and differs from many other parts of America.
Breakfast at Brennan's
Brennan's in New Orleans is much more than just a breakfast spot; it is an institution that has been at the heart of the city's breakfast culture and hospitality since the 1940s. Located on Royal Street in the historic French Quarter, Brennan's has become a legend that delights both locals and visitors with its unique breakfast offerings. Brennan's was founded by Owen Brennan, an Irish-American restaurateur, and quickly became a family-owned business. The restaurant was originally housed in another building before moving to its current magnificent building, a former 19th-century bank. The premises exude history, with high ceilings, crystal chandeliers, and a charming courtyard that sets a sophisticated ambiance.
Brennan's has won many awards over the years and remains a symbol of the tradition and innovation that characterizes New Orleans cuisine. If you are looking for a place that nourishes not only your palate but also your soul, Brennan's is the ultimate destination to immerse yourself in the rich breakfast culture and history of this fascinating city.
The menu offers an exquisite selection of Creole delicacies, from Eggs Sardou with artichokes and spinach to Banana Foster – an iconic dessert that was actually invented at Brennan's, combining caramelized bananas with vanilla ice cream and flambéed rum.

My Dish – Eggs Hussarde
Eggs Hussarde is a delight that is considered one of Brennan's restaurant's signature creations in New Orleans. This breakfast dish is a variation of the classic Eggs Benedict and embodies the richness and creativity of Creole cuisine.
The homemade English muffins serve as the base for this dish. The muffins were airier and more flavorful than those you can buy at the supermarket. Perfect for the bottom layer of eggs. On these muffins, you'll find the "Coffee Cured Bacon." This bacon is marinated in a special blend that includes ground coffee, then perfectly cooked, giving it a smoky flavor with a subtle coffee note. As a coffee lover, I found it fantastic.
The next element is poached eggs, prepared with great care so that the yolk remains runny. However, being a philistine, I had the eggs prepared with the yolk slightly less runny. I prefer hard-boiled eggs.
But what makes Eggs Hussarde truly exceptional is the Marchand de Vin sauce. This sauce is a red wine reduction enriched with shallots, butter, and spices. Combined with the classic hollandaise sauce, which is also drizzled over the dish, it creates a culinary symphony of richness, acidity, and depth.
This dish was an explosion of flavors in the mouth. Not your typical breakfast choice.

Sweet Cookie Butter Lava Cake (with pretzel ice cream and malted milk crunch and butter beer sauce)
Cookie Butter Lava Cake is a delicious dessert that combines the flavors of cookie butter, chocolate, and a soft, molten core.
Pretzel Ice Cream is an interesting combination of salty pretzels and creamy ice cream. It blends sweet and savory flavors into a unique experience. The pretzel pieces provide a crunchy bite and a textured note.
Malted Milk Crunch is a popular ingredient in desserts, made from toasted malt and milk powder. It adds a pleasant crunchiness and a malty aroma that complements the other ingredients well.
Butter Beer Sauce is a fantastic addition to this dessert. Inspired by the fictional butterbeer from the Harry Potter series, this sauce is rich, buttery, and often infused with caramelized notes. It adds an extra touch of sweetness and flavor to the lava cake.
This dessert is truly a delicious combination of warm, molten cookie butter cake, creamy pretzel ice cream, crispy malted milk crunch, and sweet butter beer sauce. Heavenly.

Tableau
Tableau in New Orleans is a remarkable restaurant in the French Quarter known for its modern interpretation of classic Creole cuisine. But in addition to the culinary delights, Tableau also offers a touch of mystique. It is said that the spirit of a man named George roams the "George's Room" of the restaurant. This adds an extra dimension to the place, combining the rich history and culture of New Orleans with a mysterious supernatural touch. Tableau Restaurant in New Orleans belongs to Dickie Brennan & Company, a well-known restaurant group in New Orleans owned by the Brennan family, famous for their contributions to the city's culinary scene. Tableau opened in 2013.

I had the following dish: Gulf Fish Almandine
The centerpiece of the dish is the fish. Gulf Fish Almandine typically uses a white-fleshed fish native to the Gulf of Mexico, such as red snapper, redfish, or grouper. The fish is filleted and prepared with a crispy almond crust. The almond crust is often made by coating the fish fillets in chopped almonds and a mixture of flour, spices, and butter. This not only adds texture but also imparts a delightful nutty flavor to the fish.
But what truly elevates this dish is the addition of crabmeat. Gulf crabs are known for their sweetness and tenderness. The crabmeat is often lightly sautéed with butter, lemon juice, and spices, then generously draped over the fish.
The final touch often comes in the form of a sauce that complements the dish. A classic choice is a lemon butter sauce that combines the acidity of lemons with the richness of butter.
Gulf Fish Almondine with crabmeat is served with a side of seasonal vegetables and a piece of crusty bread.
The combination of fish, vegetables, bread, roasted almonds, and the truly delicious crabmeat was a true delight.
This dish is a perfect example of how simple, fresh ingredients can work together in perfect harmony to create a culinary experience that is both refined and incredibly satisfying. It pays homage to the Gulf's seafood and is a must-try for anyone who wants to experience the flavors of the coast in their purest form.
I was fortunate enough to sit outside on the terrace and listen to the live music on the streets, which added a whole different ambiance to the dining experience.


Palace Café
The Palace Café in New Orleans, located on the famous Canal Street, is a prime example of the fusion of tradition and innovation in Creole cuisine. As part of the renowned Dickie Brennan & Company, this elegant restaurant offers a variety of culinary delights, from classic gumbo dishes to creative modern creations. The historic building housing the Palace Café adds an additional layer of charm and atmosphere to the culinary experience, making it a must-visit destination for foodies and lovers of New Orleans culture.


My dishes: Appetizer – Crabmeat Cheesecake
The Crabmeat Cheesecake with pecan crust, mushroom sauté, lemon butter sauce, and Gulf crab claws is an exceptional dish that takes culinary creativity to a new level. This dish is not your typical sweet cheesecake; it is a savory version that is enhanced with fresh crabmeat.
The base of this exquisite dish is the pecan crust, made from ground pecans and butter. This crust imparts a nutty flavor and a wonderfully crispy texture to the cheesecake.
The cheesecake itself consists of a creamy mixture of cream cheese, eggs, and spices, generously enhanced with tender crabmeat. The crabmeat adds a touch of sweetness and a delicate texture that perfectly complements the creaminess of the cheese.
But what really completes this dish are the accompaniments and the sauce. The mushroom sauté adds an earthy depth to the dish. Often using cremini or wild mushrooms, sautéed in butter and spices to release their full flavors.
To top it all off, Gulf crab claws – crab claws from the Gulf of Mexico – are added as a garnish. These crab claws are known for their sweet and tender meat and are a luxurious addition that perfectly complements the dish.
Overall, the Crabmeat Cheesecake is a culinary masterpiece that combines taste, texture, and elegance in one dish, offering a memorable experience for the palate.

Main course – Shrimp Tchefuncte
Shrimp Tchefuncte is an extremely flavorful dish that has its roots in the culinary tradition of Louisiana. It is a perfect blend of fresh shrimp, aromatic Louisiana popcorn rice, brown beech mushrooms, and an irresistible Creole meunière sauce.
The shrimp used in Shrimp Tchefuncte are sourced from the waters of the Gulf Coast. They are known for their sweet taste and juicy texture, and they form the heart of this dish.
Louisiana popcorn rice is a local rice variety prized for its nutty flavor and fluffy texture. It is somewhat similar to our risotto rice.
Brown beech mushrooms, also known as brown beech mushrooms, add an earthy note. These mushrooms have a tender, meaty texture and a mild flavor that pairs wonderfully with the sweetness of the shrimp.
Creole Meunière Sauce: This sauce is a variation of the classic French meunière sauce and is prepared with butter, lemon, Worcestershire sauce, and Creole spices. The sauce is both rich and savory, with a slight acidity that balances the dish perfectly.
I found this combination to be exciting and it tasted absolutely amazing.
I couldn't manage to have dessert. I was so happy to be able to enjoy these dishes, and they were absolutely perfect.

In conclusion:
Each of these outstanding culinary destinations offers an unparalleled experience, whether through exquisitely prepared dishes, a distinctive atmosphere, or a captivating connection to the city's rich culinary history. Personally, it was an explosion of flavors on my tongue. New Orleans is definitely a destination for people who appreciate good cuisine. For more, you can also join me on my Food Tour through the French Quarter.