Read this in: German
Barcelona – a city that really impressed me. All the small, cozy or stylish cafes. The beautiful harbor, the culture and the restaurants.
But if you travel to a city like Barcelona you will definitely ask yourself, where will I stay. Which Hotel I should book.  I can help you. 😀
Barcelò Raval
The Hotel Barcelò Raval  is located right in the center of Barcelona. The building is even from the outside quite impressive. A round building, which is covered from the outside with a kind of lamellae and purple light from inside.
Location
As previously mentioned, the hotel is centrally located. You can park your car either in the garage next door or a few minutes away. The garage next door is quite expensive and I would definitely recommend the other garage. You get from a hotel an additional coupon. So ask them. Otherwise, it is a bit difficult with the car to drive through the city and to find parking.
It is a few minutes (maybe 5) away from the Ramblas. By feet you can reach almost everything from the hotel. For those who prefer underground, this is also just around the corner.
In the area there are dozens of restaurants and bars. Really,  all available without having to walk kilometers.
Rooms
So the rooms are absolutely wonderful. The style of the hotel is so exceptional and of course the rooms too. The colors are between white, pink and gray. Thick, heavy curtains covering the floor to ceiling windows with magnificent views. They can be electrically moved aside and allow a view of the city of Barcelona.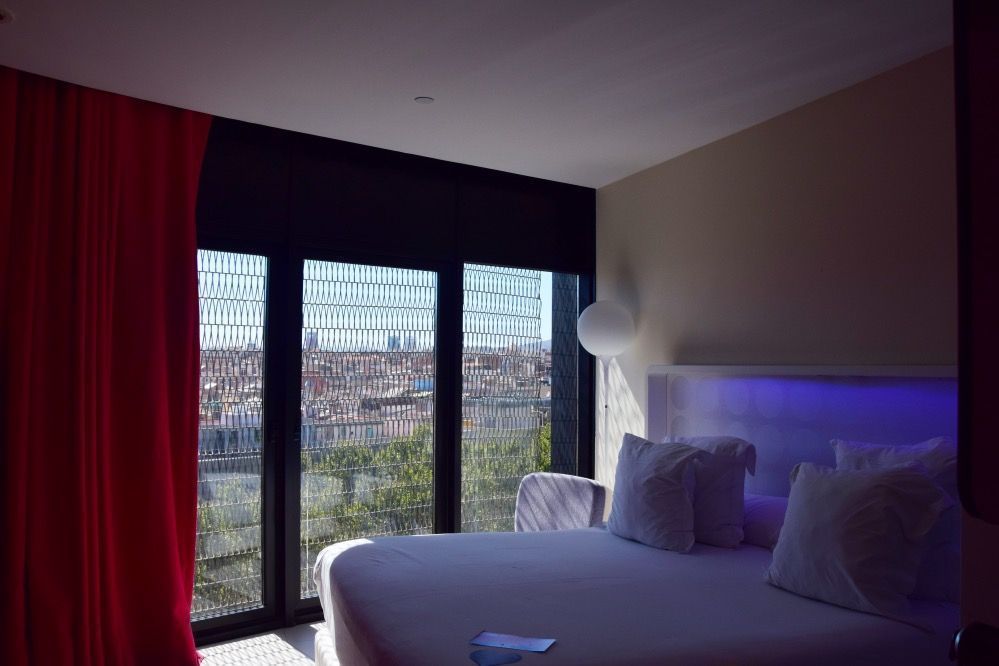 If you want to drink a coffee in the morning, evening or during the day. No problem there is a Nespresso machine in every room.
The bed was the highlight of this room for me. Incredibly large, incredibly comfortable and the many different pillows. Anyone who knows me, knows that pillows are so incredibly important for me. I've described that in an article. Large cushions, soft pillows, hypoallergenic pillows, etc. So I really doubt that anyone here will not love it. The mattress was just perfect for me. Not too hard, but not too soft. I slept like a baby.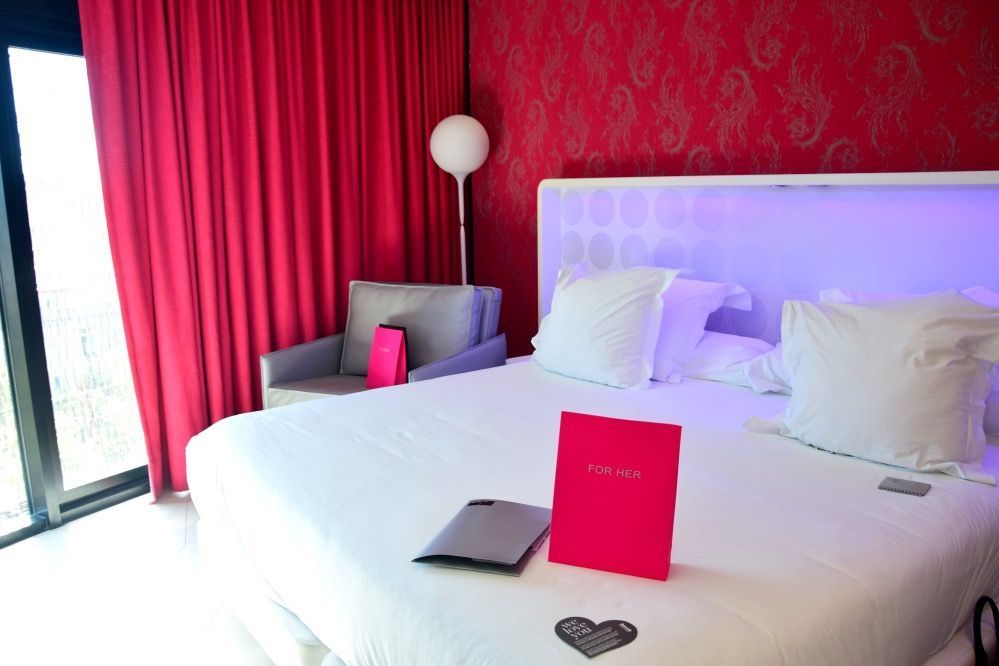 Rooftop Bar
If you go to the top floor, you will find a rooftop bar (360 Degrees). The view is impressive. You can go around in a kind of circuit. There is a small pool where you can cool down. It is not as big that you swim but nice to have. Maybe with cocktail in your hand that you will get at the bar.  There are plenty of chairs and armchairs. I don't think that you will spend a day there (if you are in Barcelona) but probably for a nice drink or chill out.
Design
Iam a design lover and this place has captured my heart. In each area of the hotel you will find a sculpture or a drawing, which makes the building even more special. The rotunda itself is pretty cool, but the small details, like the graffiti on the way to Rooftopbar or the lamps in the lower area of the hotel. The gray glitter fabric of the chairs in the rooms, the water bottle and many more. The design and the concept is well thought out here.
Dinner
If you usually dine in a Hotel restaurant, then mostly you will find the prices higher than down the street. This is not like that. I was really pleasantly surprised. Not only of the prices but most of all for the great quality.
Just an example. A fresh fish from the market (with vegetables) costs only € 14.50. Sandwiches are already available for € 9.90. Who does not want to look far for a suitable restaurant, can definitely satisfy his palate here.
The food in Barcelò was exquisite. There is a Spanish cuisine with international elements. It is not only good, but it has also a cool presentation. All dishes are prepared with attention.
If you like sweets – you will love this. All these cupcakes and tarts … Yummy! Like…
"dark chocolate brownie with hazelnuts, served with tonka bean ice cream"
Resume:
The hotel exceeded my expectations. I was really sad that I could only stay one night in Barcelona. Not only to for the Hotel but also for this great city. I had not enough time – at all. You can't stay in Barcelona for only one day.
The hotel staff was exceptionally friendly. Incredibly helpful with explanations, maps and descriptions. I sit often in the lobby and watch the hotel service and I can say with 100% certainty that everything is running properly. In the restaurant the staff were very organized and informed. What ingredients which wine to which gear. Even if that seems mundane now, it is not commonplace. And especially in a city like Barcelona where a tourist comes after another.
The location is just great. You don't need any car. There are some great scooters outside the Hotel that you can use! Do it!
There are many cool bars nearby where you can go during the day or in the evening for a drink and eat.
I think that this Hotels gives you kind of good vibes. I don't know how to explain but sometimes you enter a place (house, restaurant, hotel, whatever) and you feel good.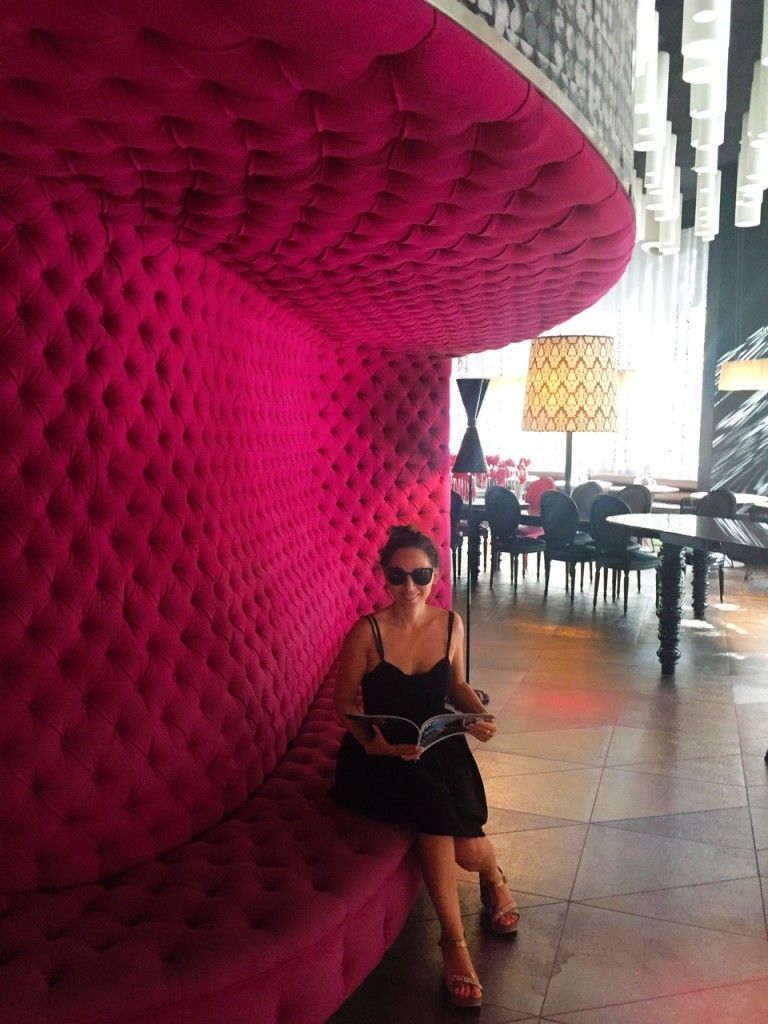 More information:
Barcelò Hotels
Rambla del Raval, 17-21,
Ciutat Vella,
08001 Barcelona, Spanien
Telefon: +34 933 20 14 90
www.barcelo.com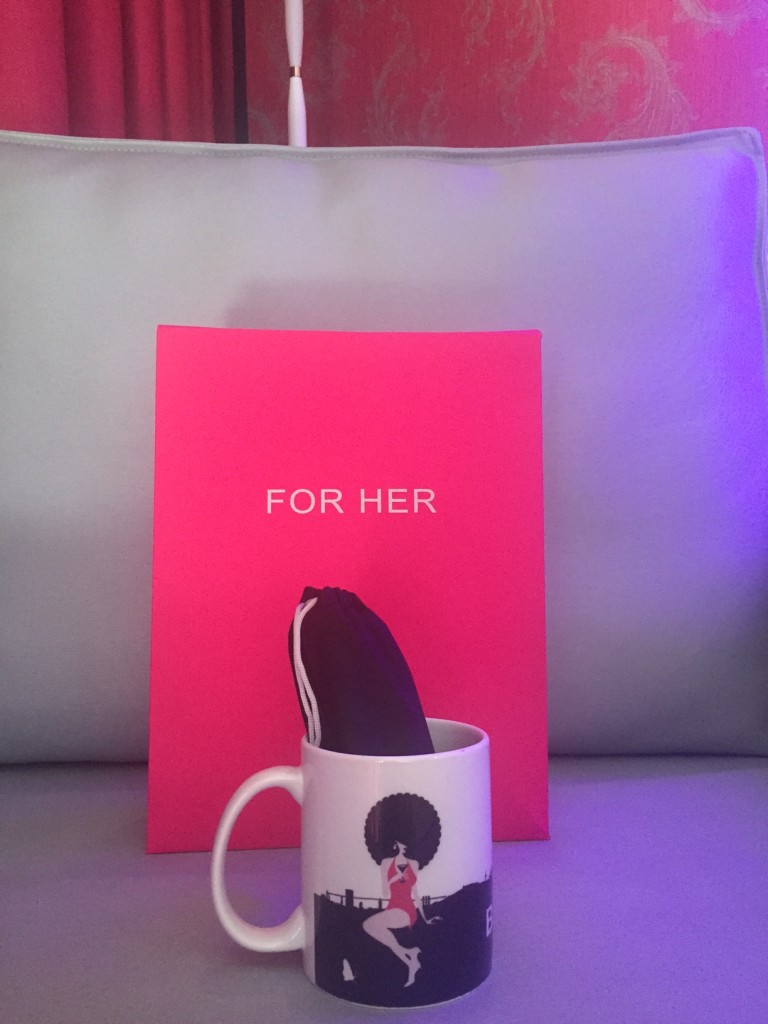 I'd like to thank the Hotel Barcelò Raval for hosting me and for the nice present I got. I really love my new coffee mug. 😉