Read this in: German
Summer is approaching and we all raise our arms. Jippiiii. The days are getting longer and the long barbecue nights are waiting for us. Delicious cocktails on the rooftop bar or your own terrace and light salads are back in season.
The summer is also the season, where you should definitely do a certain care, such as sunscreen. Otherwise say hello to wrinkles or even to sunburn. Because you should never underestimate the sun in principle.
We have put together some important summer products for you. Let yourself be inspired.
First of all:
The perfect summer cocktail
I love mint and lemon. In this combination, I've experimented often times and that's what came out. Super easy and totally delicious.
Ingredients:
Fresh mint
Prosecco
Lemonade (no sprite!)
Fresh lemon
Mineral water
Wash mint leaves and dry. A large mason jar (or wine glass) filled with a quarter lemonade, a quarter Prosecco and a quarter of mineral water. Press the fresh lemon a little by hand and drizzle into the glass. Cut off a slice and add in.
All ingredients should be einskalt.
FINISHED. Refreshed and is delicious.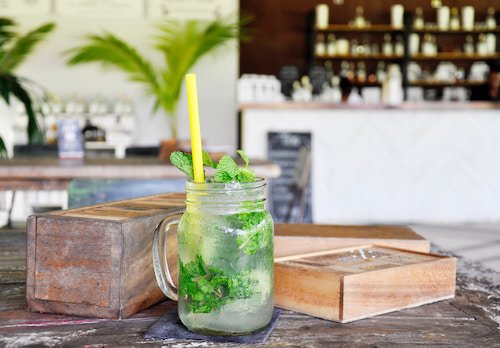 Skin
Even in summer, the skin needs a lot of care. The summer care is a little different than during the winter. The skin gets more sunshine, sweats more and the humidity increases. Above all, it is important: moisture and hydrate! Apart from the fact that you should drink much more water in the summer, you should also adjust the care creams.
Some experts even recommend a double cleaning. Not only light cleaning morning and evening more thoroughly (due to make-up). Clean it twice a day. Regular exfoliation not only cleanses, but removes dead skin cells. There are scrubs that are so mild that you can use them daily. Very peeling peeling should be avoided in the summer, because the skin is very sensitive to the sun and could react.
My night tip:
Especially at night, the skin can regenerate properly again. Sleep relaxes the whole body and especially the skin. I particularly like the combination of essential oils, light cream structure and anti-aging of Dermalogica. The cream smells so wonderful and provides a kind of rest and relaxation immediately after application. She is more than worth the money and has a slight addictive factor …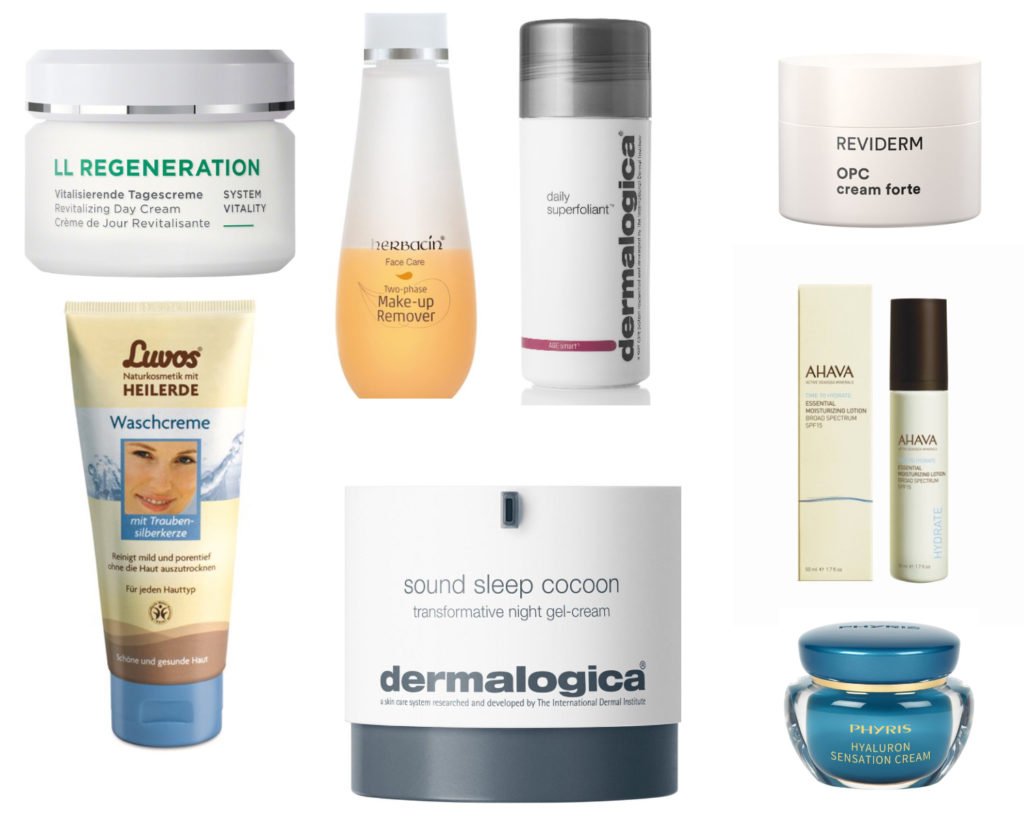 Sound Sleep Cocoon Dermatologica (89€)
Luvos Heilerde Waschcreme (6€)
LL Regeneration Annemarie Börlind (33,90€)
Ahava Lotion (34€)
Herbacin Make-Up Remover (2 Phasen) (19,90€)
Dermatologica Peeling (täglich) (72€)
Phyris Hyaluron Creme (ca. 35€)
Reviderm OPC Creme
Sunscreen and after sun
Sunscreen is essential for skin cancer prevention. Over 80% of skin cancers are associated with solar radiation. Protect yourself and your skin.
Sunscreens combine several ingredients to prevent UV rays from reaching the skin. There are two types of UV rays. They are UVA and UVB. UVA is the longer-wave UV ray that can cause permanent skin damage, skin aging and skin cancer. Ultraviolet B (UVB) is the short-wave UV radiation that can cause sunburn, skin damage and skin cancer. Both are not necessarily great.
Glamor sunscreen with glitter pigments sparkles so wonderfully on the skin and gives a bit of Hollywood character. Non-greasy, non-sticky UVA and UVB (SPF30) sunscreen gel with GSP-T for infrared protection, lamellar technology and reflective pigments.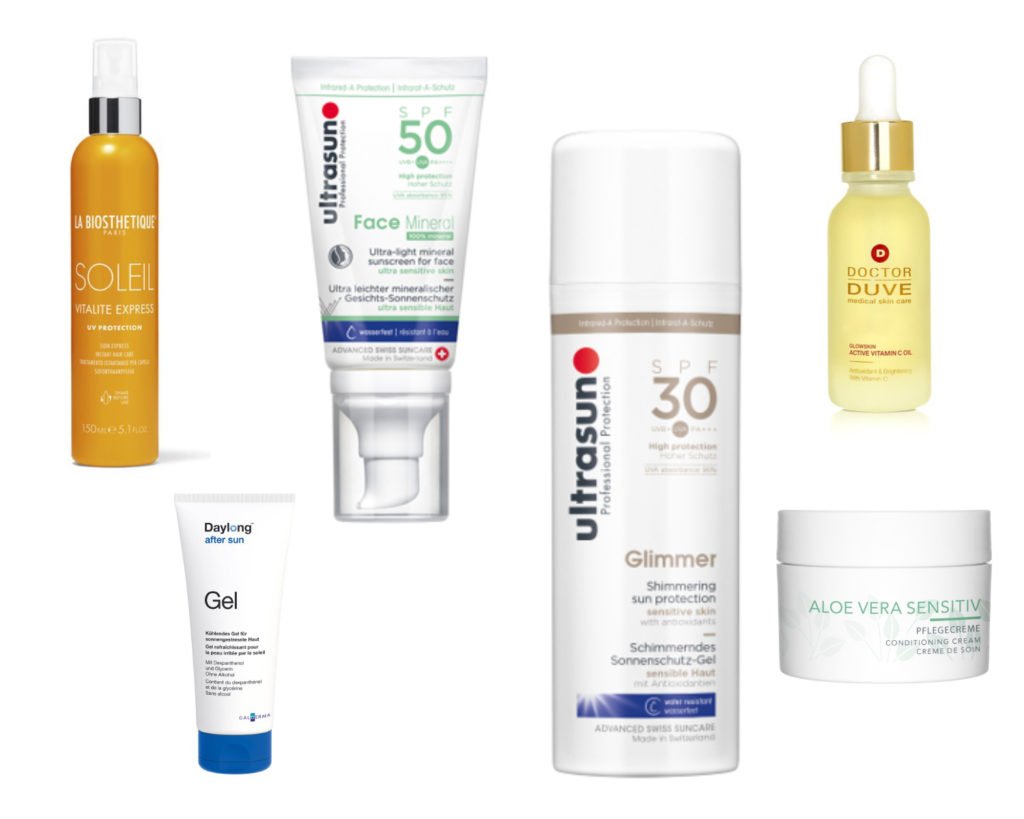 Daylong After Sun Lotion (16,90€)
Ultrasun Glimmer (33€)
Ultrasun Mineral (21€)
LA BIOSTHETIQUE Spray Invisible mit Bräunungsaktivator (24,80€)
Charlotte Meentzen Aloe Vera Sensitiv (13,50€)
Doctor Duve Glowskin Vitamin C Oil (95€)

*the prices are not fixed. Just something I researched
Hair
Even the hair is quite stressed in the summer. Salt water, sweat, sun … Just as we protect our skin from the sun, we should also do it with our hair. UVA and UVB rays can not only damage the hair, they can also oxidize and the beautiful hair color is a thing of the past.
A tip from the expert is to first moisten the hair with water. What sounds strange at first makes sense. If your hair is wet or damp before it gets in contact with chlorine or salt water, it is better. Because the water keeps the harmful influences from a bit.
Sometimes a simple cloth ala Grace Kelly helps. It not only protects the hair, but also protects the head from sunstroke.
Joico Beach Waves (19,50€)
Joico Luster Lock (23€)
Marc Booten (27€)
Rene Furterer Absolut Keratin (33€)
Rausch Amaranth Serum (16,90€)
Hairfinity Conditioner (25€)
My Make-up Tip:
Hyaluron Teint Perfection Make up. Skin-optimizing make-up with anti-aging effect for a natural, even skin. Finally someone has thought along. Why not combine all the good ingredients for anti-aging in a make-up. That's exactly what happened here. Hyaluron, Panthenol and Vitamin B3 were processed in pharmaceutically pure quality in the Medipharma product. It moisturizes the whole day. It is made up and yet the skin gets enough care. Personally, I think it's great. I love the consistency and the opacity. I have to admit that I have been looking for something like this for a long time. Because of this, this make-up gets a very special place in the summer post.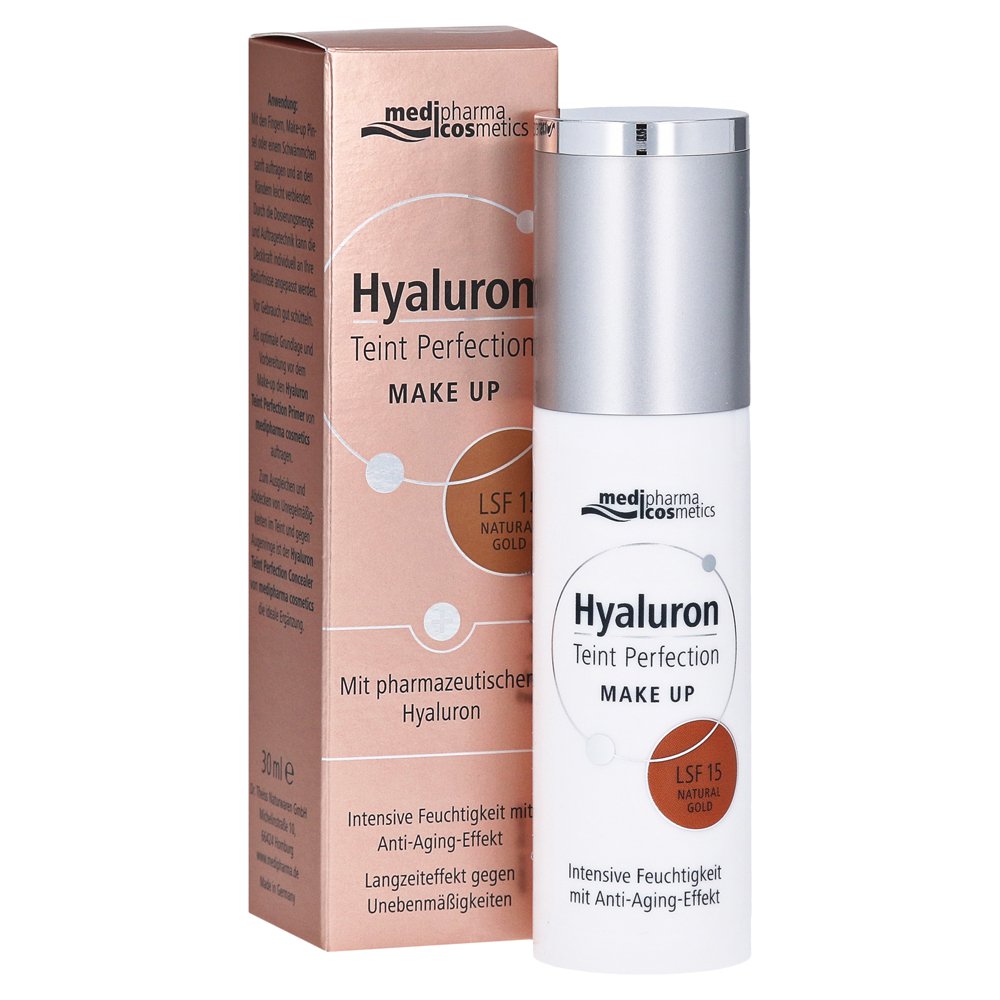 Preis ca. 21€ 
In part 2 of "Hello Summer" we will talk about good nutritional supplements, great pools, masks and the most common questions we will answer. So stay tuned