Read this in: German
Vegan Valentine's dinner
Toay is Valentine's Day and yes: Some of us love this day, some people don't like it. It's fair to say  that there are 365 days a year to love, honor and appreciate your partner. However we can use this day to bring your lover a great experience. A homemade dinner for two is much better than some chocolate and flowers bought at the next gas station.
So if you don't have any idea for this evening, just read this blogpost and suprise your sweetheart wird a vegan Valentine's menu by Claudia and me.
Let's start with the main course.
Main Course: Pappardelle con Salsa di Funghi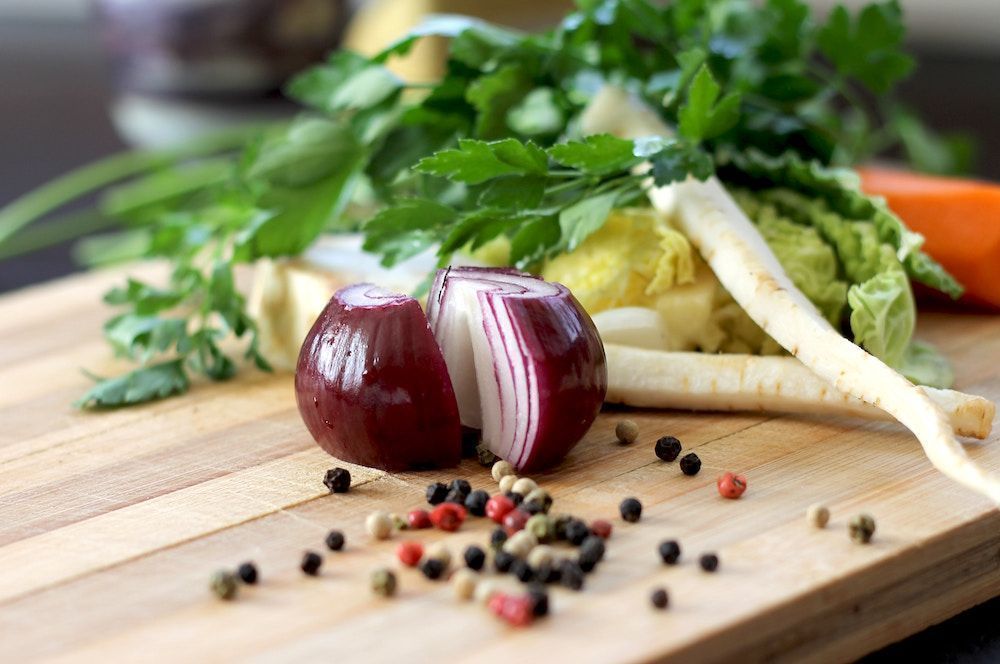 Ingredients:
500 g Pappardelle (ribbon noodles) without egg
500 g fresh mixed mushrooms
2 Tsp olive oil
2 onions
1 garlic clove
250 ml almond cream
100 ml white wine (vegan)
100 ml vegetable broth
Salt
Pepper
1 bundle fesh parsley
Heat some olive oil in a pan. Cube the onions and the garlic clove and roast them gently until the onions are translucent. Add the mushrooms  and zest all with salt and pepper.
In the meantime cook the pappadelle as directed on the packaging.
Then deglaze the mushrooms with wine and vegetable broth and boil it for a little while.
Add the vegan cream into the pan and let all boil for another minute. Afterwards add the noodles and turn the stove off. Toss the noodles in the pan and garnish the menu with fresh parsel.
Power food for dessert 
Matcha, that's nothing you connect with an awesome and tasty dessert. But maybe this is the reason by I've created this recipe. I'm a big fan of Japan and Japanese culture and a lot of friends know this passion. So it's hardly suprising that most of my friends and family give me good quality matcha as a present and I try to consume it with some iced matcha latte in sommer and classical matcha latte in winter. But my husband Jona is not so keen about this grounded green tea powder. He just loves matcha in a very Japanese modern way – as a sweet like kitkat and pocky sticks with matcha flavour.
But I don't want my lovely husband to eat so much sugar and processed food – so I've tried to create a tasty sweet and dessert which is clean.
Matcha – full of nutrients
First I have to note: Matcha is a superfood but not every grounded green tea is matcha. For a food quality matcha you can pay 50 to 60 Dollar per 100 gram. But since matcha is a trend in Western society there a lot of completed matcha products without or with just a small amount of real matcha in it. If you want good matcha you shouldn't buy it at the next store and take your time to go to a tea stockist. There you can find good advices which matcha works best to cook with. The rule of thumb is: the sooner, the better tea 'cause the soon harvested matcha tastes sweeter and not so bitter as a later crop. And my personal advice is to buy Matcha in organic quality.
Not just for pancakes
Matcha can be used in many ways. Beside pancakes we've also tried cookies and all kind of sweets with this tea powder with is high on nutrients and antioxidants. Matcha isn't orange like a carrot but has got a high amount of betacarotin, the precursor of vitamin A which is known for being good for hair and skin but also importent for the metabolism and mucosae. Besides the minerals calcium and potassium Matcha is rich in vitamin B1, B2 und B3, vitamin E, vitamin C and vitamin K. And a lot of my friends favour matcha as a morning caffeine source 'cause a cup of matcha tea has with 272mg caffeine twice as a average mug of coffee. Koffein wie ein durchschnittlicher Kaffee.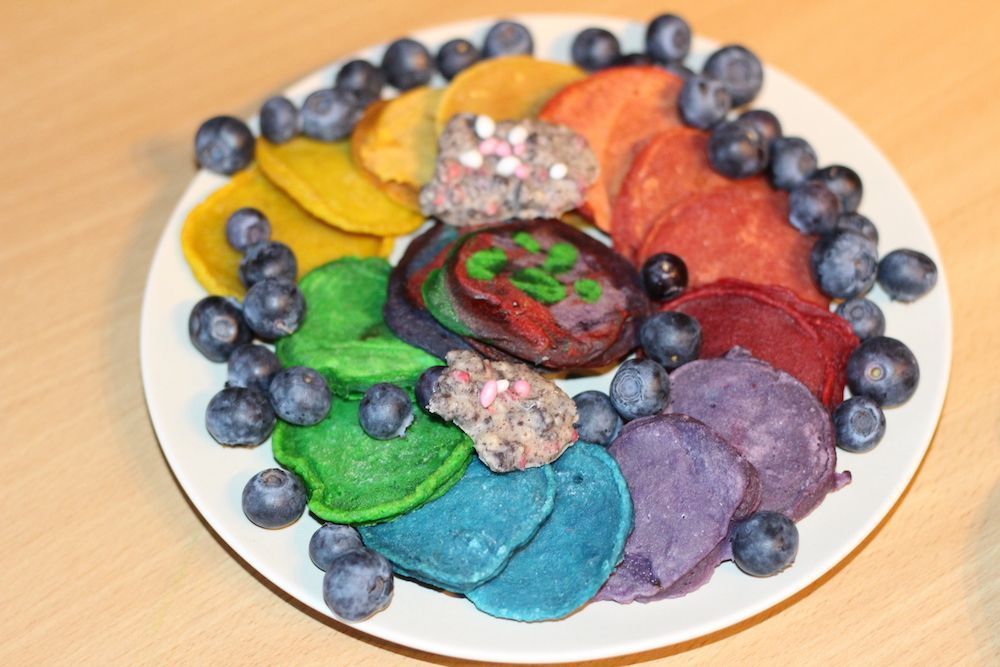 Clean Eating Matcha-Orange-Pancakes
Ingredients:
200 g flour (full grain)
2 big bananas
240 ml unsweetened almond milk
1 teaspoon matcha
2 tablespoons fresh orange juice
lemon or orange zest
2 teaspoons baking powder
oil for the pan
raspberries
p.r.n. cinnamon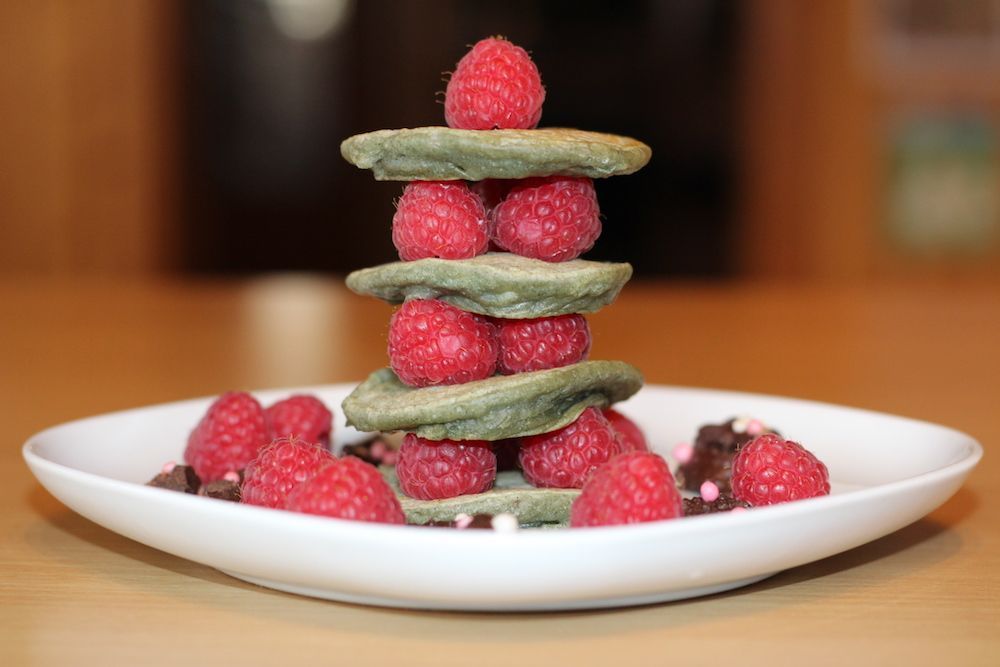 equipment:
hand-held blender
a high mixing bowl
a pan
a fireproof brush
a spatula
Put the bananas in the mixing bowl and blend them.

Juice a half organic orange and rub down some of the orange skin.

Ad 2 tablespoons of orange juice, the orange zest, 1 teaspoon matcha, the almond milk and the flour and mix all to a  dough.

Heat the pan on medium heat and spread some oil like coconut oil with a fireproof brush on it.

Shape some round-shaped pancakes with a spoon and brown it for 2 to 4 minutes.
Those pancakes have a fresh and fruity taste. On cold winter days we really like those pancakes with cinnamon and maple sirup or homemade gooseberries chia marmelade. But in summer it's also very refreshing and tasty with fresh raspberries from our own garden.