Read this in: German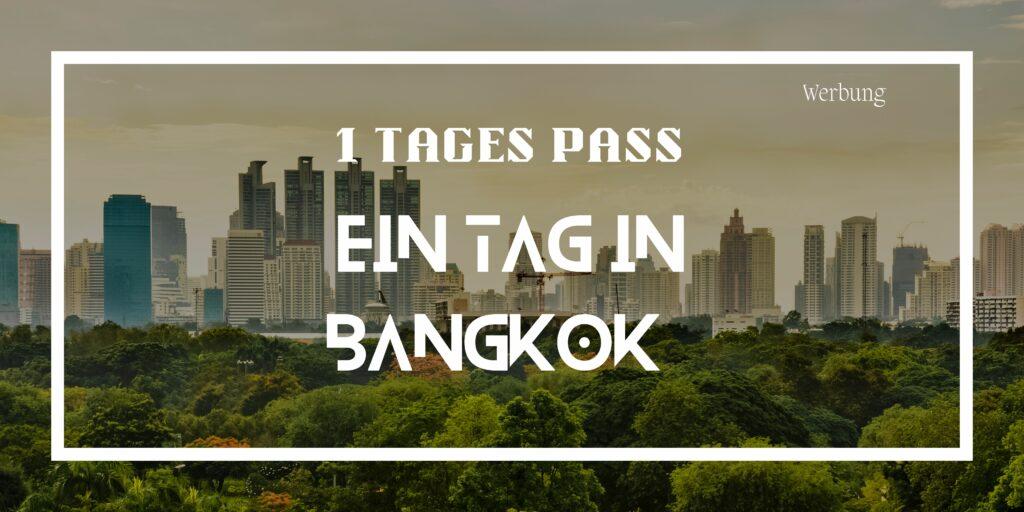 One Day in Bangkok with one Pass.
A day in Bangkok with one Pass. Bangkok is an incredibly big city. I just say, Bangkok itself has about 6 million inhabitants, in total with the metropolitan region around 15 million. That you have a lot to discover in such a big city like Bangkok, I hardly need to say.
For me it is difficult to realize what I want to see and when. Sometimes you have the agony of choice. And when you're in the city longer, you tend to put things off.
I used the TAGTHAi Pass
You go to the site and it's best to download the app directly. There are different cities listed there. I took Bangkok, of course.
If you tap on Bangkok, you can see what is included in this pass. I must say, it is totally worth it to book something like this. There are different meals in restaurants, rooftop bars and cafes, entrance fees to museums and temples, TukTuk ride, all day on the hop on, hop off boat and much more. Let me tell you what I did.
Breakfast
In the morning we met at one of the breakfast places. Riri Cafe is located right in Chinatown. But the cafe itself has a more French touch. It is decorated in white and the food and drinks are also more reminiscent of a small, French cafe.
I started the day with a cheese and ham sandwich and delicious Honey Mustard sauce and of course (what a question) a coffee.

Hop on, hop off Boat
From the cafe it was only a few steps to the pier where we could take the boat. The boat is a hopon hop of boat. It means you can get off as many times as you want along the route, check out the area and get back on the following boat. I find it super convenient because there are many interesting places to explore along the route. You get a map right at the beginning and have all the routes and times noted. This is really very practical and you really use it a lot.



Icon Siam
The first stop was at Icon Siam. Icon Siam is a big shopping center with all kinds of brands you know. From high-priced brands like Dior, Balenciaga, Dolce & Gabbana or Chanel to classic brands like Zara, H&M and Co. In front of the mall are various stages and displays. Because of the Chinese New Year, there are regular performances in the evening and in the afternoon. After taking a tour, we took the next boat and moved on . Our next destination was the flower market and museum.


Flower Market
Only a few stations further we got off and only a few meters away from the pier, were all the stores of the flower market. It's crazy that sometimes a store seems very tiny and hardly you go through the entrance the store full of many different flowers stands. The street really smells of fresh flowers. You really have to pull yourself together not to buy several bunches of flowers if you still plan to make excursions all day. Next stop was the museum.

Museum Siam
The museum had many interesting insights about Thai culture. It is a mix of past and present. The Association of Siamese Architects (ASA), under the royal patronage of His Majesty the King, gave the building an outstanding award for the preservation of art and architecture in 2006. To promote awareness and understanding of the Thai people in relation to their history, nation, culture and localities, and to connect with neighboring nations, the museum serves as a learning center for ethnology, anthropology and other fields related to Thai society and Southeast Asia. To encourage visitors to learn and understand the historical events of the Thai people, new forms of display have been introduced using contemporary media. The 14 rooms of the three-story building were divided into the exhibited contents in the form of "Essays on Thailand". The facility itself is also very beautiful and quiet. At the entrance, you also get free, if you want, headphones and a device with a digital tour. I found it very interesting, because you also received the appropriate information directly to the respective rooms.


Seafood Restaurant and Bar
After the eventful morning, the hunger was of course particularly large. We had decided to go back to China Town and eat something at the See food restaurant. It was about a 20 minute walk from the museum to the restaurant. To get there, you have to walk a bit across one through China Town and the small narrow streets. Once we got to the restaurant, there was a lot to choose from. We chose different things and enjoyed every bite. The but too long we could not rest, because our Tuktuk was already in the starting blocks. By cab we drove to the tuktuk stop

TUKTUK
The tuktuk is a vehicle with three wheels. In Italy, the vehicle is called ab. It has a motorcycle engine and also quite simple steering. I personally think it is great. You have a certain feeling of freedom and yet the protection of a small car. You can really see all the sights perfectly. Our driver was already waiting for us. With the tuktuk you can either do the complete tour of about 1 hour or you can be thrown out somewhere. We decided to do the tour. As in the picture are the places we drove to. The driver gave us each time enough time to get out and take pictures after a good 1 hour, I would say even a little more, we were back at the starting point. By now it was already afternoon and we were quite tired. This then led us to the next stop.




Massage
With the boat we went again a few stations from there it was again a short walk of 15 minutes to the massage institute. I had been looking forward to it all the time. Unbelievable but although I was already over 20 days in Bangkok, I had not managed to go once to the massage. Accordingly, my joy was all the greater. I opted for 90 minutes foot and neck massage. If one hears foot massage, then one thinks of course that exclusively the feet are massaged. However, this is not so. Also the calves belong with it 1 hour soil so to speak my legs with oil and cream massaged and various points for a Lymphdrainage pressed. The last half hour then my neck and my head. I was so relaxed that it was actually difficult for me to stand on my feet again. After 90 minutes you feel like a new person. I can really only advise everyone to get a massage in Thailand. There are probably also many differences in massage, from offer to massage offer. But I can definitely recommend this location. Meanwhile, it was already dark and we decided to have a nightcap drink. In the app there are many cool rooftop bars. Unfortunately, we had the misfortune to make the trip exactly on a Tuesday, where many of the bars in Thailand are closed so…

My tip
Plan carefully beforehand and see where you want to go and what the opening hours are.
Conclusion
I have to say that you can really enjoy a lot of benefits with this pass. Apart from the very extensive food and drink, the activities and the means of transport are also a big plus. I saw a lot of things in one day that I otherwise would not have seen or done. If you like one or the other, then you can definitely go there again in peace. Because basically, of course, if you have such a pass 24 hours available, you want to get the most out of it. With all providers it worked out great. The code was either scanned or photographed. Everything went smoothly.
Would I book this again? An absolute, yes, definitely. And the price ($29.40) is really a joke in relation to what you get from me honestly exclusively positive experiences
This tag was created in cooperation with TAGTHAi. 
Nevertheless, all experienced things and emotions are 100% real and not embellished represented.