Read this in: German
South-Tirol
South-Tirol is just fantastic. Mountains, clear lakes, wonderful air and great food and drink. If you want, you can also do a lot of sport. Skiing in winter and hiking, cycling, walking, swimming etc. during the other seasons. There is really no boredom. Every region is different. Whether the side to Austria or the other side in Italy. Both the food, the mentality and vegetation are different.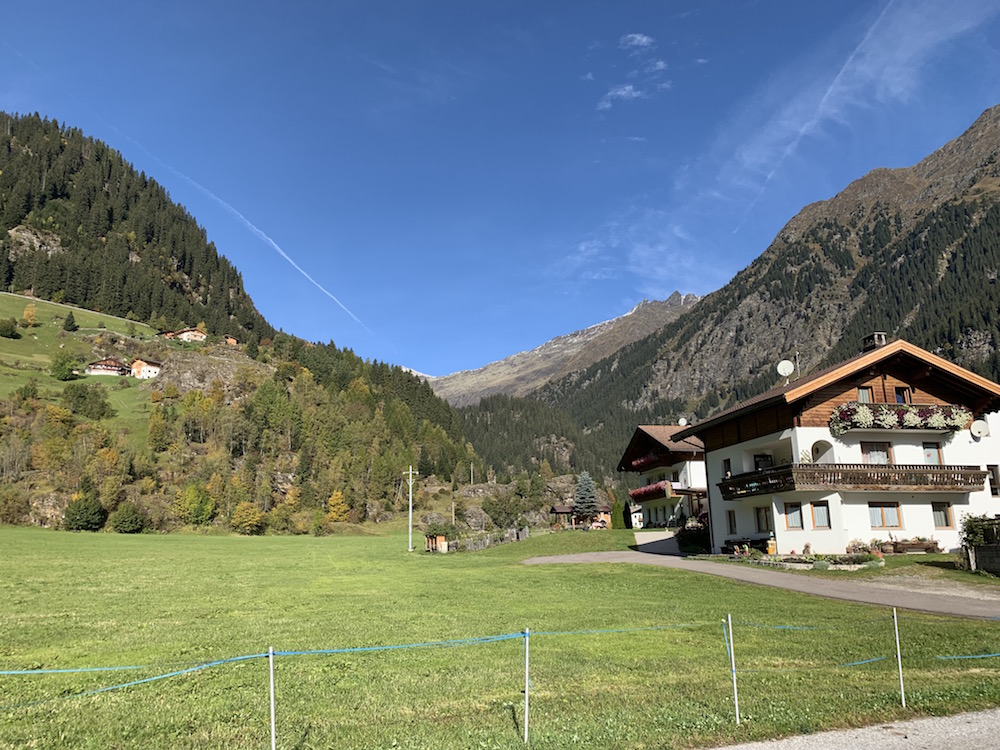 The people are friendly and open and this region has long since established itself as a real wellness and pleasure region.

Hotel Schneeberg
The hotel is a wellness and family resort in the Ridnaun Valley. Families with children will love this place. There are countless children's programs and many great attractions inside and outside the hotel. Within the hotel area there is a natural pond, playgrounds and sports fields, mini golf and a meadow to relax.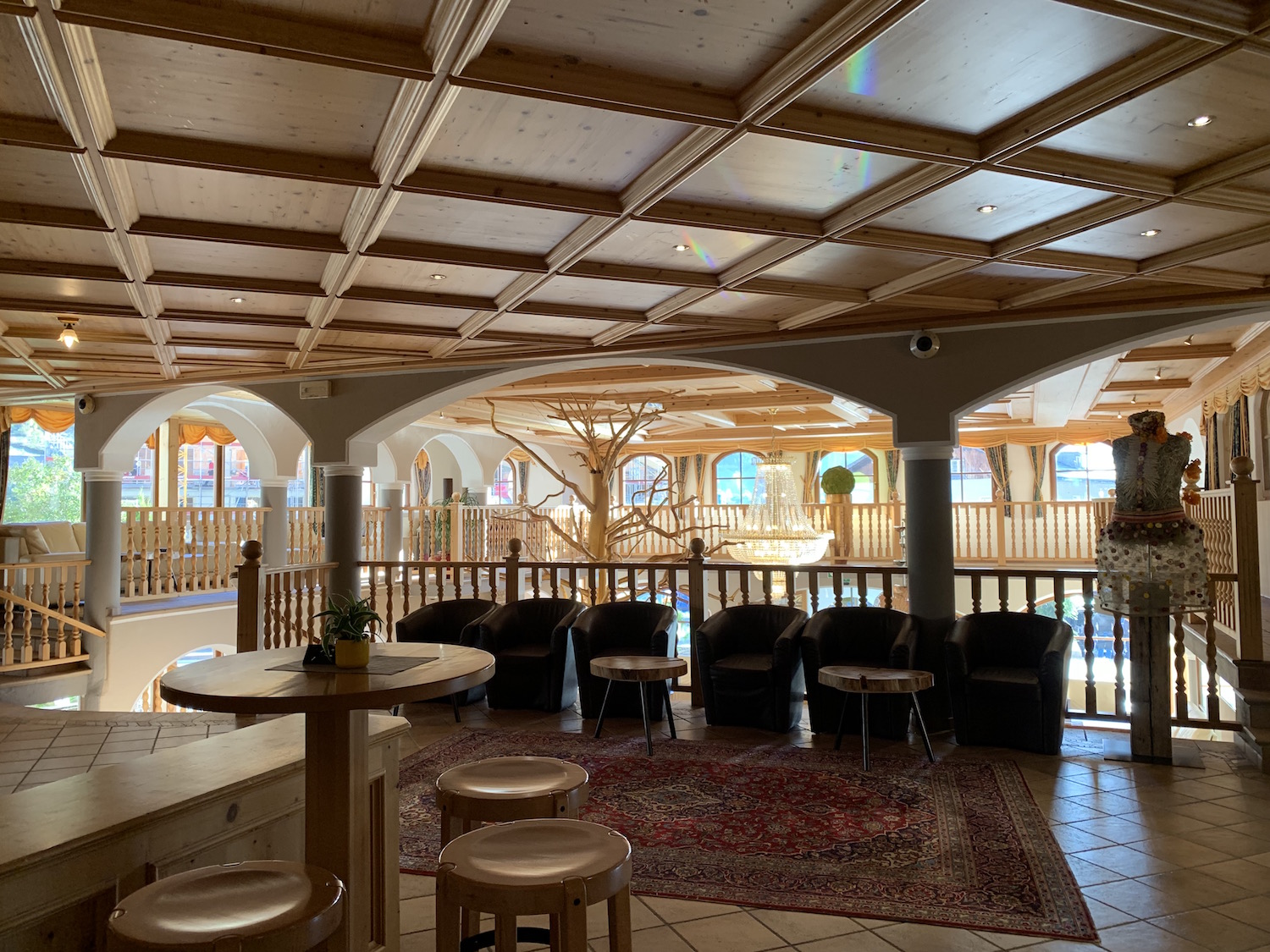 Ridnauntal, Jaufental, Ratschings and Sterzing are in the immediate vicinity.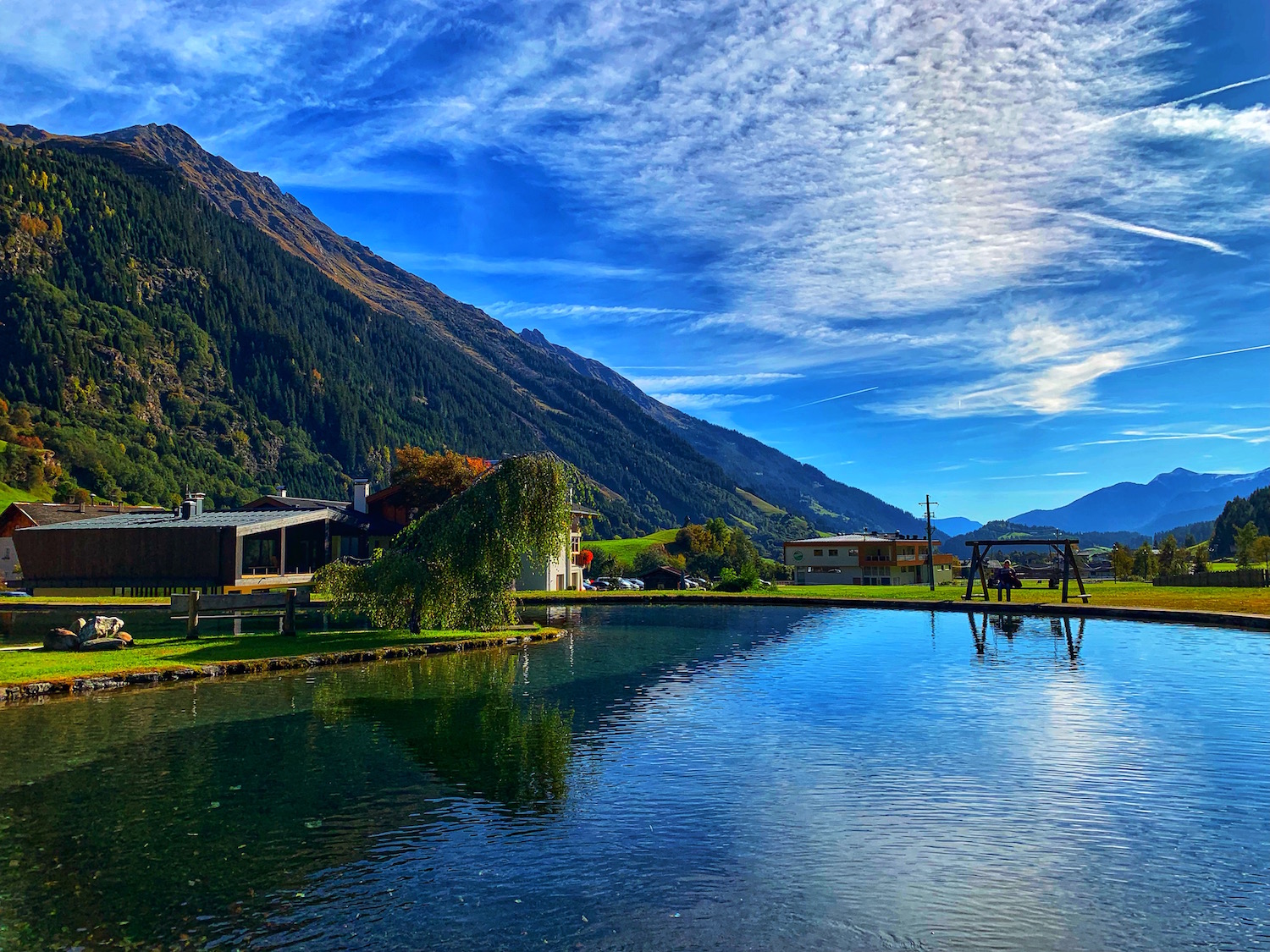 Wellness
Even without children you can fully relax here. 8,000 m² spa & wellness area. There are different areas. SPA water world with indoor pool, heated outdoor pool, outdoor pool, various whirlpools and brine pools. There are also countless different saunas and steam baths. Lots of rest and relaxation rooms and a fairly large selection of wellness treatments. A large part of the saunas and steam baths is only for adults.
The ambience is nice. There is a small station at the front with various types of tea and water.
There is also a whirlpool located directly between the different saunas.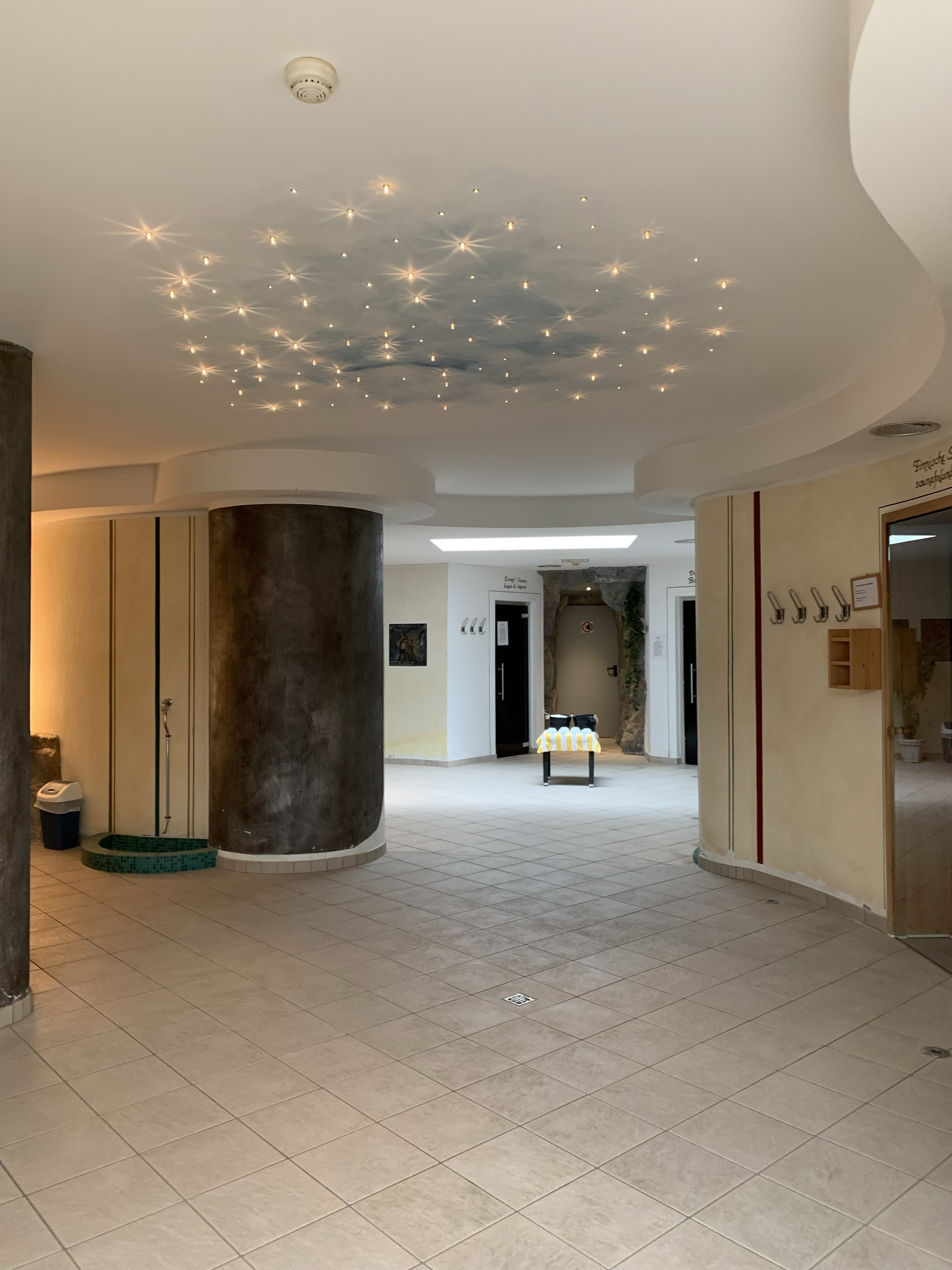 There are different relaxation rooms with loungers. They are all connected to the steam bath and sauna area. The cozy corner is missing a bit, because the rooms are a bit larger in themselves.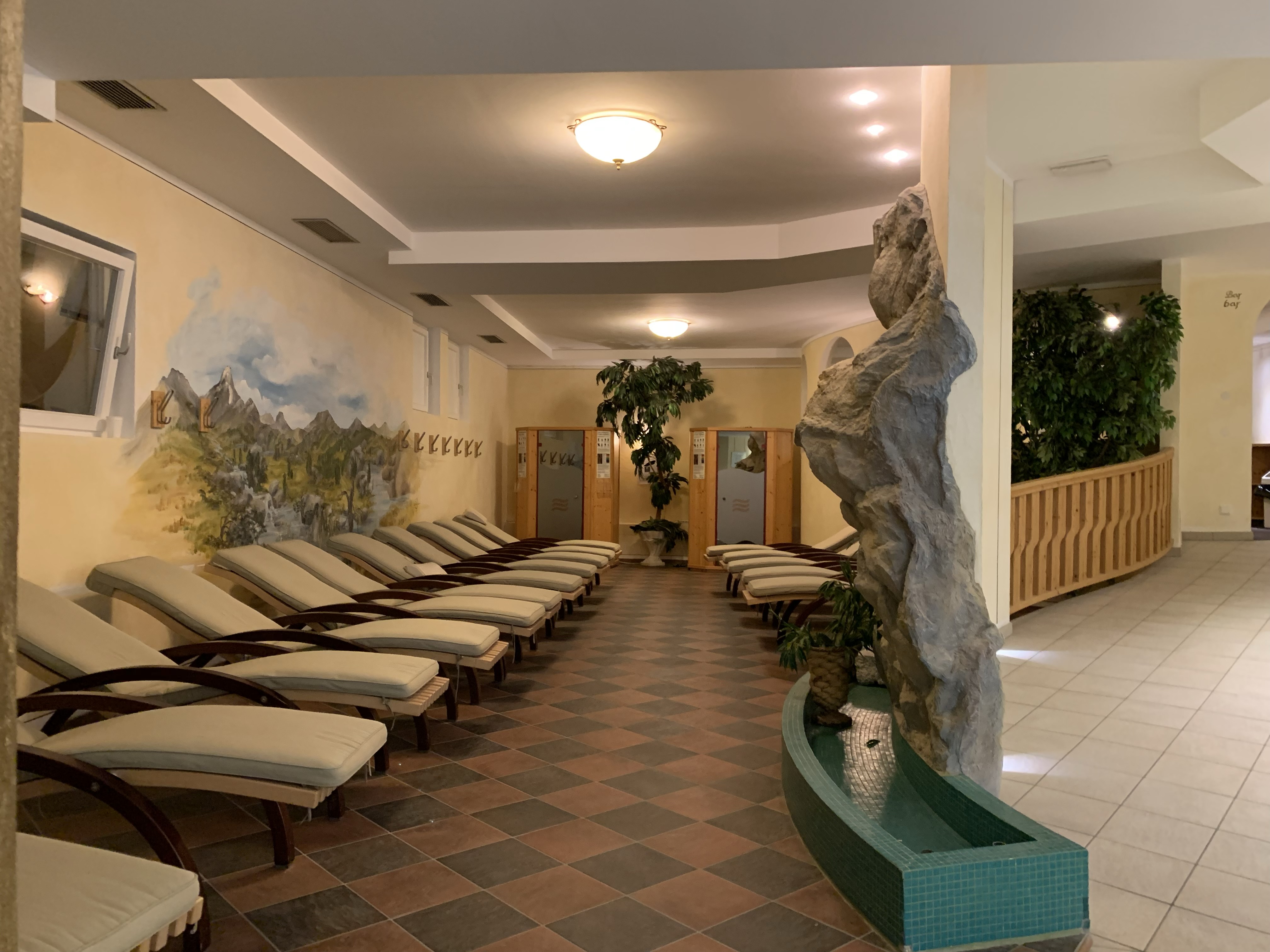 Towels can be found directly at the entrance to the sauna area. Large towels that are sufficient for both the lounger and the body.
Naked or not?
I did a lot of research and research. It is explicitly written at the entrance to the sauna that this zone is a nude zone. The question is, can you take a towel into the sauna or not even that?
I think the hotel would like guests to go to the sauna naked. I personally am basically not a fan of anything like that. I find it somehow unsanitary to sit on the bare wood. I prefer cotton sheets and wrap myself with them. However, you can find them in a few hotels. As a rule, there are always towels.
My research has shown that the Germans / Austrians sauna almost exclusively in the nude. Most other countries go to the sauna with towels or sheets. I think it's really a very personal thing. There are also different opinions about hygiene there and there is no reliable, scientific study that proves that a bikini should be less hygienic than a bare bottom.
Sport
Indoor: If you prefer to do sports, you have enough equipment in the fitness room. There is even a boulder wall in the sports and event hall. I always find it important to have a fitness center that has daylight. And it has it here. There is nothing worse for me than having to do sports somewhere in the basement or under the stairs. Sunlight, blue sky and a nice view make sports a lot easier. And also raises the mind.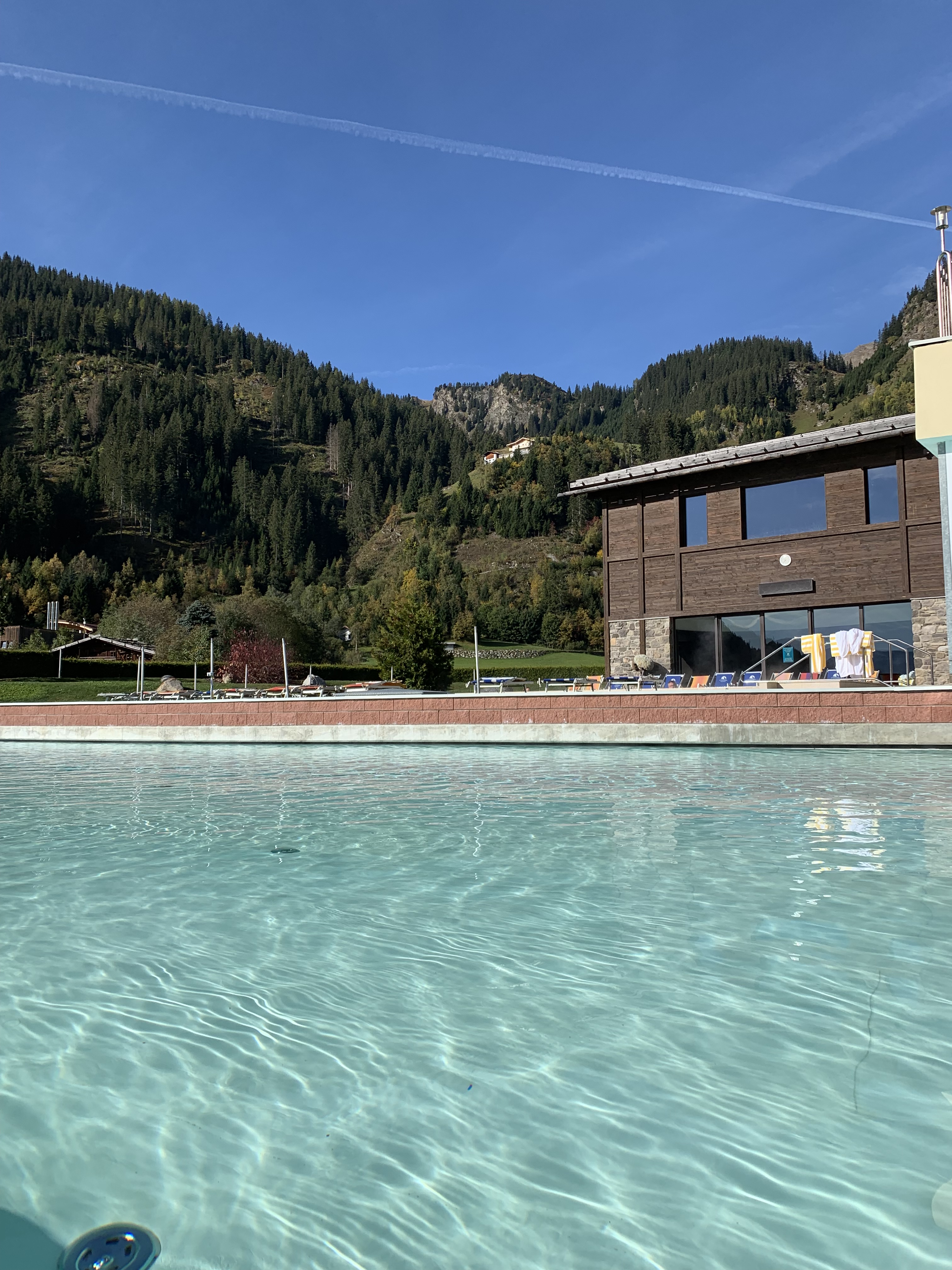 Outdoor: There are countless possibilities to do sports there. That goes from hiking to mountain biking. Bicycles can be rented in the neighboring town. In winter, of course, go sledding and of course skiing. If you don't want to hike, you can also walk simple routes. There is something for everyone. Even for inexperienced good regions to exercise in the fresh air.
Children
For children there is an adventure swimming pool area with its own, separate water and toboggan area with water slides. There they can be loud, splash with water and relax. Anyone swimming or going to the sauna knows what to expect. Then you have to be able to deal with children's laughter and should not be annoyed about it.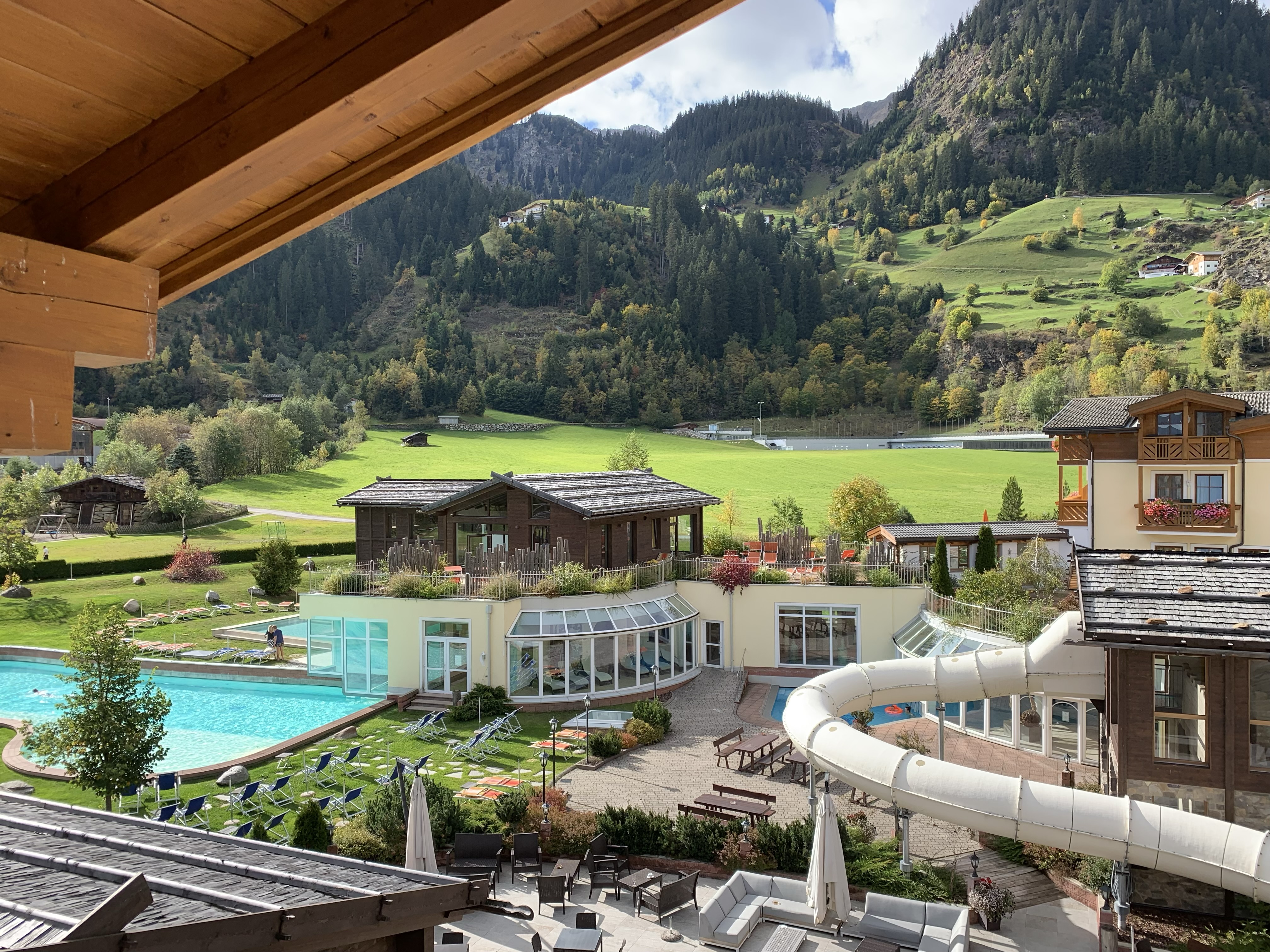 Tipp. Es gibt dort eine ziemlich heftige Rutsche. Da rutscht das Adrenalin aber ganz schön nach oben. Sie geht steil nach unten, wie ein freier Fall. Wer Lust auf ein bisschen Action hat, sollte unbedingt die Rutsche testen. Macht wirklich Spaß. 
Draußen im Garten befindet sich ein großer Bereich wo süße, kleine Kaninchen wohnen. So süß! Für Groß und Klein einfach nur zauberhaft. 
Food and Drinks
There is a buffet for breakfast and lunch. Relatively manageable. At lunchtime there are two pasta dishes and a few salads.
In the evening there is an a la cart menu and a restaurant with super delicious pizzas that are baked in their own pizza oven. Be sure to try it out. Worth it.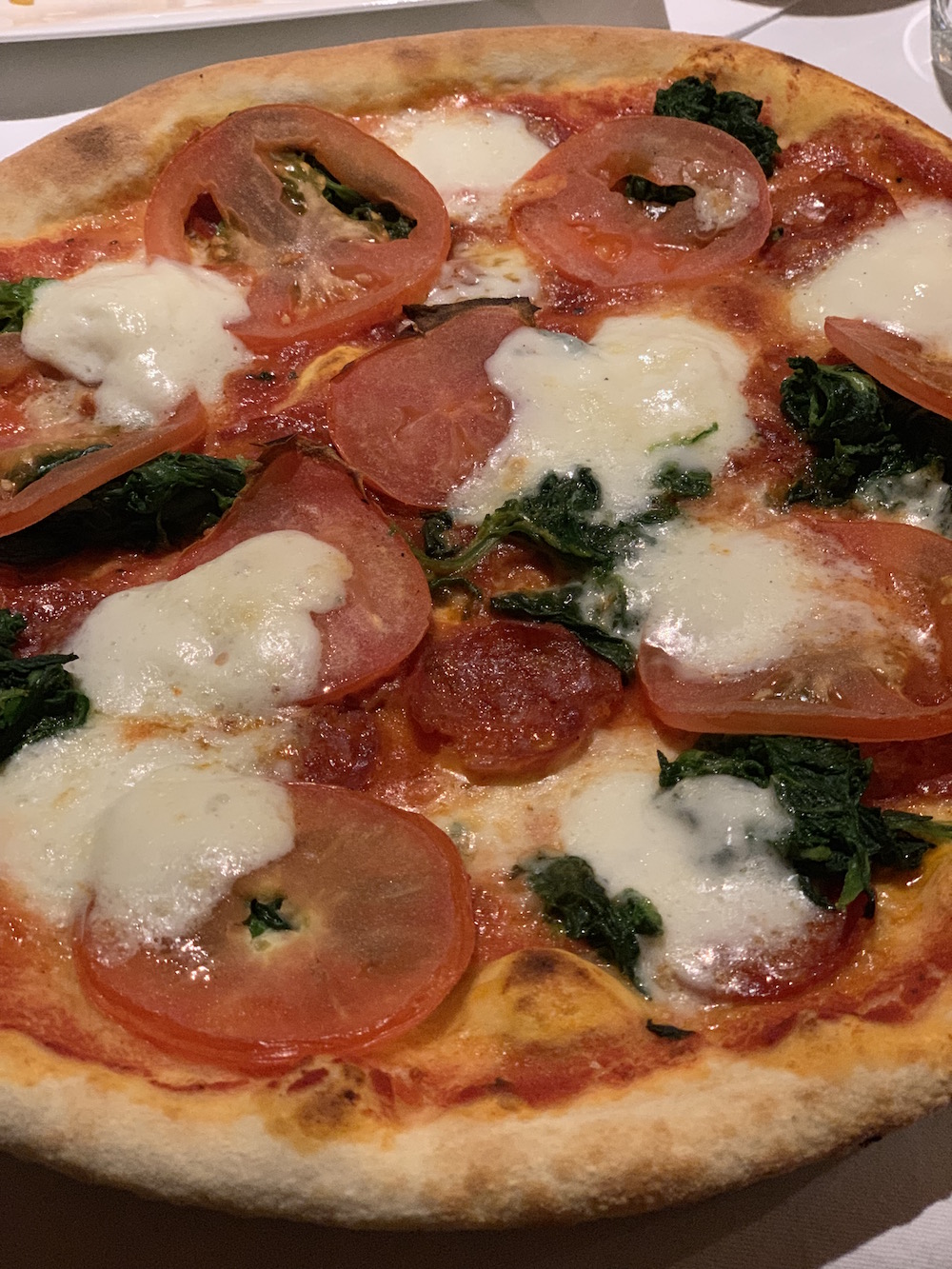 There are different dining rooms and they are all different from each other. I personally was not really convinced of breakfast and lunch, but the food in the evening was really good. It was hot on the table and everyone was eating at the same time. Extra requests were also taken into account without hesitation. Very flexible and friendly staff.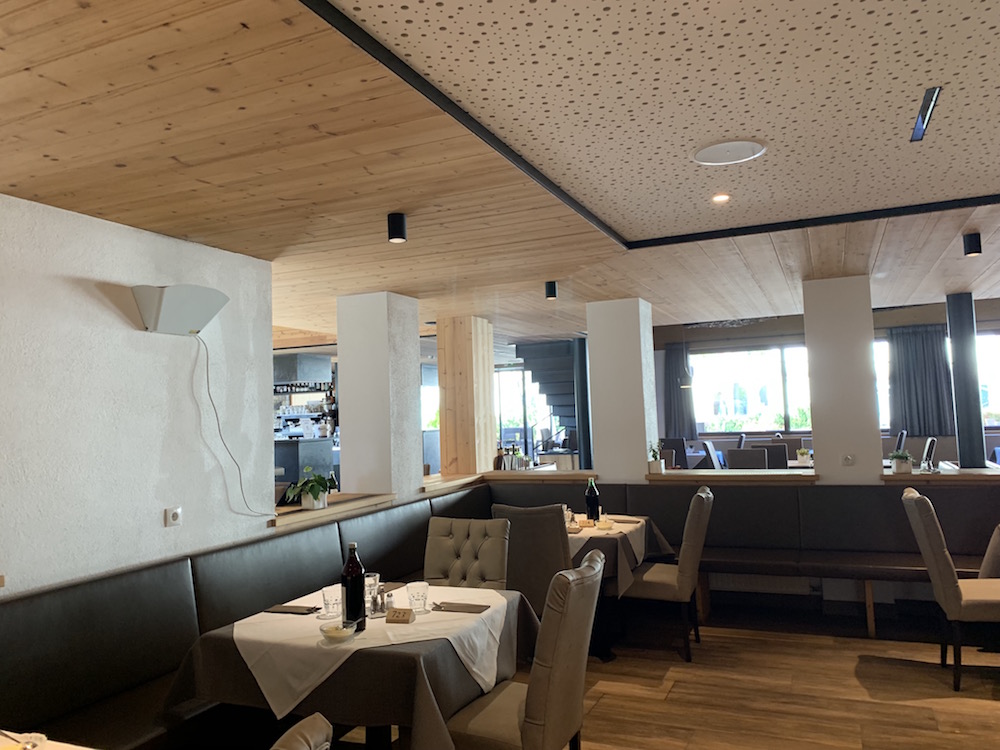 A small downer is that too few products from the direct environment are used here. The marketing manager explained to me that the bulk of the food was important. The companies and farms could could not deliver this mass of e.g. eggs. Nevertheless, I always find it a shame. Mainly because this region has so much to offer.
However, the wine comes from the region. If you like wine, you should definitely try this wine.
My tip: pizza! The pizza is really good. My favorite pizza is: Margherita with buffet mozzarella. Delicious.
Room: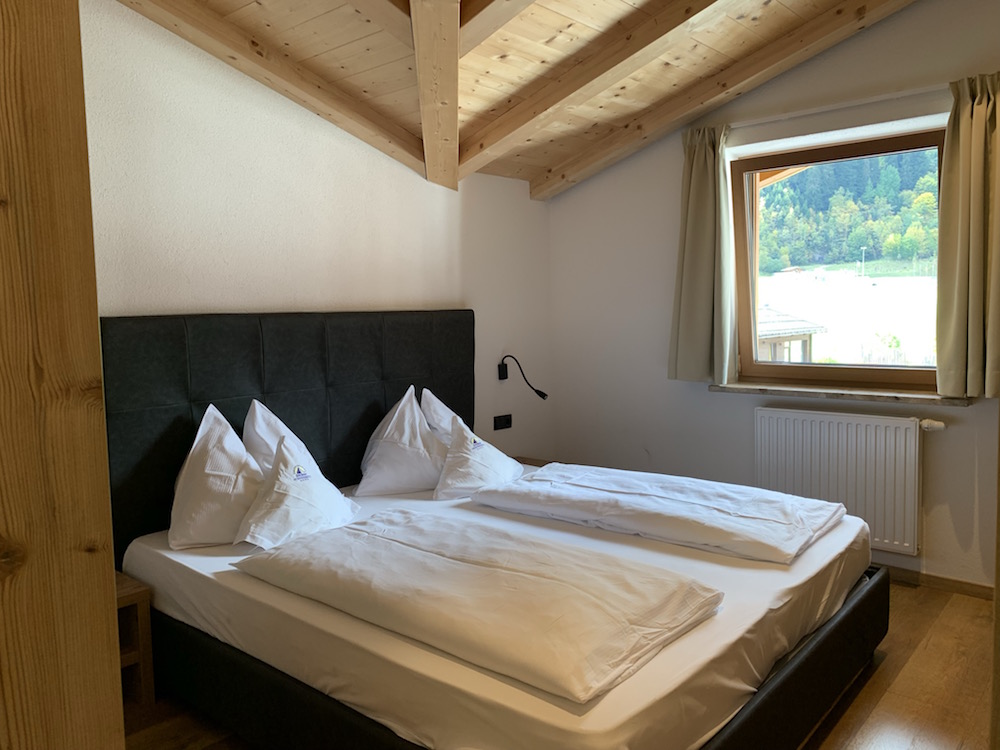 The rooms are furnished in a rustic style. Simple and poignant and suitable for the environment with lots of wood. Bathrobes and slippers can be had at the reception below. You can also buy a bag there for just a few euros. Great thing, because the bag is really spacious and afterwards you can use it perfectly for shopping at home.
Environment:
The environment is just really great. The air alone is worth its weight in gold. This steel-blue sky, sunshine, cold and still you are happy to go for a relaxed walk. This mix of wellness and clear air makes the place so special. It relaxes immensely and you can clear your head again. The hotel grounds are designed with love and there are plenty of seating or loungers to enjoy the sun.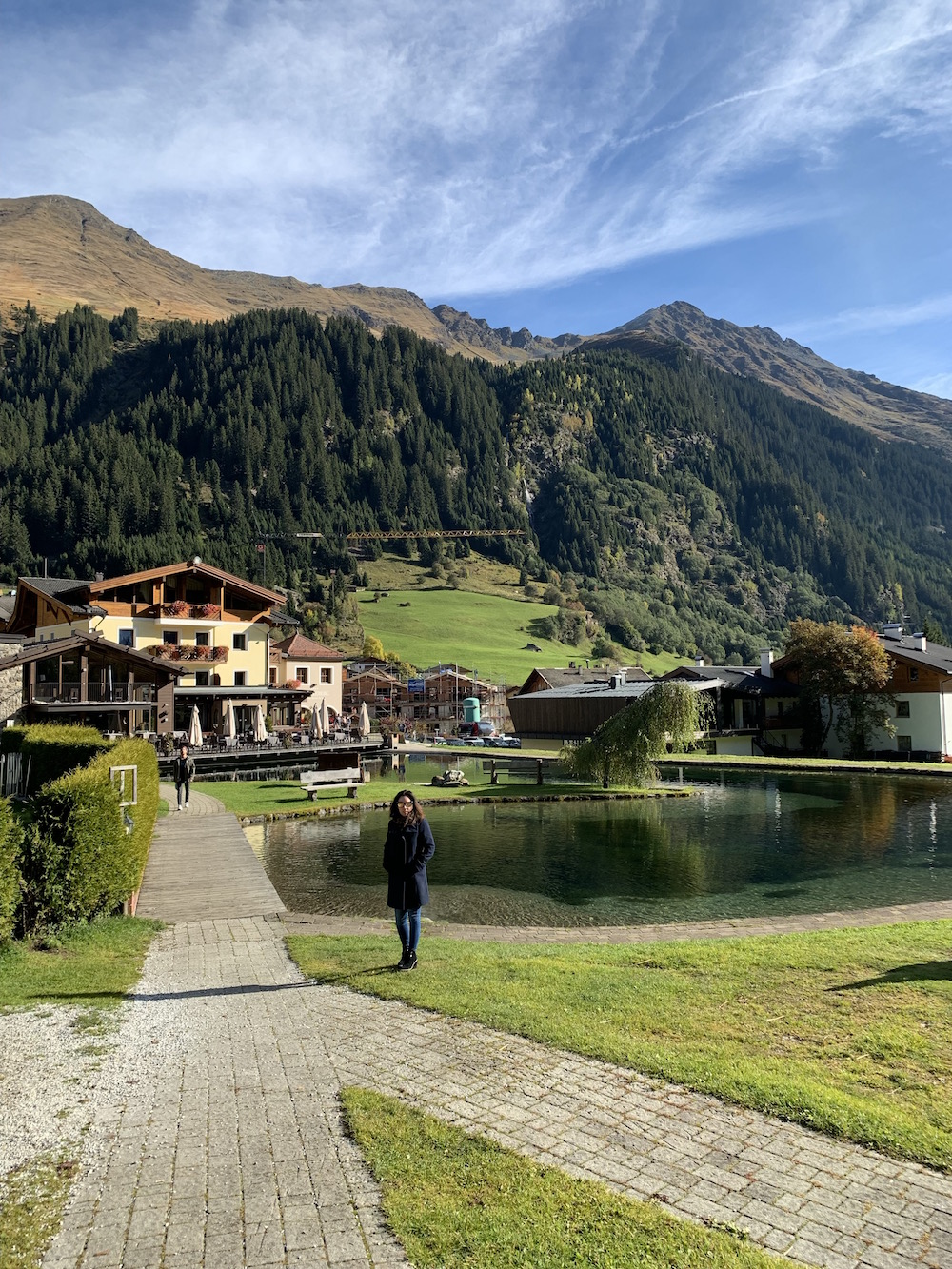 The hotel is constantly being expanded and family suites will be added soon.
Conclusion:
In my opinion, this is not necessarily suitable for couples who only want to come to wellness.
In my eyes, this hotel is the perfect family hotel for children up to about 12 years old. There you can relax as a family and the kids have countless things to do. Parents don't have to be careful because a lot is really child-friendly. The programs offered are also sophisticated and well thought out.
It is also great for people who have selected specific routes for hiking from there. The mountains are not that violent and there are far too few routes to cover.