Read this in: German
Deive Garces is not just a 29 years old (young) real hottie. He is also absolutely modest, talented and romantic. We spoke about his dark secrets and his hot movie roles. I would say Fifty Shades of Deive… I will leave it to your imagination…
He worked for Armani, Dolce & Gabbana, Valentino, Calvin Klein and counts to one of the most beautiful actors of Latin America. So, let's have a chat.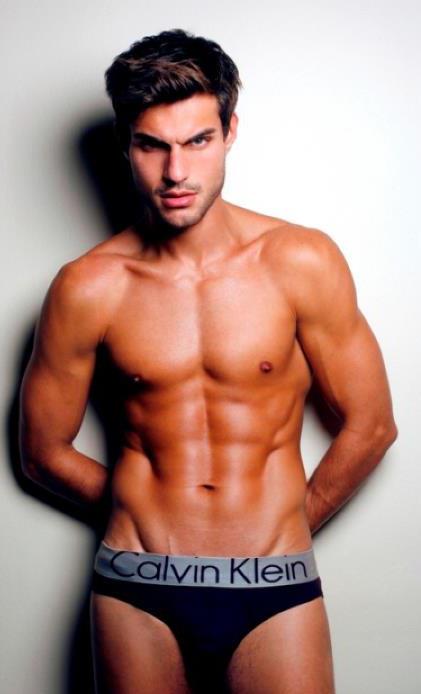 Deive you really thought you were going to be a layer. Happy you did not. The Fashion and Entertainment industry caught you.
You started with a TV commercial with 15. Is it true you have held back after that, to work in that industry? What changed your mind?
Please don't laugh! I thought I had to learn something "serious".
But than Model agencies and production companies knocked at my door and I couldn't resist. After my acting school I started also as an actor. Now I can tell you, I made the right decision.
Let't come direct to the point. Mr. Grey…? 
Hahaha. Yes, I kind of played someone like Christian Grey in Fifty Shades of Grey. It was an adaption called "the shadows of sex". We toured around America. It was really fun. When you work on stage it is so different from working on-screen. You have the audience right there and you have to catch them immediately.
So if they had asked you, you would have played Christian Grey? No fear being naked? 
No fear. It is not difficult for me to take the clothes off. I think it is more a challenge to play that Character right. 50 Shades of Grey is more than just about SM and Sex. Christian has a very intriguing character. You can do a lot out of it.
Just between the two of us. Do you have a "game room"? 
You mean X-Box, Playstation and so on?
Ok, than let's drop the subject. It is getting too hot here. 😉 
What makes a women sexy in your eyes?
Probably that second when I look in the women eyes and she looks at me,  and I can see the honesty of her soul. And then between us – you can feel that good energy.
What is an absolutely No-Go on Women (fashion/outfit/attitude)? 
I never talk about personal styles because that is relative.  What I really don't understand are women who do not value their body and their abilities.  I deeply appreciate the safe, smart and great inner strength women, which leads a woman to be even more beautiful. A women who likes to be a women. Totally independent from appearances.
So your ideal women is….?
Authentic, clever,  natural and sexy.
That leads us to the next question. It seems you found that kind of women. You are Dad. Is it true?
Yes it is. My little daughter Martina was born one month ago and it frightens me. This little baby changed my life and when I hold her hands my heart almost stops beating. So many expectations, so fragile. That is absolutely a miracle.
Do you feel like a sex symbol? 
(he laughs out loud) NO! I don't. I'd rather think I am a symbol of discipline and happiness.
What is the question you hear constantly?
Some people  ask me many things but one of the most common question  is – if I like have so many friends or if I feel bad with this. And the answer is always the same. I love all my friends and like to share with everybody  around the world!
WHAT? That is the most common question? I really can't believe meeting you and the first question having in my had is – that one… But ok.
What is the nicest compliment you ever heard? 
Maybe it was on one Armani Show. Giorgio told me that I have strength, discipline and the "complete package". That was awesome to hear that from someone like Giorgio Armani. But I  also receive some pretty good compliments when I cook for my wife. 😉
What are your plans in the near Future?
I am working right now in theaters and also as a Model. On long term I'd like to work more on TV but I also like to advance and develop my own company.
OK Deive, I can keep secrets. We are now at the point where you can tell me your darkest secrets. Go ahead, please.
I absolutely believe you. ;-). That's why I will tell you even two secrets!
I have many, (really) many freckles at my ears and  the second really dark, dark secret is….
I'm a hopeless romantic man.  I cry watching movies.
Thanks Deive for this great interview. It shows again that people often are even more than they look like. It is nice to meet a guy who is not only good (very good) looking but he also is modest and completely authentic.
You can keep in touch with his career and maybe become even a friend:
Twitter: @Deive_G
instagram: deive_g
Flickr: http://www.flickr.com/photos/deive_garces/ —