Read this in: German
Holidays in Egypt
If you just want to break your Christmas tradition and celebrate Christmas elsewhere, you should definitely consider Egypt. This is definitely another kind of holiday vacation.
Egypt attracts many tourists every year. In recent years, however, the country has suffered greatly due to the many incidents.
However, since Turkey is no longer an option for many tourists, Egypt is experiencing a boom again.
Even in the winter months, nothing stands in the way of an Egypt holiday. The air temperature is in December e.g. on average still 25 degrees. The sky is blue and the rain probability relatively low. Who does not want to escape the wet and cold weather for a few days.
Christmas in Egypt
In Egypt, there are basically two different Christmas celebrations. Since there is the Muslim and the Christian faith, is also celebrated differently. Even though it does not always seem that way outwardly, both faithful groups respect each other and often Muslim as well as Christian holidays are celebrated together.
Many hotels, of course, follow the Christian Christmas tradition and trees are decorated.
Hotels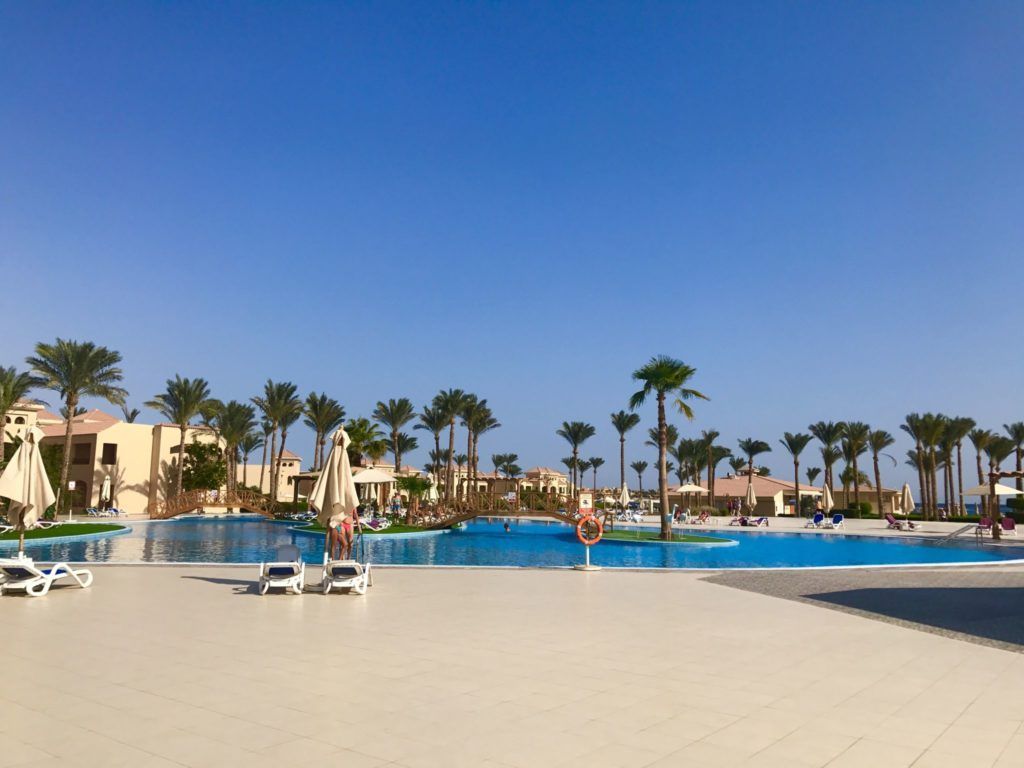 Makadi Bay:
Makadi Bay lies between Hurghada and the port of Safaga. Both cities are about 30 km apart.
Cleopatra Luxury Resort Makadi Bay
The resort is one of two resorts. The other is in Sharm-el-Sheik. It is the former Aldiana Club and designed entirely according to German needs. It is very spacious and has many activities to offer. The Cleopatra Resort is ideal for families. It has a large kids club, several pools, tennis and a large water sports center where you can rent everything from surfboards to kayaks.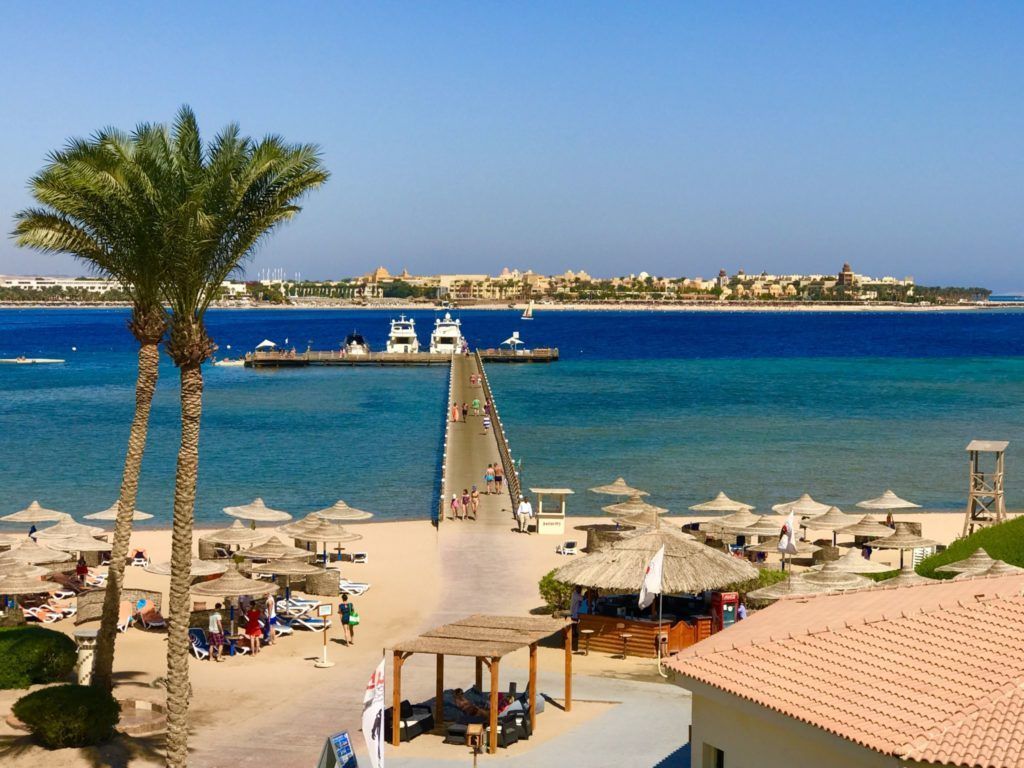 Diving
If you have already dived many times, the name "Extra Divers" will say something to you. Extra Divers Makadi Bay has been awarded several times in diving:
► "Diving" Award as the best dive center in Egypt 2013
► "Award of Excellence" from the Ministry of Tourism in Egypt
► "Best of Diving" Award in 2014
Extra Divers Makadi Bay Dive Center is located above the marina in the beach area of Cleopatra Luxury Resort. From there, many small and large boats start to the most beautiful diving areas.
Cleopatra Food
The Cleopatra Luxury Resort has about 6 different restaurants. You can eat almost the whole day. From the pool bar to the main restaurant. I doubt that anyone will fly home hungry.
Sharm El-Sheikh
This was my first time in Sharm El-Sheikh and I have to say I thought it was amazing. Unfortunately I did not have so much time to see more. Nevertheless I liked what I saw a lot. Next time definitely more.
The place Sharm El-Sheikh (Arabic "the bay of the sheikh"), which is also called "city of peace", lies in a bay. Especially popular is Sharm El-Sheikh for diving. From many hotels, a jetty leads directly to the coral reefs. Of course, also start from here, some boats with fantastic diving destinations.
Hotel
I stayed at Cleopatra Luxury Resort Sharm El Sheikh. I have to admit that I personally liked this one a little more than the Makadi Bay. They both belong to the same owner, but they are very different in style and of course in people.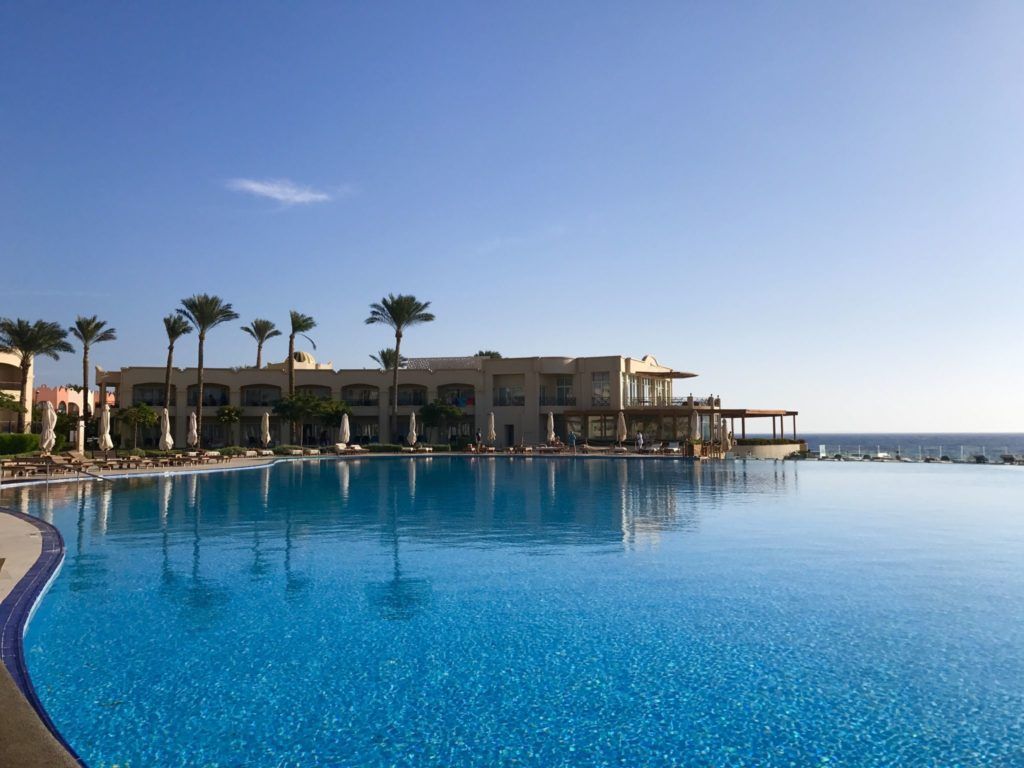 The Cleopatra Luxury Resort Sharm El Sheikh is much more stylish and cozy because of its small size. The staff is incredibly attentive. It feels like they know each other personally. The designer was Italian. Probably as I am Italian I feel a little more home. 😉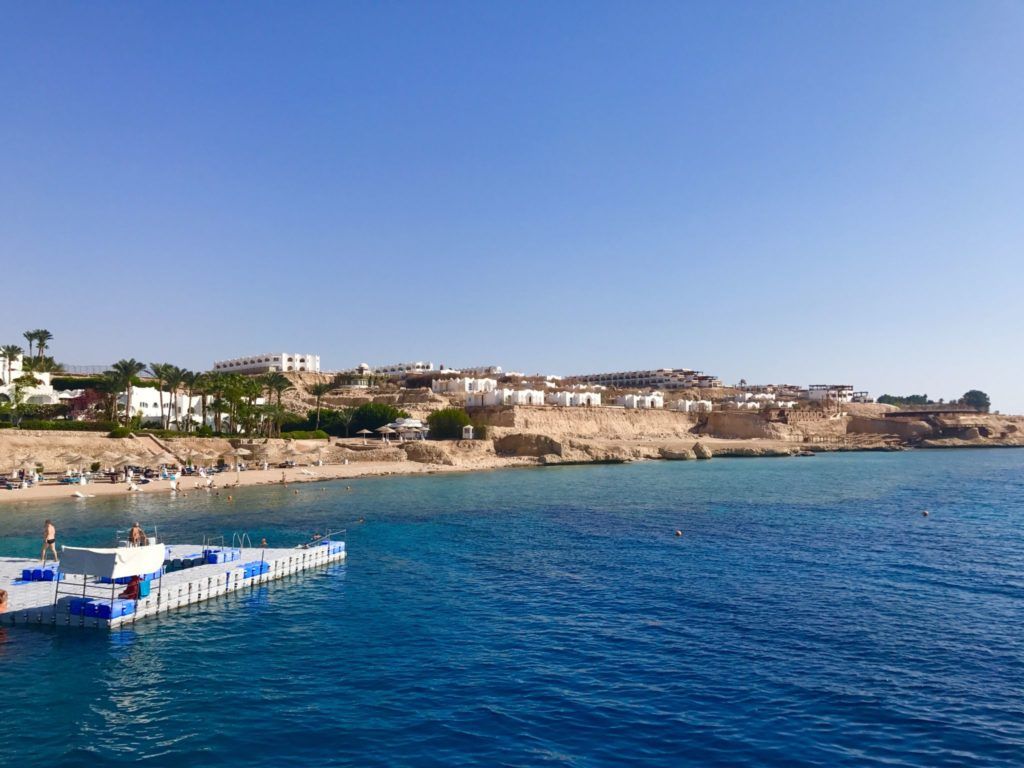 Again, there are several pools and for families also children's entertainment. For children, however, I find the resort not necessarily 100% suitable, as there are many rocks and reefs in the water. You have to jump over a jetty in the rather deep water. For Families I think the Makadi Bay is a better fit. But probably it depends also from the age of the kids…
For adults, however, a dream. Who appreciates style and design, will love the resort. On each terrace or balcony there are two beach chairs with thick pads. I love it when I get up in the morning, make a cup of coffee and go out to the terrace first. I especially appreciate it when I lie down on a comfortable bed and start the day in peace.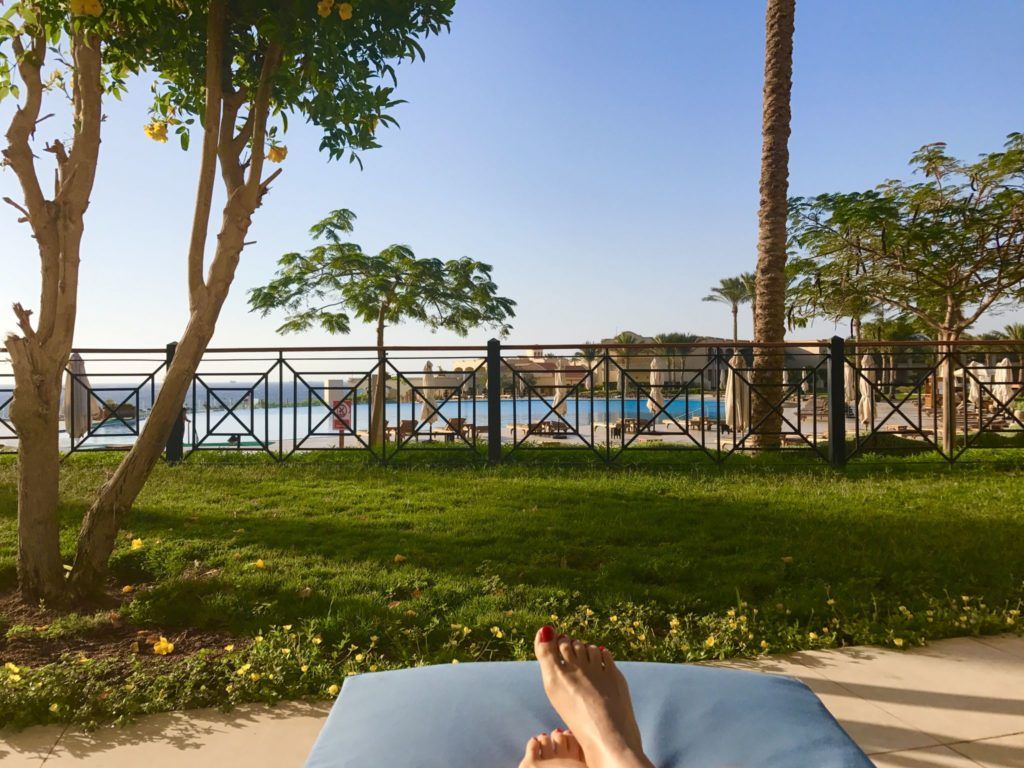 Gastronomy
Of course there are many, various restaurants here. However, you will not feel like this is mass tourism. The restaurants and the food are very selected and high quality.
One of my favorite restaurants was the one on the cliff above the water. A wonderful view!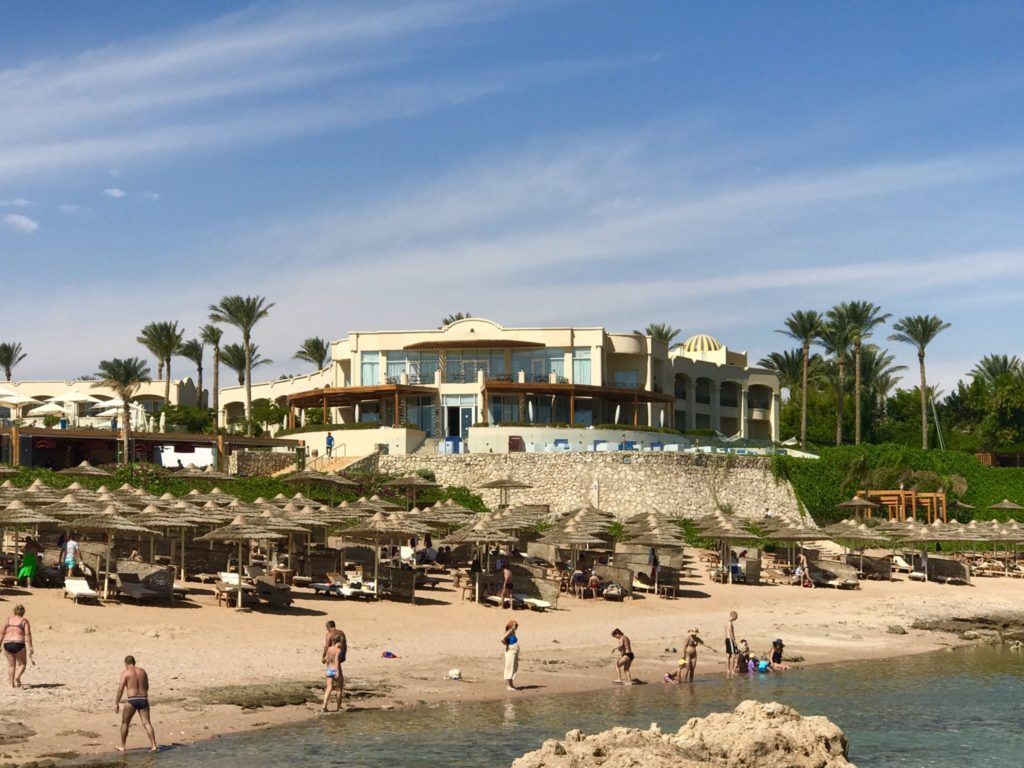 Restaurant auf der Klippe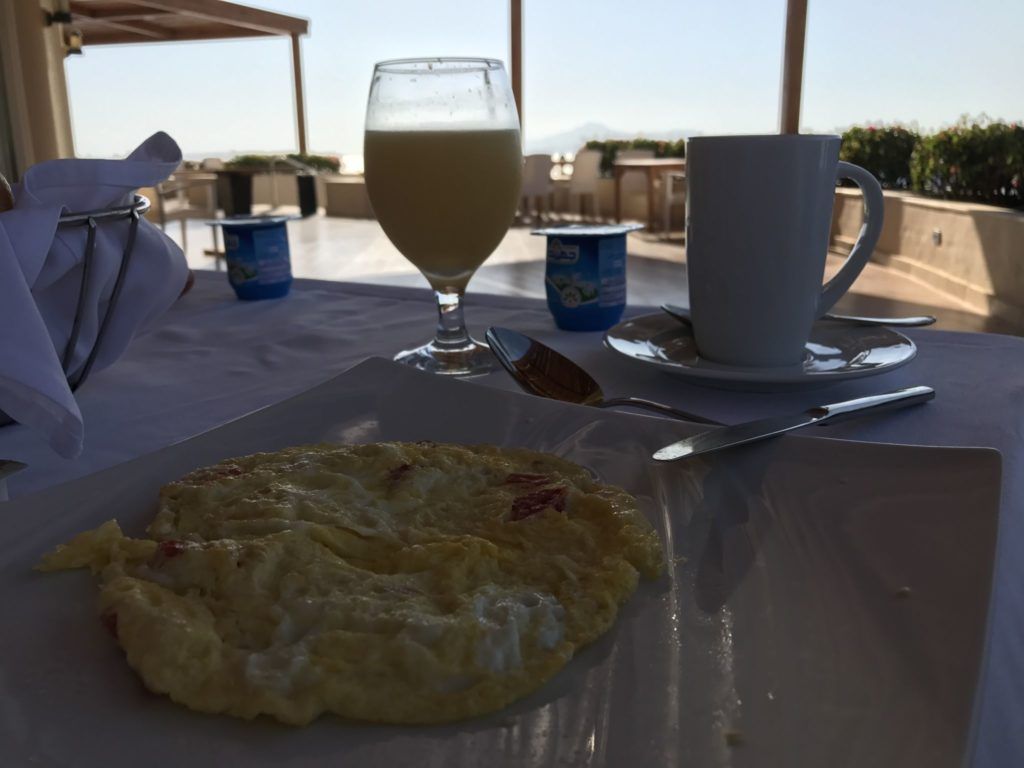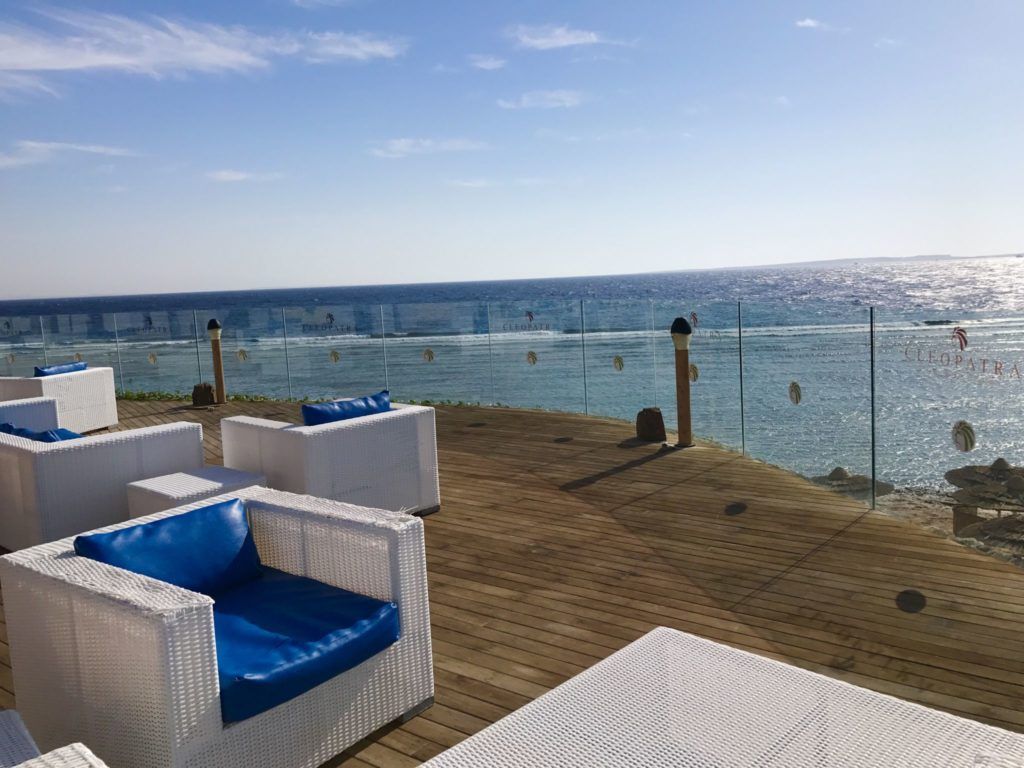 Further down the beach is the beach bar. Again, the ambience is very cozy and stylish. The food was a treat.
Sports and SPA
Of course, sports and SPA are here too a lot. As mentioned before, scuba diving is very popular here. Directly at the hotel is the VIP Diving College. Every trip by boat out to sea is an experience. Even if you do not dive yourself, you should have gone through it. I really recommend it. Look at this amazing food and spectacular water!
In 2018, a completely new spa area will be created in the resort. When I was there, it was rather provisional. So unfortunately I can not say anything about that.
CONCLUSION:
Who wants to escape the hustle and bustle, can spend a nice and relaxing holiday in Egypt. I never felt in any second that it was not safe. The sun and the sea are just a dream and the soul thanks you for.
The hotels are a matter of taste. If you prefer a rather large resort with many, different offers I would recommend you the Cleopatra Luxury Resort Makadi Bay. Is is build especially to satisfy the German taste.
If you prefer the small, individual flair, you should definitely travel to Sharm El Sheikh. The resort is smaller and more personal.
More information can also be found at: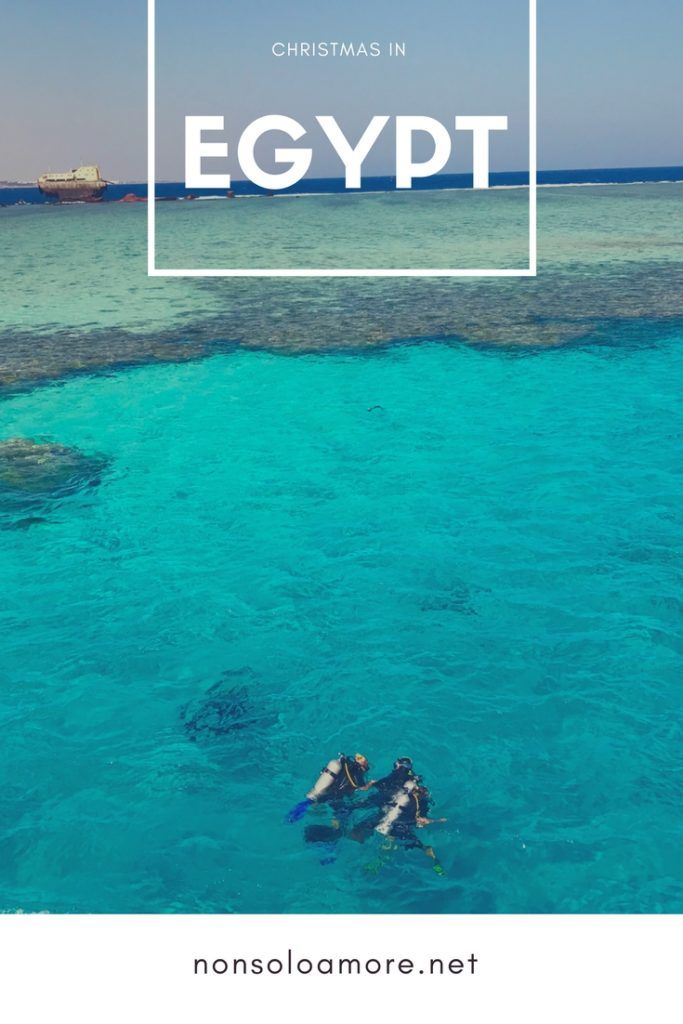 Thanks a lot to the Cleopatra Luxury Resorts chain for making this trip possible through a journalistic press trip. Everything was written here is my personal opinion!