Read this in: German
and the most incredible lie.
        Advertising
Sport is definitely not a murder, unless, of course, you do reckless sports. But that's the exception. I used to be a sporty muff. However, I was always on the road and had so much exercise. A few years ago (getting older) my back started to hurt and the muscles were not as tight as once with 20. So I decided to go to a gym. I have to say that for many years I subsidized various studios as a silent partner so to speak. I saw the interior only, signed the contract and never went back.
The problem was that I did not enjoy sports so much. Running, jogging, walking – all not mine. I tested it and decided: Terrible. Nope.
What should I do. I knew something had to change.
Then I discovered in the new studio the Power Plate and my desire for sports was awakened.
Why is regular sports healthy? Is that true?
Regular exercise boosts the immune system, keeps the cardiovascular system running and can even prevent disease. However, without exaggeration. Our heart is one of the most important organs in the body. If the heart does not work properly, then various other organs will be affected. A regular endurance training strengthens the muscles of the heart. The blood vessels become more elastic. The risk for high blood pressure drops.
Sport can continue to do these things in the body. Prevent diabetes, strengthen bones, lose weight and clear the mind.
Just to bring the spirit and the body in harmony, I went on a journey to one (in my opinion)  most beautiful islands in Germany: Sylt.
And where should I complete a reasonable sports program with wellness and health, if not at the A-ROSA Resort Sylt …
The 5-star resort A-Rosa Sylt is perched on the Sylt dunes in List. It is a building that stands out from the classic thatched roofs. Stylish yet homogeneously integrated into nature.
The hotel simply offers everything that releases both the body and the mind. It has a huge-sized swimming pool, a beautiful sauna area, incredibly delicious food, relaxed atmosphere and of course very important for me – an incredibly great sports area. Nice and bright with floor to ceiling windows and all the equipment you need in daily sports life. In addition, it has a really large sports room, where you can also attend courses. I have to confess, I'm not the type of course. I prefer to do my thing, or just to have a personal trainer by my side.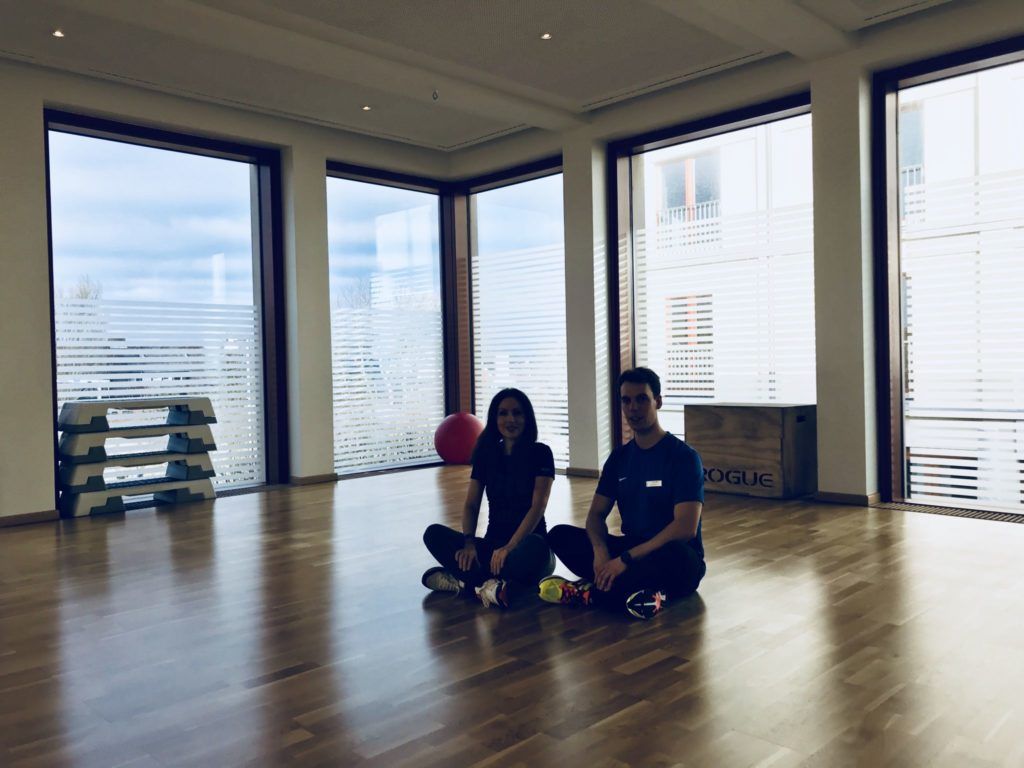 Powerplate
Power Plate or vibration plate is a device that causes a stimulus in the muscles by standing on the vibration plate (whole-body vibration). It works hardest where you feel the vibration in the muscle. The vibration leads to an intensification of the training. It can come to a faster muscle attachment, promote balance and also massage and relax. During vibration training, this deep muscle is addressed. Almost 100% of all muscles can be achieved in such a workout. In other sports, it is usually only 60%.
Power Plate with Lilly
As I said at the beginning, I'm a big fan of Power Plate. What a joy then to find this at the resort. There are not many hotels that offer such a device. What I personally find very bad. Just when you stay at the hotel, you do not always have time to do 1 hour of sport a day. If you have such a vibrating plate then the vacation will be even more perfect. You do not miss too much of your vacation and can still work out.
I also had the luck to train with Lilly for an hour. Lilly Röder is a personal trainer. She is a yoga teacher and also specializes in Power Plate.
One of the resort's fitness rooms features the Power Plate.
You can warm up right on the Power Plate, but we went to the cardio machines and I did a 5 minute cross trainer. My musculature and my heart was ready for more.
How it works
Basically you do on the Powerplate the exercises that you would do even in the dry. It combines gymnastics, pilates and even yoga. From classic squats with or without weights, to stretching to the yoga triangle.
Lilly said that from time to time they had customers who would smile at the vibratory plate. It's not a sport and you just stand on it. Of course, she shows these skeptical athletes how it works. In the end, the unbelievers become fans because the sweat drips, the muscles tense and you realize that nothing is "easy" on the record.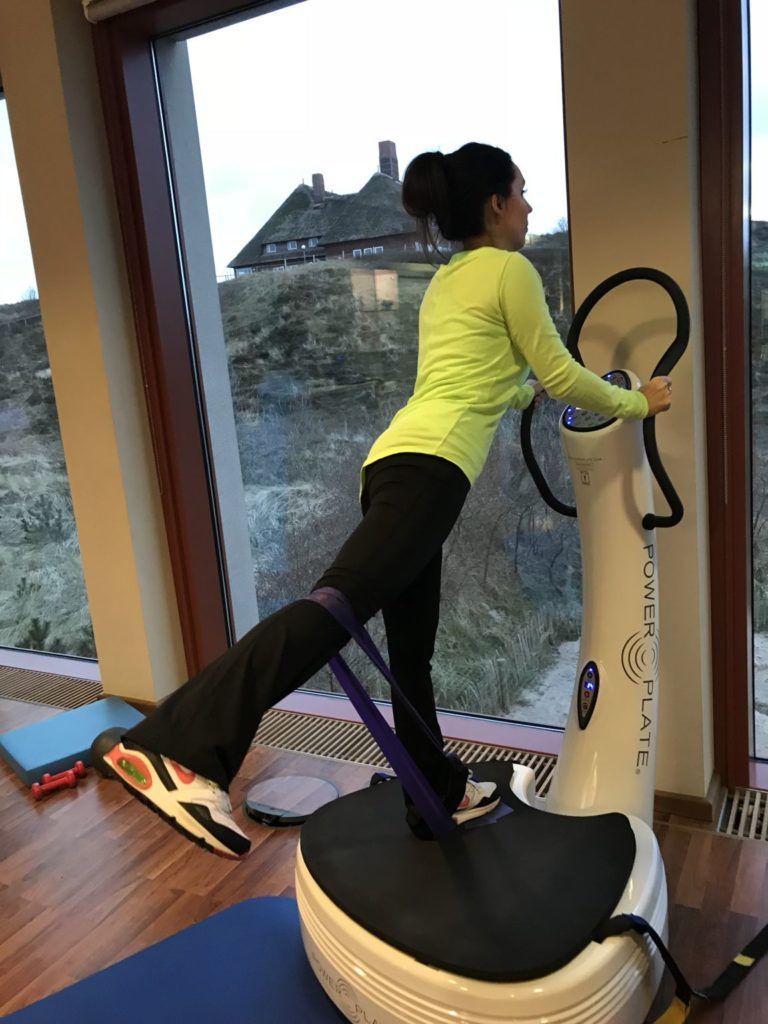 Take care
The vibration should not go in the head. Otherwise it can quickly lead to a headache.
Especially at the beginning you should not do the exercises alone. You have to pay attention to the correct body position and that alone is a bit bad.
Not necessarily suitable for pregnant women, epileptics, people with artificial body parts and pacemakers.
Trainer with additional training. Not every coach can and can train on the Power Plate. Lilly is a trainer with special training in vibratory plates. She knows what matters and how to train most effectively on the record.
Course or Personal Training
Those who do not want to train alone can book one of the many courses at the resort. I have to confess, I personally am not that fan of courses. We already had a few laughs, back when I was at classes. I've often managed to do my exercises against the tide. As I said, I was not created for courses. Luckily I'm a great personal trainer A-Rosa Resort, Lukas.
Personal Training
After a short warm up on the bike we went to the practice room. Lukas showed me a few exercises with a box. I have to say that it was harder than I thought. This Box was not mine because she was just too big for my stature.

That was not a problem for Lukas at all. He said that there are the right exercises for everyone. And so we continued training without a box.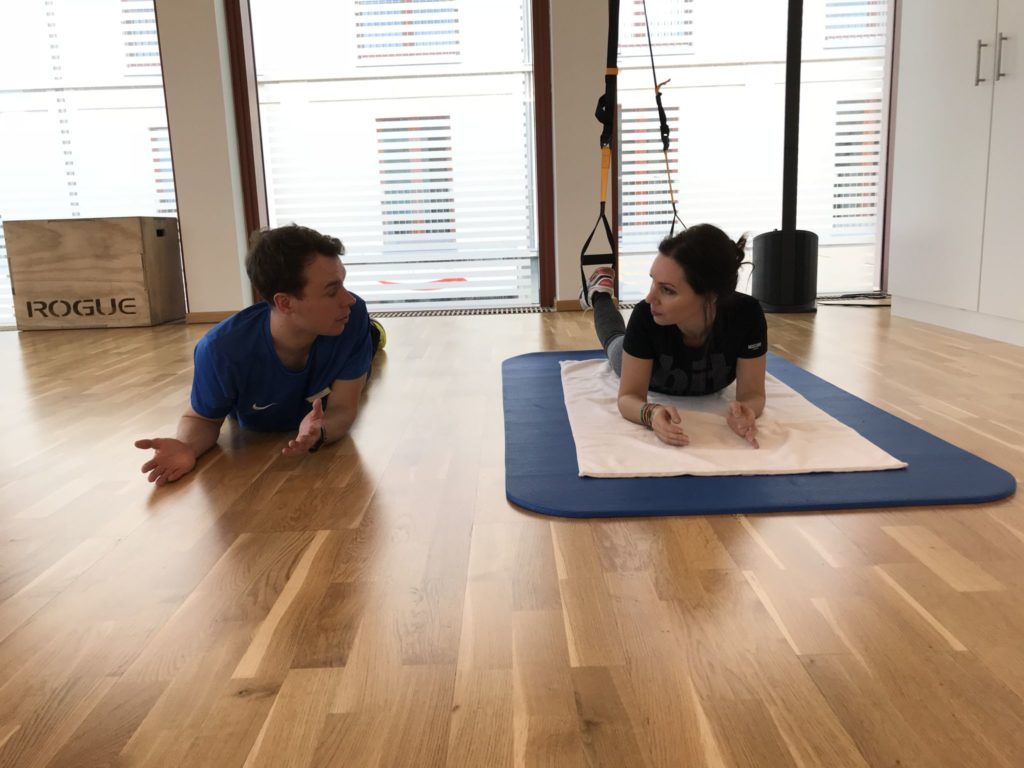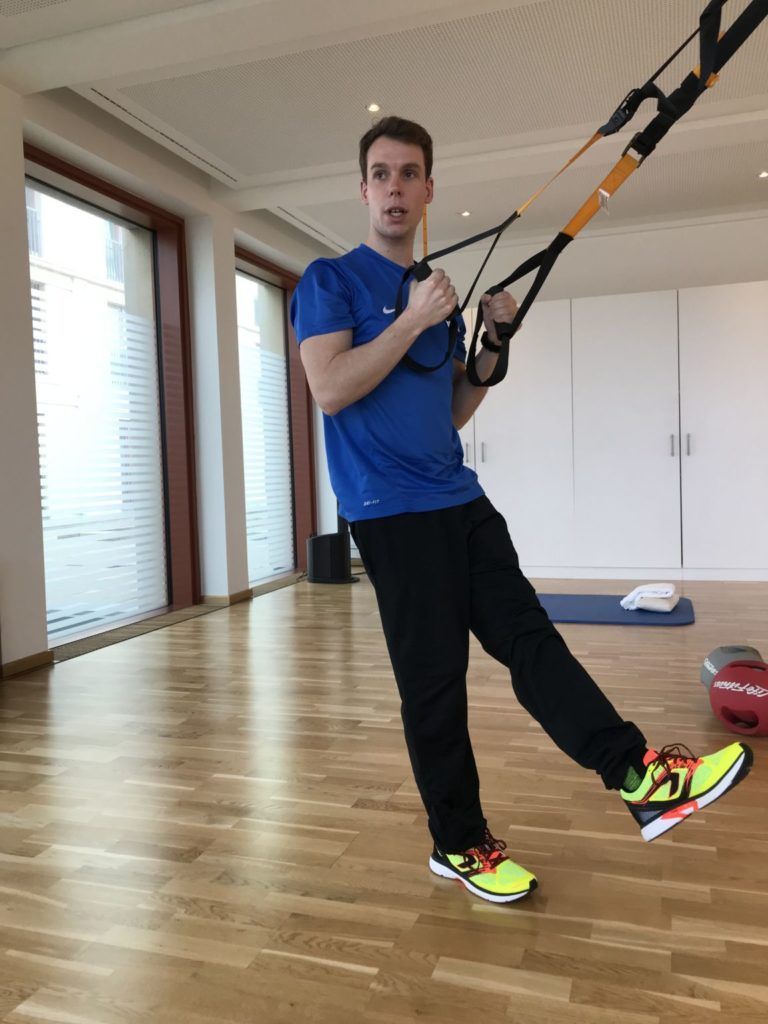 Wonderful sport room
I particularly liked the incredibly large and bright exercise room in the hotel. Floor-to-ceiling windows, great views over the dunes to the sea.
We also did a few exercises with the Theraband. The Theraband is an elastic, wide rubber band. These bands can be chosen in different strengths. I also have such a band at home. The practical thing is, you can take it everywhere and hardly takes up any space.
The advantage of this band is that the whole body is strengthened. You can then concentrate on individual games such as back, legs, buttocks, shoulders or stomach. And it is really suitable for everyone.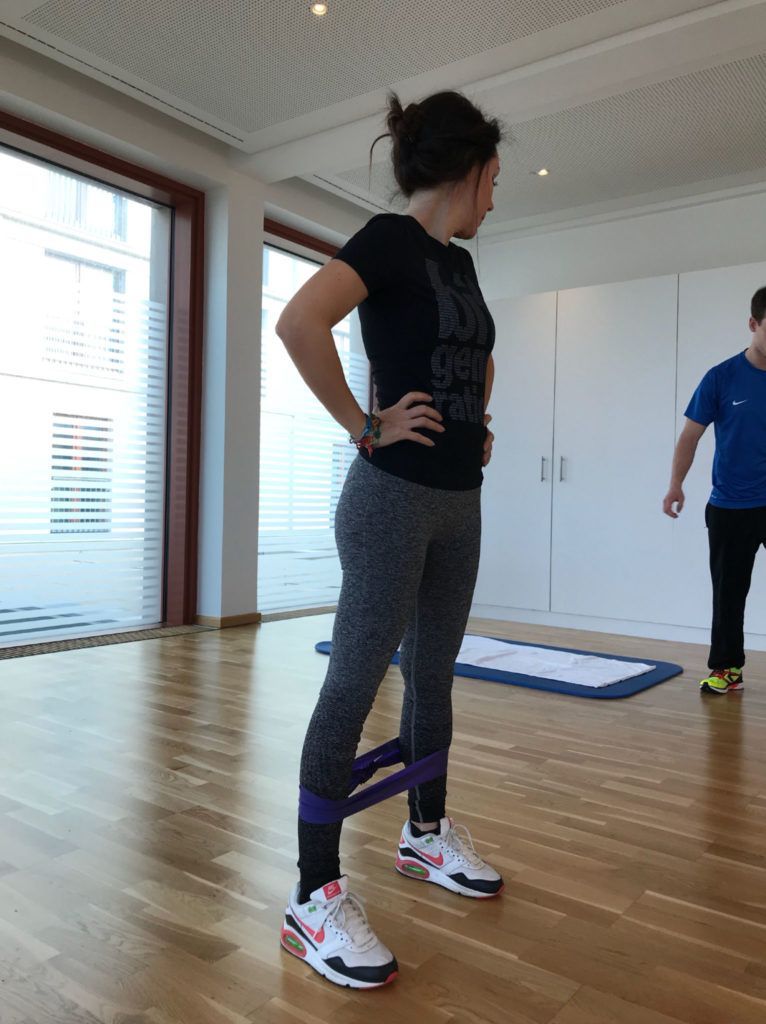 Easy exercise:
Small lunge forward. The front leg is slightly bent, the back stretched. The band is fixed under the front foot on the ground. Now bring the upper body with the rear leg to a straight line forward. Wrap the Theraband around both hands. Pull arms sideways outwards until they form a straight line with shoulders. So, stay in position for 3 seconds. Relax and repeat 10x.

Wellness and Massage
After two days of intense training with different personal trainers, I was allowed to treat myself to a massage. Massages have been practiced for millennia. A good massage not only relaxes the body but also the soul. There are now umpteen techniques. I'm a big fan and could spend hours lying on the comfy couch and getting kneaded.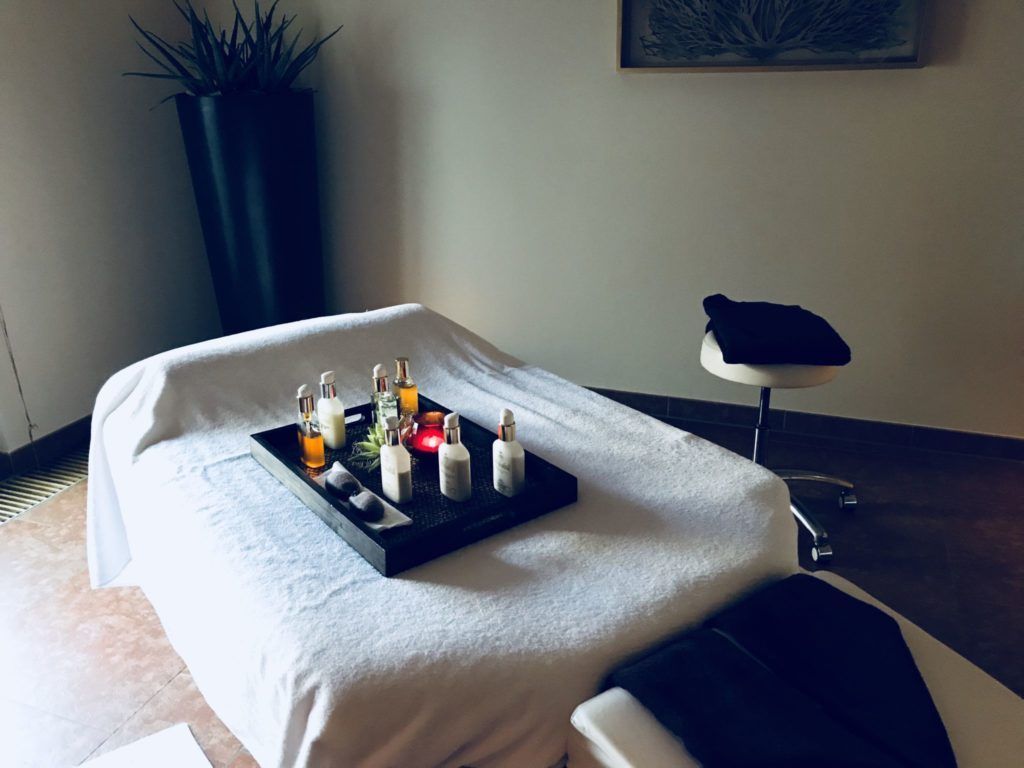 I have experienced many massages and the differences are really like day and night. It usually starts with the room. The last time I was in a practice and the room was so cold that I could not relax.
Here it was warm and cuddly. The couch was comfortable and filled with many, fluffy towels.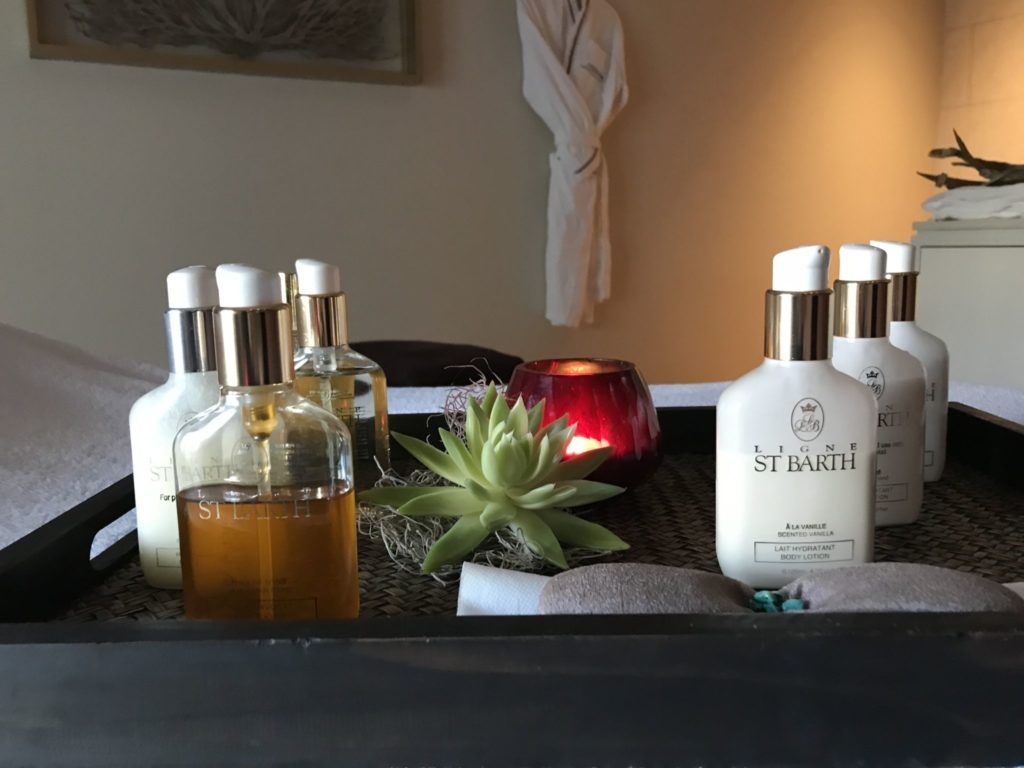 The masseuse had hands like velvet. First of all, I was allowed to choose the scent direction that I liked best. And that for every single body part. I had never experienced that before. These scents alone were already relaxing.
After that, my muscles were kneaded and relaxed.
I can really recommend the massage in A-Rosa. It provides complete relaxation and even relieves crampy muscles.
RESUME:
Rarely have I experienced a hotel that has such great sports equipment and trained personal trainers, like the A-Rosa on Sylt. Not only because the devices are not in a cellar or in dark rooms. But on the contrary! The sports area is spacious, bright and friendly. It's fun to train and you do not have to persuade your inner bastard so much.
For me personally, a fitness area in the hotel is very important. I find it terrible when I take a vacation somewhere, eat and drink well and do not have the opportunity to calm down my bad conscience in the morning. Since I'm a total Power Plate mega fan, I was particularly pleased that this device was available in the hotel. That too is rare in hotels.
The A-Rosa Resort on Sylt can really keep up with well-known fitness centers specializing in sports. And it is "only" a hotel. I was there in winter, but when I look at the spring / summer program, I'm planning my second visit right away. There are yoga or Pilates intensive weeks, golf courses or I could even play tennis again.
If you just want to plan a cool sports holiday, maybe you do not want to fly into the big world, then stay in the A-Rosa Resort in List on Sylt. Just talk to the local people and see what they suggest.
More informations:
or
A-ROSA SYLT
Listlandstraße 11
25992 List/Sylt
Tel:+49 4651 96750-0
Fax:+49 4651 96750-799
sylt@a-rosa.de
PS: Everything in this article is 100% my opinion. Although I have to declare it as "advertising", but this article was created because of my research, because I am very interested in this topic.