Read this in: German
That I spent last Saturday in a stud, I had not thought honestly. Nevertheless, I wanted to share these interesting insights with you. I myself come from the countryside from an area with many horse owners and tournaments. However, tournaments and dressage or show jumping are once again a very different discipline than horses for horse racing, which should be discussed today.
Why Walter Jacobs has dedicated himself as Best Ager horse breeding and the origin, I'll tell you in this blog post.
The origins of the horse race
Anyone who is already familiar with horse breeding and the breed of English Thoroughbred can safely skip this part. Nevertheless, there will certainly be many who have less or no knowledge of the subject. In the 17th century, nobles in England began crossing their horses with Arabian thoroughbreds from what is now Morocco, present day Turkey and other Arab countries. So faster and faster horses emerged. This not only had a military benefit, but was of course also a status symbol of the then English landowner. But the breeding was not just about whether the animals were nobler or prettier – no, the English were already a sport-loving nation at that time and let their breeds compete against each other in races. So the individual breeders could see which were the fastest horses, which were then bred further.
And since 1727 there are detailed records of who won the races.
How horse races work
Then in the late eighteenth century, a system of racing was established in England. This system is partly still in existence today. Three-year-old horses compete at the Derby at a distance that can vary from 1000 to 2800 meters, depending on the race. For some races only mares are allowed. However, it is important that the derby can only be won once by a horse at the age of three. Afterwards it can ride more races, but there is only one chance for the derby. The form of the original race has been preserved to this day in England and only in England.
Anyone interested in the handicap system, how horse racing works in detail, can find out more about the history of horse racing on the German Racing website.
At later times, sport and breeding spread to other nations, including Australia and New Zealand, which are still part of the Common Wealth. Variants of the races were taken over by other countries. Germany was a little later, similar to the Industrial Revolution, so it was the first time in 1818, the Grand Prix of Baden. Large breeding areas for racehorses in today's German territory were more in East Germany at that time. After the first and second world war, the breed shifted to the west, especially in the area around Cologne.
Walter Jacobs and the horses
In Northern Germany was actually the first Walter Jacobs active in the breeding of English thoroughbred horses. The entrepreneur from the vicinity of Bremen had a passion for horse breeding for a long time and was well acquainted with the history of horse breeding from its beginnings. But only in the direction of age, when others retire, did he actively engage in horse breeding. When he handed over the coffee business to his sons, it was the third largest coffee roasting company in the world.
For Walter Jacobs, breeding was always his passion, yet he was pragmatic enough to decide that he would not put it into practice until he could hand over his business. Concentrate on one thing. But his riding passion could already be seen before that he was a hunting rider and founder of the "Lower Saxony mob".
No optimal location
Interestingly enough, the farming business that Walter Jacobs took over was anything but suitable for the breeding of racehorses, according to his then-advisers. The land at Sottrum in the Wümmeniederung was too wet and you could breed there as a maximum dressage horses. Fortunately, Jacobs knew about farming through his family and started buying drainage directly after draining the land, draining the wet marshes. This drainage even gave the stud an advantage: Since the ground is lighter than, for example, in the Cologne area, this means that it is less boggy even in winter and the horses can out year-round.
In general, Walter Jacobs took a very natural approach to the attitude of his horses. Even at night, they should stand outside, as they should ride in wind and weather tournaments. And also the breeding runs in this stud in a natural way.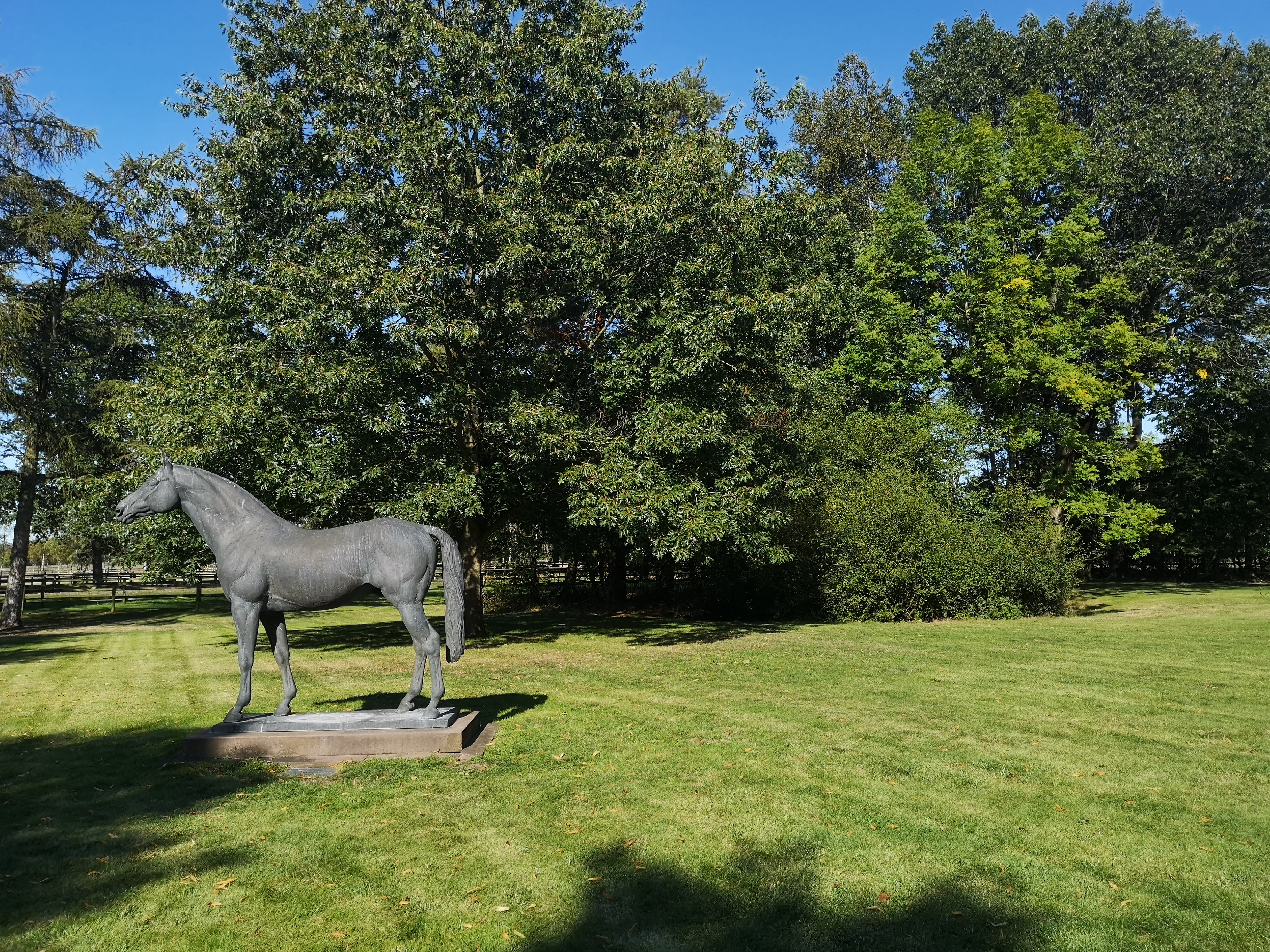 First success
In 1964, Walter Jacobs bought his first horse for his stud in Baden. He had already researched thoroughbred breeding to the very beginning. At the beginning of the 70's his stud was established by the stallion Surumu, to whom a statue is also dedicated on the estate.
The job of a stallion
Germany is not a big place for breeding of racehorses, as you might think. Currently there are about 900 to 1000 broodmares in this country. There are four times as much in France alone. And in other countries such as England, Australia, New Zealand or even the United States then again many times.
But what does a stallion do? Of course, he will be breeding from the 15th of February to the end of June. If you want to buy such a stallion, it costs at least several 100,000 euros. And in the year then the horse often does not race.
A culinary trip
Following our surprise excursion to the stud farm near Sottrum, there was still a wonderful restaurant that I recommend to anyone who is traveling by car in the area around Rotenburg (Wümme) or Bremen. "To the Eichenhof" in Waffensen, on the way there, appeared a little bit out of the way as we drove by a farm past a harvest festival. But since my father comes from the "Altes Land", I know that often just in the countryside hide small culinary pearls, where you just do not expect them.
The inn not only impresses with its charming country hotel look, but is also a true interior pearl from inside. As a vegan I was announced in advance by phone, on the menu there are also many meat and fish dishes as well as a selection for vegetarians and a menu with seasonal dishes. Just mushroom season, of course, therefore gave a choice of dishes with porcini mushrooms.