Read this in: German
Just a stone's throw from Hamburg Lübeck looks downright cute and is full of tourists, especially in the summer. But whether short break or day trip, it's definitely worth it. Already, when we parked our car, there were people from Berlin, Heidelberg, Munich. Extra arrived early, just to see Lübeck live and in color. But what is the fascination of the Hanseatic city with its world-famous marzipan? The gateway to the Baltic Sea is too often very dusty and like a destination for pensioners buses – completely wrong!
I'll tell you which places you need to see and what you can save yourself!
The Holstentor 
It sounded the theme tune of Pokemon, as we walked along the Holstentor on Saturday afternoon. I played 11 years trumpet in my childhood and adolescence until I finished Abi and the crooked tones hurt my soul a bit. But what can you do? There are always youth orchestras or bands playing here in the tourist season. Also photos of a bride are made, only just that the girl in the wedding dress is not older than 2 years and her groom probably her big brother. Some tourists come here in Lübeck on odd photo shooting ideas, but that's the way it is. The closer you get to the Holstentor, the more English tourist guides are in the air. Anyone who wants to take beautiful photos should definitely get up early.
Historically, it is probably the best-known preserved city gate of the late Middle Ages in Germany and even adorns a coinage of the 2 euro coin, symbolically as a landmark for Schleswig-Holstein. The late Gothic building from the second half of the 15th century as part of the former Lübeck city fortification.
Marienkirche
Getting closer to Lübeck's city center makes you feel a bit like Hamburg or Wroclaw. First there are many, many churches. The Marienkirche in Lübeck is a landmark from the 13th century and today a restored Gothic church, which was destroyed during air raids by the Royal Air Force in the Second World War and now shines in new splendor.
Buddenbrookhouse
Who does not know "Die Buddenbrooks"? It's one of the most important novels of German literature besides Goethe and Schiller. Honestly, among us: Did you read it or in the end just put in a movie or a summary? At that time, when I was studying in Göttingen and in the third semester after the two semesters examinations madness was allowed to choose beautiful topics for the first time, unfortunately I did not make it into the Buddenbrookseminar. Fortunately, I say now in retrospect, because the poor teacher was allowed to read about 20 of 30 homework on the motive of the rotting tooth. I preferred to do something to Goethe.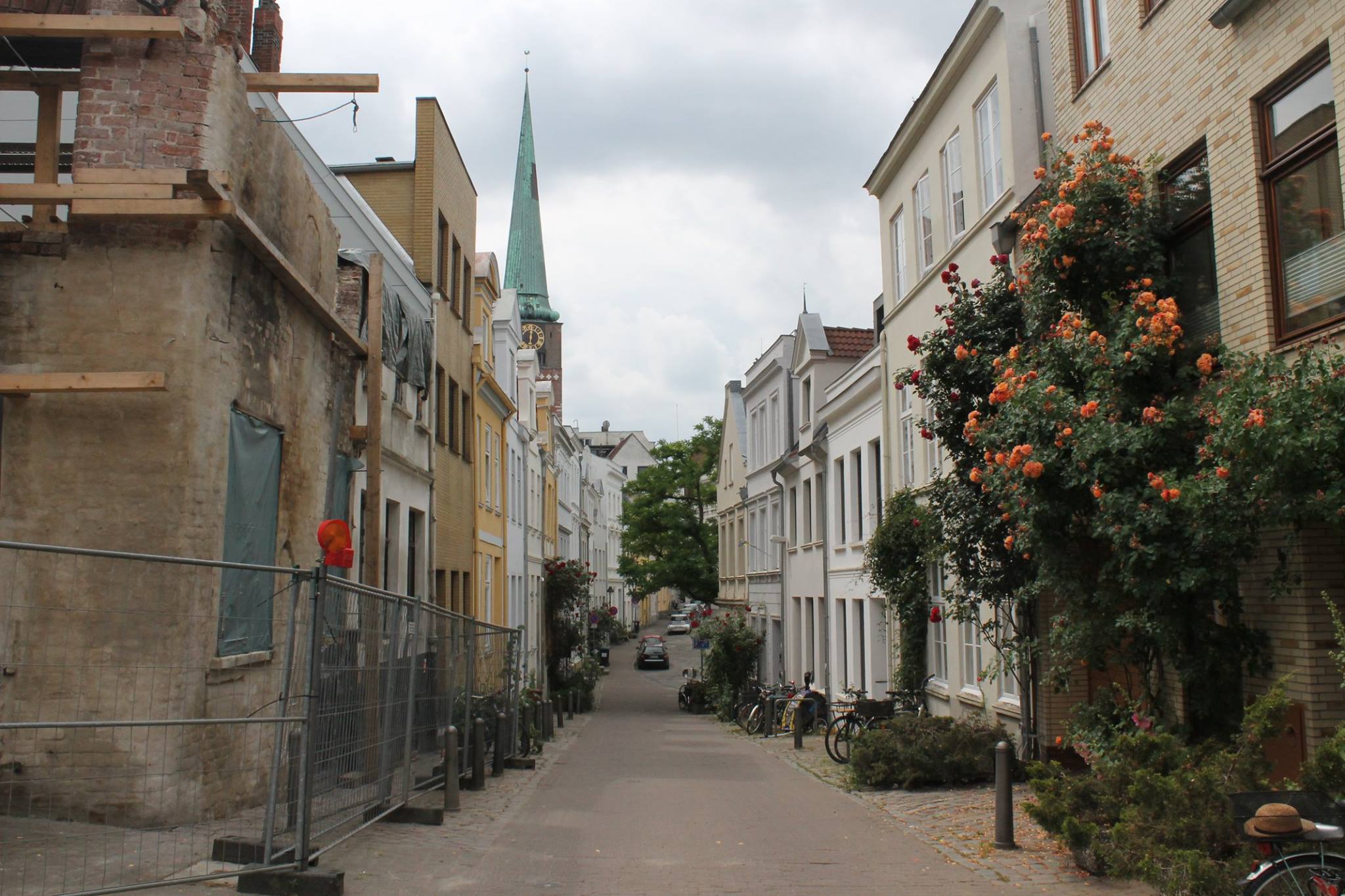 But nevertheless I can recommend to you the books of Thomas Mann and Heinrich Mann very much – particularly "the small city" is quite cool, if one has fought itself up to the almost eternally long opera premiere. Since 1993, the Buddenbrookshaus with its Baroque façade right next to the shopping street and next to a Scandinavian department store the Thomas Mann Museum in the former home of the Thomas Manns family. Today, the museum is dedicated to him and his brother and a great way to learn a bit more, once again in Lübeck is a rainy day.
For sweet tooth
Of course, you also associate this city with a certain marzipan manufacturer, who likes to land with us under the Christmas tree as marzipan bread. But at Niedererer in the Lübeck shopping street you can not only buy marzipan, it is also a nice and highly recommended cafe. You almost feel like you're in a Viennese coffeehouse while you stir your American and you can have breakfast there or enjoy a piece of cake. Anyone interested in the history of marzipan will find something on the second floor.
Heiligen-Geist-Hospital
One of the most photographed motifs in Lübeck is certainly the Holy Spirit Hospital – anyone who strolls through Lübeck as a tourist or day visitors, will notice the striking exterior of this building from 1286. Besides his photogenic appearance, it is interesting to know that it is one of the world's oldest existing social services. In the square directly at this hospital is the most beautiful part of the Christmas market, because yes, even in December Lübeck is always worth a trip.
Old town
Instead of hunting from one church or museum to the next, one should rather enjoy the moment in Lübeck. Yes, the old town is a treat for the eyes and just to pull through the streets is a must for every tourist. Since the old town is located on a kind of island, it is difficult to get lost and well oriented to church towers. Somehow you always find yourself back.
So my tip is that you just let the little streets and alleys work on you and also go into the streets that are not quite as touristy. Instead of only the Holstentor you will also find Salzspeicher, walk around the five churches and find the most beautiful quiet paths on the water. You almost feel like in Amsterdam, because you can find the water everywhere. Already since 1987 this old town island belongs to the world cultural heritage, which individually and collectively as a collective of over 1000 buildings are considered as a monument.
Let's go to the beach
Of course, Hamburg's Elbstrand also has a special flair, but in Travemünde and on the really famous Timmendorf beach you can easily catch fresh Baltic Sea air. If the weather is good, it is almost a pity to spend the day in the city. So off to the beach! Travemünde is also officially part of Lübeck and is only a few kilometers from the city center. If you love beach bars, sand under your feet and wellness, you will get their money's worth here.
Beach bars and swimming, that was not always the case in Travemünde. Once Kafka noted during a trip: "noticed by the bare feet as indecent". In 1914 he was just a free spirit for his time. Unlike the free-spirited scribbler, the summer visitors sat in full gear in a beach chair. At that time one strolled still with parasols and completely clothed along the beach promenade along.
The market place
Unfortunately, we had the bad luck on our trip, that any wine festival completely blocked the view of the market place. But you can still admire the town hall with a breathtaking architecture even when a marketplace. The cityscape is rounded off by the north-facing and already mentioned Hochgotic St. Mary's Church. To this would also be said that the brick building with 120 m high towers a model for all churches in the Baltic Sea area – and who has got around a bit, will know what I mean by that. An ex-boyfriend of mine, who came from the Erzgebirge, had as his favorite travel theme, that he did not like brick-look. He always said: "The North Germans are probably too lazy to plaster their houses." I contradict him because I can not get enough of the beautiful buildings.
Back to nature
Fortunately, there are some friends from school and also relatives who once lived in Lübeck. So I know not only the city, but also neighborhoods in the area such as Buntekuh (funny name, in English it's colorful cow) or Kücknitz. Anyone who has never seen a 4,000-year-old Funen grave can catch up in Kücknitz, surrounded by greenery. Already Heinrich Mann mentioned it in his "Professor Unrat". But even more beautiful for me is the nature reserve "Dummersdorfer Ufer" directly on the Trave. For a sea of green you do not have to drive straight into the Spreewald, here you can go hiking and has a view from some hills to Mecklenburg-Vorpommern.
The best view
As already mentioned: there is always a lot going on at the Holstentor. So now I give you a real insider tip. Not directly at the Holstentor you get the building best captured, but from the tower of St. Peter's Church, which is only a few 100 meters away. From there you can not only capture the Holstentor great. But you can also enjoy the rest of the old town to the fullest from the top. And there is even a lift for those who are not so good on foot.
Sporty on the water
Of course, you can just make a little trip on the boat when you're in Lübeck. But it is much nicer in good weather to explore the city from the water by canoe. Brave people can even borrow equipment to stand up paddling in some places. With Husband injured on foot, we then rather chose the canoe.
For the little sugar shock
Well, Lübeck says, you can not get past the name Niederegger. In Germany it's totally normal to say Niederegger and mean marzipan or to say marzipan and mean Niederegger. It's an normal present for christmas – do you know marzipan bread outside of Germany? And for easter there are the marzipan eggs. My personal favorite after many visits to Lübeck, however, is the marzipan city. Not only marzipan with chocolate icing and naked marzipan can be found there. Even the slightly flared Königsberger variant is there – the favorite of my mom!
A little bit of political education
If you are looking for things that are free in Lübeck, you will not find that much. A tip is definitely the Willy-Brandt-Haus with an interactive exhibition. Unlike in the Museum Holstentor, which looks a bit dusty, it works here with many modern multimedia elements. This makes the exhibition attractive for young and old.
Magical backyards
If you wonder why in Lübeck so much magical architecture can be found in the old town: The medieval Lübeck had a problem that we know too well today – the housing became scarce on the old town island. So all the backyards were gradually built. And just as social housing now gives way to luxury condominiums, wooden huts gradually gave way to stone buildings. This change on the former housing market is due to the magical architecture with its many picturesque scenes. Definitely worth exploring the aisles and backyards.
Strolling on the Hüxstraße
Of course, part of a day trip or a city trip a little shopping. I am not a big fan of unbelievably big shopping malls and my nightmare come true, for example, the Weserpark in Bremen Mahndorf. I prefer to shop in a small and clear way like in Oldenburg or here in Lübeck. The shopping takes place mainly in Lübeck in the Hüxstraße and in the Fleischhauerstraße, which runs parallel to it. I particularly liked the small boutiques with brands that you can not find in every department store or next to shops with Scandinavian interior treasures the antique shops.
Ice cream with soul
In Lübeck you do not just have to feast on marzipan. In the summer it's time for ice cream. And at least 10 people have advised me in the research in advance: Go to Soulmade, there is the best ice cream! The ice cream there is of course homemade. How should it be different? And the varieties are not everywhere – I personally convinced the sorbet lemon-basil. Even the rather untypical exterior of the ice cream parlor is impressive.
From the outside, it does not look much like gelato and has more of a pub or Tribeca Icecream in Berlin. However, you should not get too late in the afternoon or evening battle for ice, because some varieties are sold out quickly on the weekend. There are also other creations you will not find everywhere. But lemon-basil just does not come close. Therefore, I can highly recommend you on hot days in Lübeck.