Read this in: German
If you plan to visit Disneyland in Paris but you don't want to be bothered with too much Disney around. You really should think about the Marriott Vacation Club Resort. It's maybe 5 Minutes by car from Disneyland in Paris but it's a complete new world.
Marriott's Village d'lle-de-France
Have you ever stayed in any Marriott Vacation Club before? I didn't. It was my very first time and I really liked it. Why? Let me explain why.
The Marriott's Village d'lle-de-France it's at the countryside of Paris. It is only about 5 minutes by car from Disneyland.
Townhouses
You will be surprised because you will not sleep in a boring room. You will stay in your own Townhouse. It reminded me a little some old movies. Where everything looks perfect almost made out of Marzipane. They have this great colors and everything is incredibly well maintained.
Inside the Townhouse
Bedroom with bathroom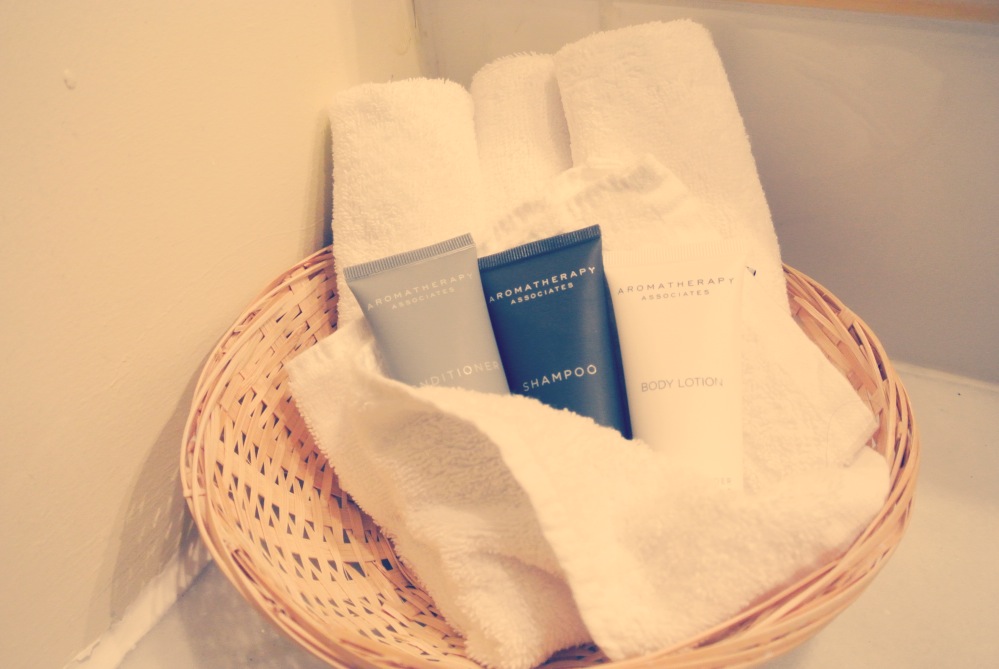 Livingroom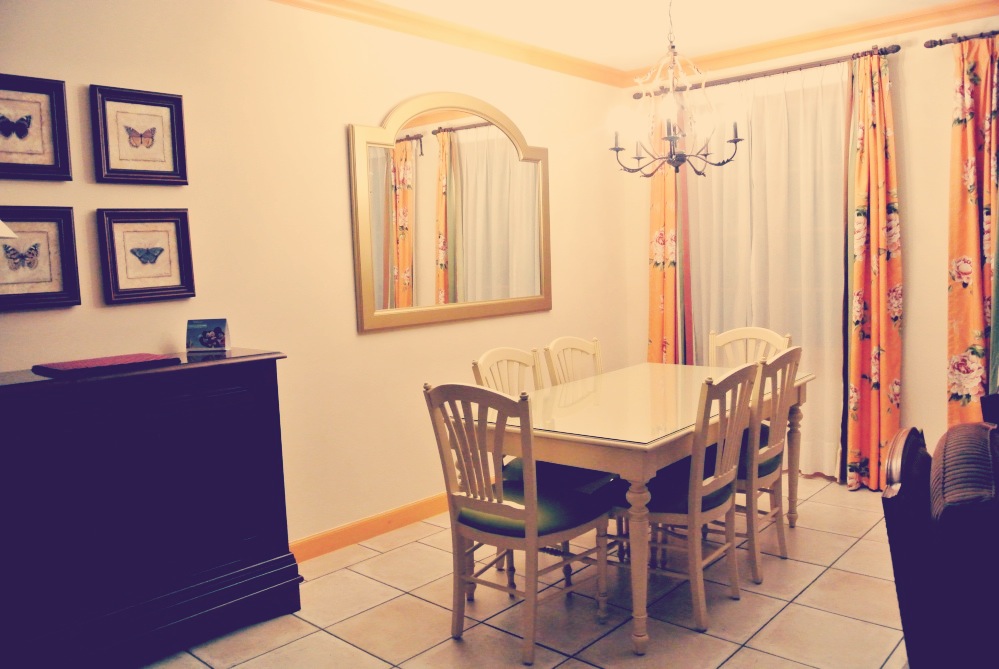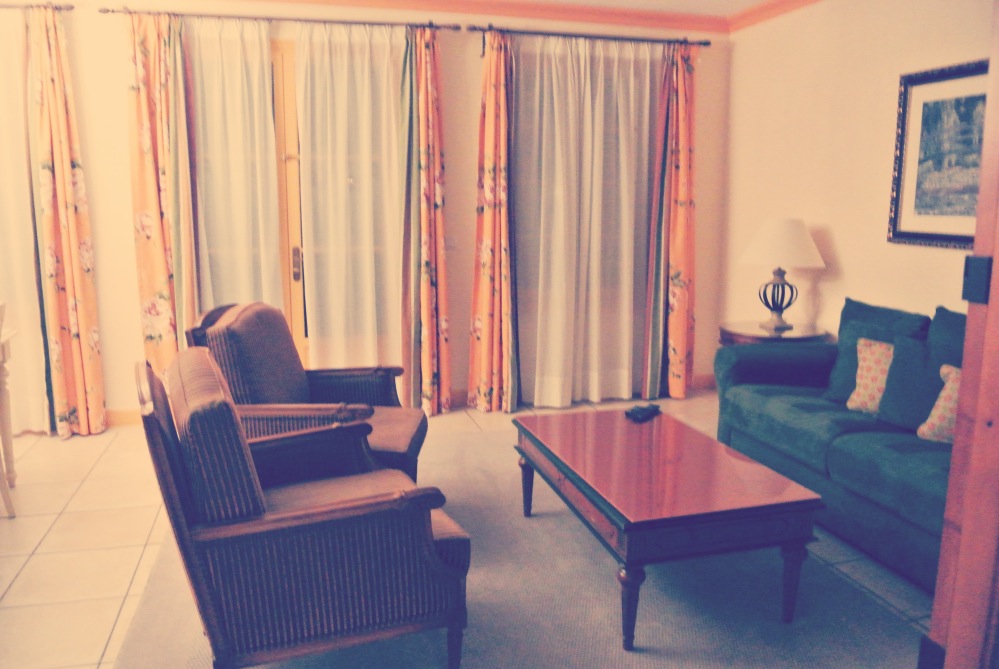 The houses are fully equipped. There is everything you need. If you usually rent apartments for vacation as I do very often you totally appreciate at least two things here.
There is already soap and dishwasher tablets in the house
The housekeeping even cleans your kitchen and they switch on the dishwasher
Of course there is Wireless Lan everywhere. Even when you lay in bed upstairs it works perfectly. During the day this was my view from my working place. 😉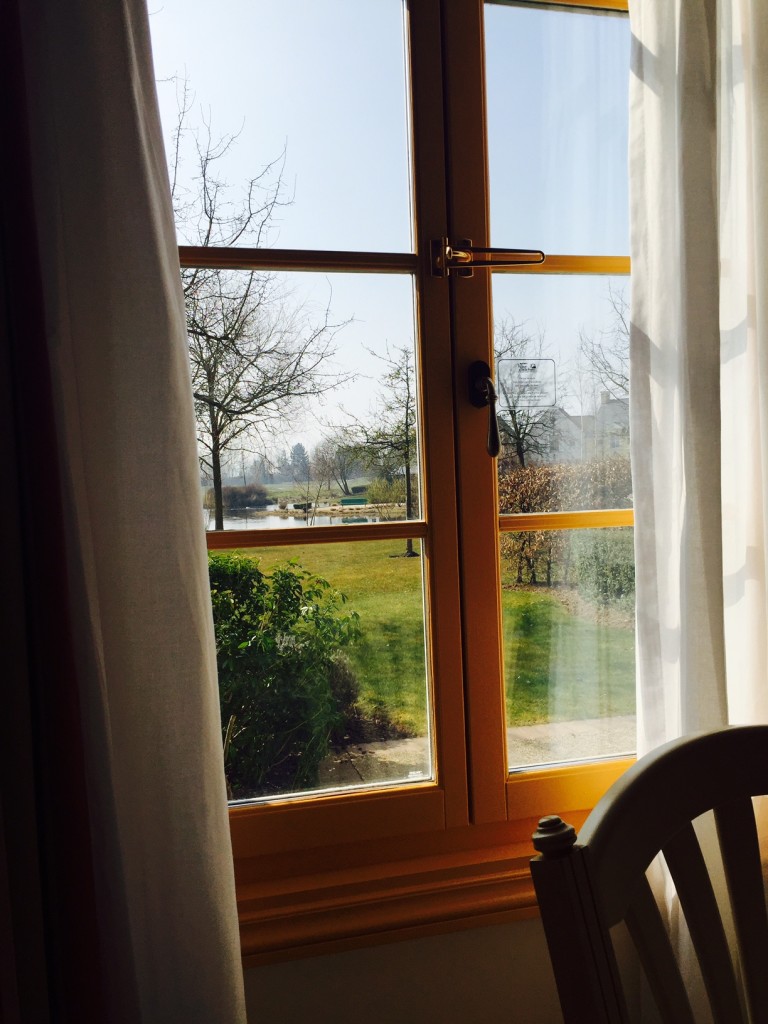 The interior design has a typical country-style. It fits to the house and the contest.
The facilities
There is lot's of stuff to do here. At the arrival at the Marriott Vacation Club Resort you will get a program with things to do for you and for your kids (if you have kids). There is also a wall at the Reception where you can read all the things whats going on during the day too.
Kids have a pretty well scheduled program at the kids club (if they want).
I really liked this floor to ceiling windows. The kids club was bright and amicable. It looked like a place I would feel directly at home. There was everything for the kids. From electronic stuff as playstation to old school handicraft material.
There is even a Cinema that shows all day long movies.
For older kids or adults there are other toys (Evil to him who evil thinks) 😉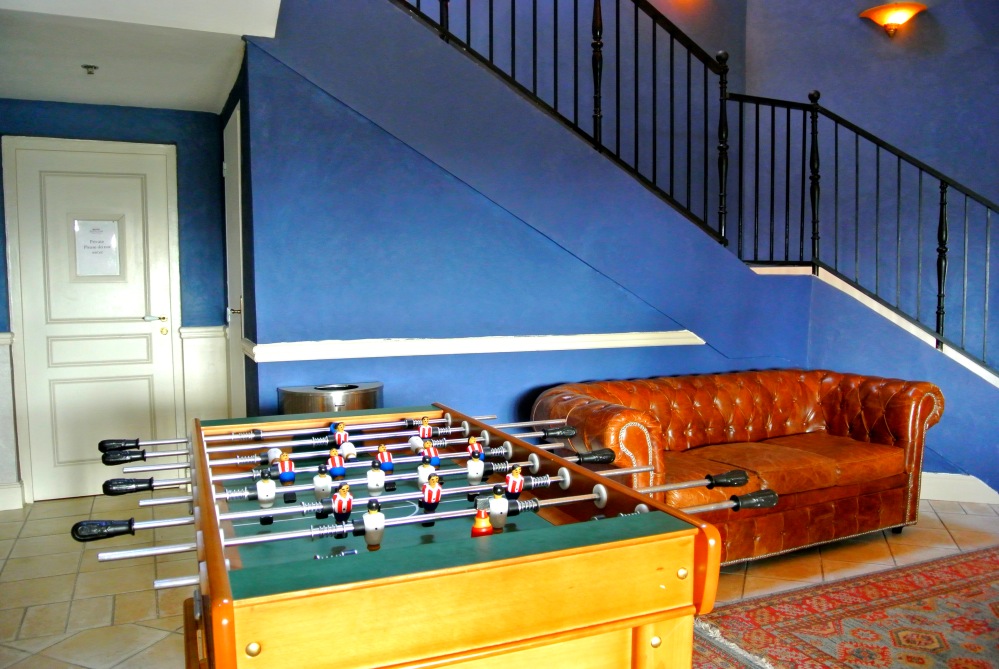 Do don't even need to give up your fitness program while you are there. There is a well equipped fitness room with nice view.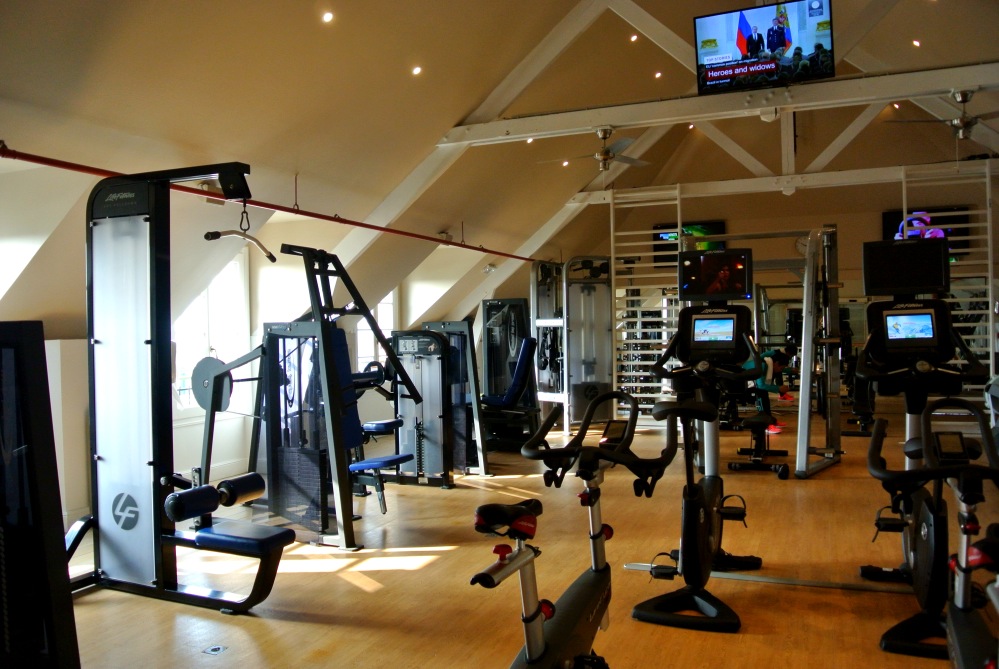 One thing what big and small visors appreciate – we did – is the Indoor Pool. Especially in the colder months you can not take a swim outside. In this case you have the great indoor pool.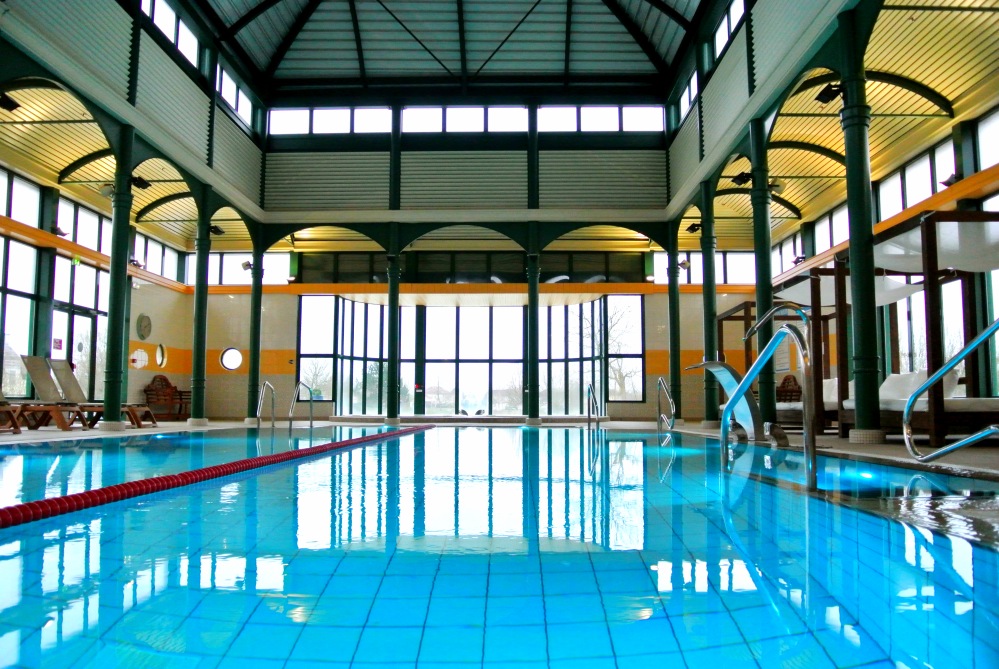 The Pool changes colors from green to blue from lila to yellow.
If you prefer to relax – take a bath in the whirlpool (that's more something for me).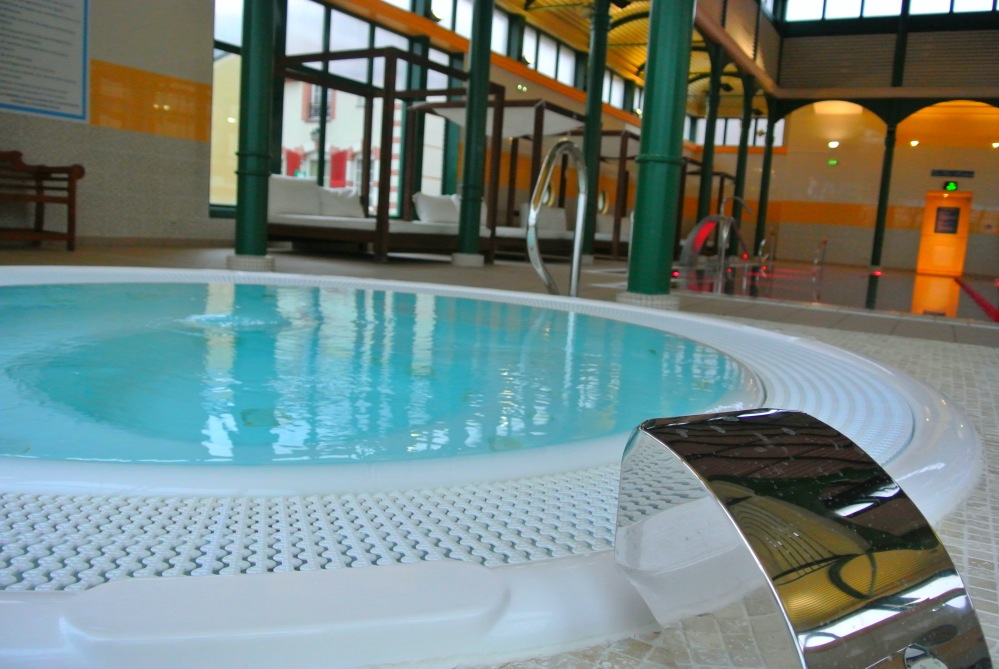 And afterwords you take a good book and lay down on one of the beds.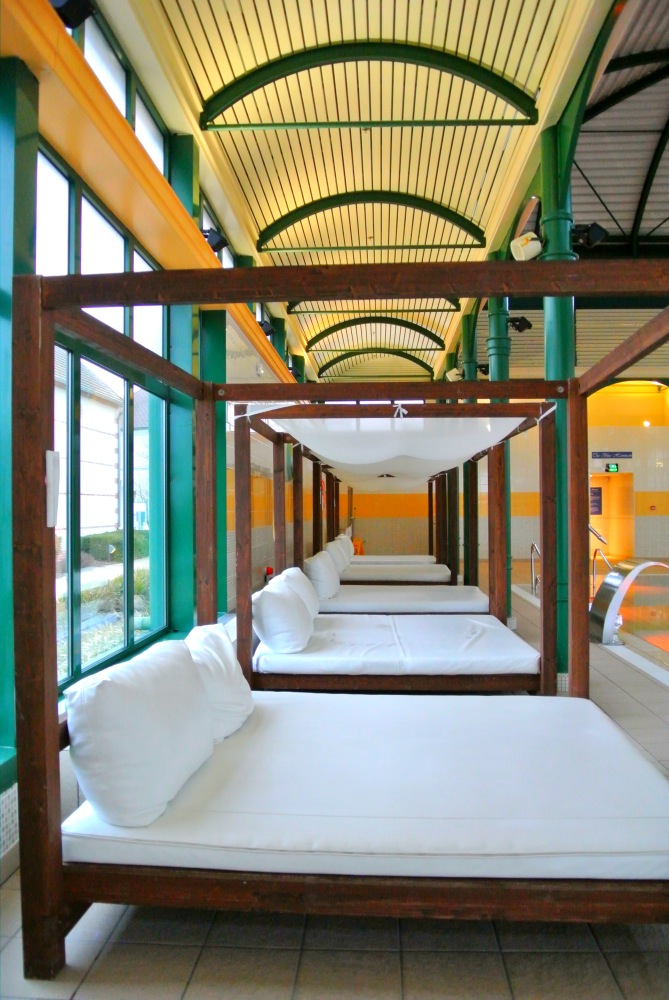 Outside the houses
The nice thing in this Resort is that you feel like you were in another world. Totally away from the big city of Paris. But not really because it is only 20 Minutes drive away. If you have kids you will appreciate that this Resorts is close to foreigners. They can take a bike or walk through the facility. If you don't have children you will like the walk through the Resort too. You can sit in one of the chairs and watch the swans.
Shop
Before I drive to my rented apartment I usually drive to a supermarket and buy stuff for the day and the next day – especially breakfast. But if you arrive late or you don't want to drive anymore you can shop right there at the facility. The shop have lots of stuff like fruit, coffee, bread, salt, sugar and so on. The prices are ok for some necessities. But I wouldn't buy all my needs there.
To buy great and fresh food you have to drive to Auchan (8 Minutes away).
Shop till you drop
Too much relax and sports for you? No problem! 8 Minutes away there is a Outlet Mall and a really big shopping Center with a huge supermarket and lots of boutiques and restaurants. La Vallee village hosts designers like Gucci, Tods, Longchamp, Boss, Cèline and many many more. I didn't really found the prices extraordinary. I think it was only about 20% cheaper – not really a steal deal…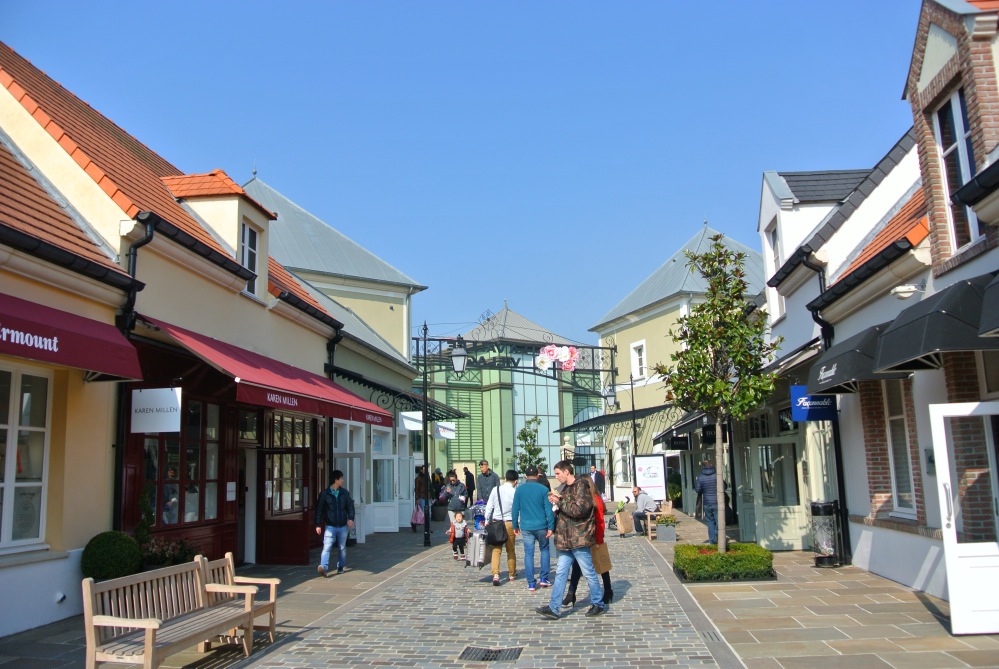 The shopping Mall Val d'Europe is right in front of the Outlet Mall. They are open almost everyday till 10pm. If you need food there is a huge Auchan. You can find pastries, essentials, fruit, vegetables and so on. Everything you need for your stay in your apartment – there.
Resume
If you are looking for something relaxing that is close to Disneyland – then you are exactly right at the Marriott Vacation Club Resort. It is perfect with kids but also without. For us it was the perfect match.
I personally wouldn't recommend the Resort if you are planning to visit everyday Paris. Because even if it's not so far away the streets to Paris are always full (lots of traffic). And I think you would not have the possibility to enjoy both – the Resort and the city.
I spend some days in Paris before coming to this Resort. And it was great because I was in the middle of the city. Then I came here and spend days here with the focus on Disneyland (2 days) and enjoying the facilities of the Resort (2 days more). The Resort was like a vacation from the vacation. 😉
There are also other Marriott Vacation Club Resorts in Europe and I'm pretty sure I will definitely hit another location from the same brand very soon. Because I liked the concept and the luxury. I think when it gets warmer you will even have more possibilities and I've seen on some homepages of the Resorts that there are lots of great golf courses. Season just started for me 😉
For more information:
Marriott's Village d'Ile-de-France
Allée de l'Orme-Rond,  77700, Bailly-Romainvilliers,  France
Resort Phone: 0033-1-60-42-9000
Sales Phone: 800-307-7312
Thanks a lot to the Marriott Vacation Club Resort  for this great experience and for hosting me.