Read this in: German
Karl Lagerfeld is dead..
but he will live forever. I think every human being (celebrity or not) leaves a mark. Everyone leaves a kind of legacy that we will never forget. Karl Lagerfeld will certainly not only be remembered for his fashion. I will definitely never forget his quotes and direct style.
Why I liked Karl Lagerfeld so much ..
There are many (unknown) people who have shaped our lives in some way. Whether it were musicians who made us dance in our teenage days. Or designer, whose pants, skirts, bags we have indulged in our first, correct salary. I bought my first Chanel costume many years ago. A classic, timelessly, beautiful, iconic skirt and jacket. You can wear just the blazer with some pairs of jeans or the complete costume for special occasions.
But Karl Lagerfeld fascinated me mainly by his nature. He was straightforward and did not necessarily take into account what others might think or say about him. A kind of "celebrity" who was not soft-washed. Right on the contrary.
I have read and heard a lot about him in the last few days and it has confirmed much that I already knew. He was someone who was authentic. But that's exactly what I liked about him.
I've picked 25  of his coolest (in my opinion) quotes and present them here. I love it. I hope you too.
You will soon realize that he said what he thought. Regardless what others might say about it. Simply great.
Quotes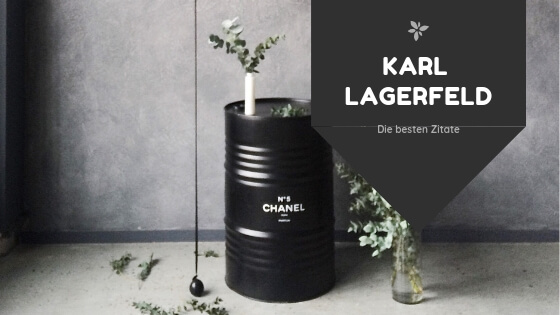 "What I've done, Coco Chanel would never have done. She would have hated it."
"I don't know Heidi Klum. She was never known in France. Claudia Schiffer also doesn't know who she is."
"Normally, I don't recommend me for wedding dresses – they all get a divorce."

"I don't understand the change of hair. I adore Madame Obama, I love her. But there is a news reader at LCI which has this haircut… Frankly, this doesn't suit her. The fringe was a bad idea, it's not good."
"Don't dress to kill, dress to survive."
"Life is not a beauty contest, some [ugly people] are great. What I hate is nasty, ugly people… the worst is ugly, short men. Women can be short, but for men it is impossible. It is something that they will not forgive in life… they are mean and they want to kill you."
"Work is making a living out of being bored."

"I don't do selfies. But other people do, and they all want to do selfies with me. No, no, no," Lagerfeld told the New York Times. "We live in a world of selfies now… Thank God, Sébastien, my assistant, he's mean to the people in the street, mean and rude. I'm a nice person."
"Don't sacrifice yourself too much, because if you sacrifice too much there's nothing else you can give and nobody will care for you."
"The only love that I really believe in is a mother's love for her children."

"Never use the word "cheap". Today everybody can look chic in inexpensive clothes (the rich buy them too). There is good clothing design on every level today. You can be the chicest thing in the world in a T-shirt and jeans — it's up to you."
"We live in a dark and romantic and quite tragic world."
"One is never over-dressed or underdressed with a Little Black Dress."

"A respectable appearance is sufficient to make people more interested in your soul"
"Books are a hard-bound drug with no danger of an overdose. I am the happy victim of books."
"Fashion is a language that creates itself in clothes to interpret reality."
"When people talk about the good old days, I say to people, 'It's not the days that are old, it's you that's old.' I hate the good old days. What is important is that today is good."
"We need houses as we need clothes, architecture stimulates fashion. It's like hunger and thirst — you need them both."

"Forgiveness is too easy. I can forget by indifference, but not forgive. I prefer revenge."
"What i like about photograph is that they capture a moment that's gone forever, impossible to reproduce."
"The elegance is as physical, as moral quality that has nothing common with the clothing. You can see a countrywoman more elegant than one so called elegant woman."
"In a meat-eating world, wearing leather for shoes and even clothes, the discussion of fur is childish."
"Luxury bags make your life more pleasant, make you dream, give you confidence, and show your neighbors you're doing well."

"There's a price you have to pay for fame, and people who don't want to pay that price can get in trouble. I accepted the idea of celebrity because of a French expression: 'You cannot have the butter and the money for the butter.'"
"Guilty feelings about clothes are totally unnecessary. A lot of people earn their living by making clothes, so you should never feel bad."
Amen