Read this in: German
TOP 9 you must see and experience in Bangkok
Bangkok is one of my absolute favorite cities. This city is so full of positive vibes. There are so many things to do and experience. The people are very friendly and helpful. And to really experience Bangkok, you need to spend more days than – one stopover.
Here are my TOP 9.
1. explore the magnificent royal residence and Wat Phra Kaew:
Discover the dazzling design and history of the Excellent Palace and the sacred Emerald Buddha Shrine (Wat Phra Kaew).
Insider tip: Go earlier than expected, preferably in the first half of the day, to keep away from groups and dress inconspicuously to show respect.
2. Visit the reclining Buddha at Wat Pho:
Marvel at the giant leaning Buddha covered in gold leaf.
Insider tip: Inquire about the less popular back massage school at Wat Pho, where you can get a traditional Thai back massage at a reasonable price.
3. Take a cruise tour on the Chao Phraya Waterway:
Take a river cruise for phenomenal perspectives of Bangkok's landmarks.
Take the Hop on Top day ticket. You can hop on and off the route all day and explore many, beautiful areas and malls e.g.
Wat Arun: This iconic temple, also known as the Temple of Dawn, features a distinctive spire that is beautifully illuminated at night.
Wat Pho: Also known as the Temple of the Reclining Buddha, this temple houses a huge 46-meter gilded Buddha statue, and more.
4. browse the Chatuchak weekend market:
The market offers just about everything. Jewelry, clothing, home decor, flowers, street kitchen. Be sure to take plenty of time. The market is as big as a small city.Chatuchak Weekend Market, also known as JJ Market, is a famous shopping destination in Bangkok, Thailand. It is one of the largest and most diverse markets in the world, covering 35 hectares and housing more than 8,000 stalls. The market is open on Saturdays and Sundays, with some areas also open on Fridays.
Chatuchak Market offers a wide range of products, including clothing, accessories, handicrafts, furniture, art, books, antiques, plants and even pets. The market is divided into 27 sections, making it easy for visitors to navigate the huge selection of products.
Insider tip: Visit the nearby plant market to see more greenery and discover unusual and exotic plant species.
5. Discover the allure of Chinatown:
Immerse yourself in the lifestyle, food and shopping of Bangkok's Chinatown, especially during Chinese New Year. There are countless small alleys filled with stores and people. It is much more cramped and crowded than the rest of Bangkok.
Chinatown is located in the Samphanthawong district, along Yaowarat Road and the surrounding streets. Founded in the late 18th century by Chinese merchants and traders, Bangkok's Chinatown has since developed into a major cultural and commercial center, attracting both locals and tourists.
Visitors to Chinatown can expect a rich cultural experience with delicious street food, unique stores and ornate temples.
Insider tip: Look for "Soi Nana" and "Soi Isaranuphap", hidden back entrances with bars, displays and street works.

6. Try Street Kitchen in Bang Rak:
Try Bangkok's coolest street food in the Bang Rak area. Every stall has a lot to offer us to try. Here are a few tips:
Baan Ying Café & Meal: This roadside restaurant offers traditional Thai dishes with a modern twist. It's a great place to enjoy local flavors with a modern flair.
Prachak Roasted Duck: Known for its succulent and tasty roasted duck, this street food joint has been around for over a century. Don't miss the signature dishes like duck noodles and duck on rice.
Nai Mong Hoi Thod: This small stall specializes in oyster omelets, a classic Thai street food dish. The omelets are crispy on the outside and filled with juicy oysters and bean sprouts.
Jae Koy Som Tum: This street food joint is famous for its Som Tum, a spicy green papaya salad. You'll also find a wide variety of other Thai salads and grilled dishes on the menu.
Insider tip: Take a targeted road food visit to find unexpected but priceless treasures and gain insight into the neighborhood's food culture.

7. Don't miss Khao San Street:
If you like the casual, loud, lively nightlife here is the place to be. Khao San Street is a famous street in the Banglamphu district of central Bangkok, Thailand. It is a popular destination for backpackers and is known for its lively atmosphere, cheap accommodation and vibrant nightlife. The street has become a hub for travelers and tourists and offers a wide range of services such as bars, clubs, eateries, street snack bars, massage parlors, travel agencies and stores for trinkets, clothing and accessories. Khao San Street is often called "backpacker's asylum" or "backpacker's ghetto" because it is so cheap and attracts so many people from all over the world.
Insider tip: In nearby Rambuttri Street you will find a more relaxed environment with good live music and cozy bars.
8. small walk through Lumphini Park:
Lumpini Park is a large public park in the heart of Bangkok, Thailand. Named after the birthplace of Buddha, Lumbini in Nepal, the park was established by King Rama VI in the 1920s. It covers an area of about 57.6 hectares and provides a peaceful retreat from the hustle and bustle of the city.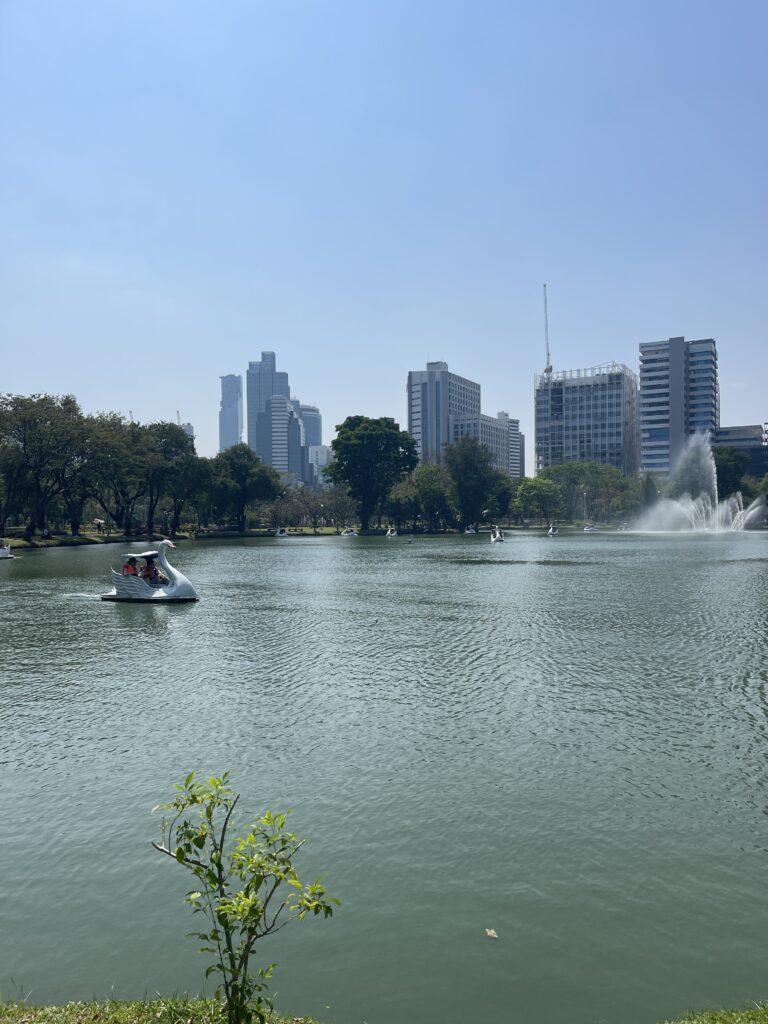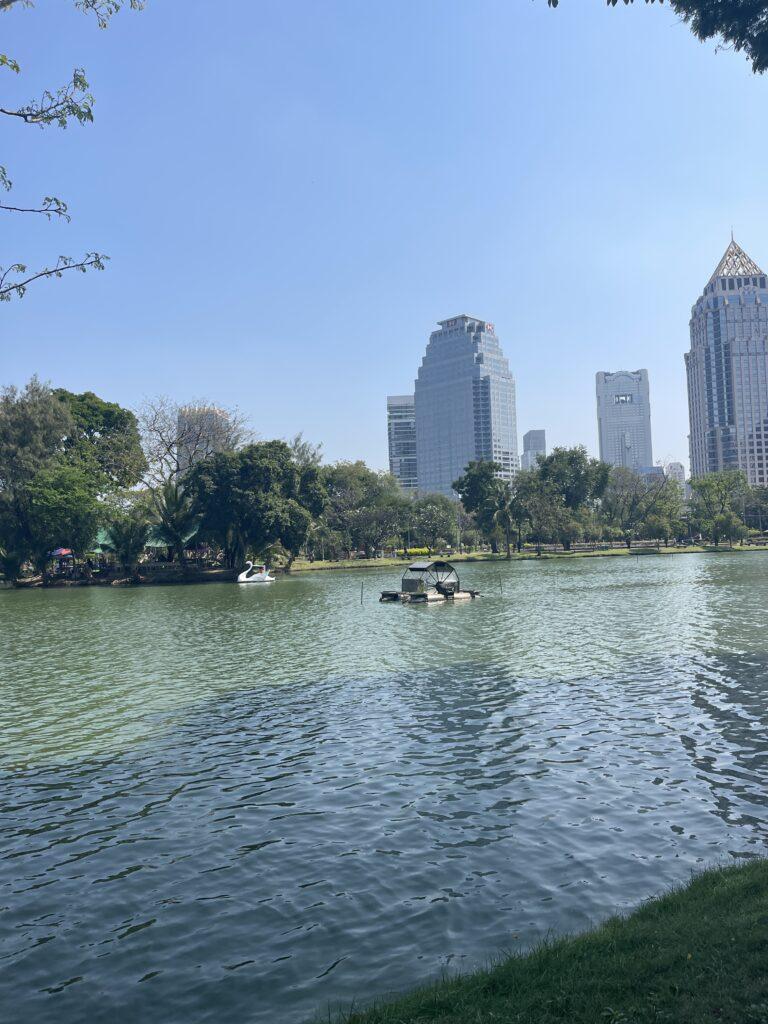 Lumpini Park is a popular destination for locals and tourists who enjoy the lush greenery, tranquil atmosphere, and various recreational activities. The park has a large lake where visitors can rent boats, as well as designated areas for outdoor sports such as basketball, tennis and aerobics. There are also playgrounds, picnic areas and a network of walking and jogging paths.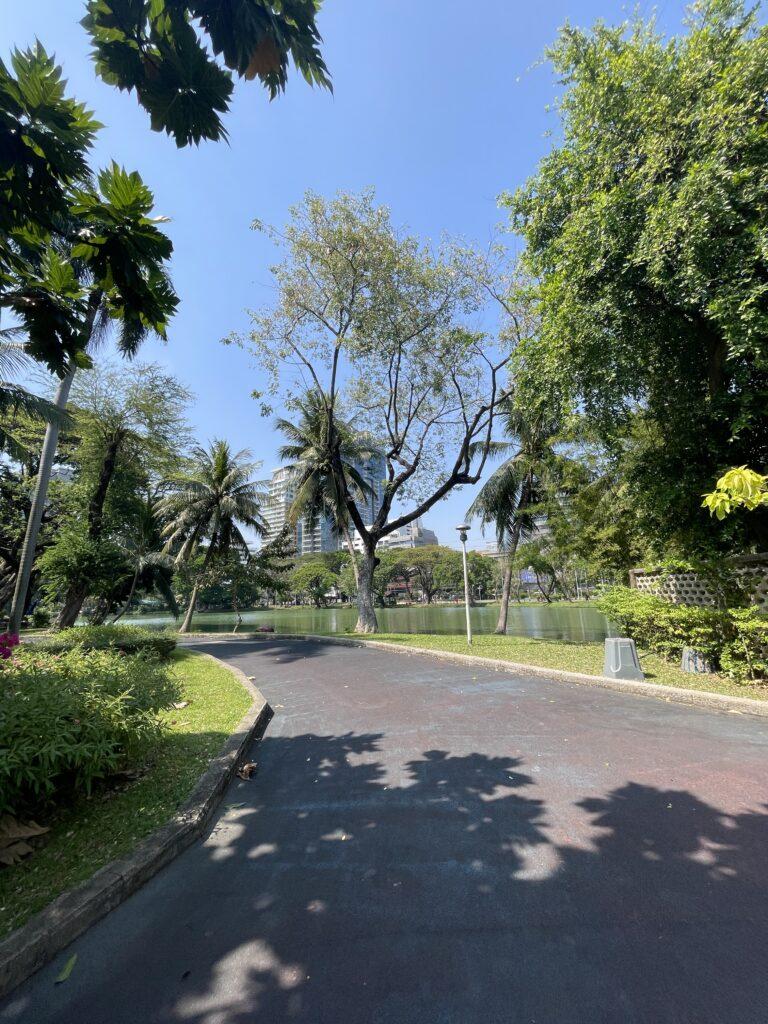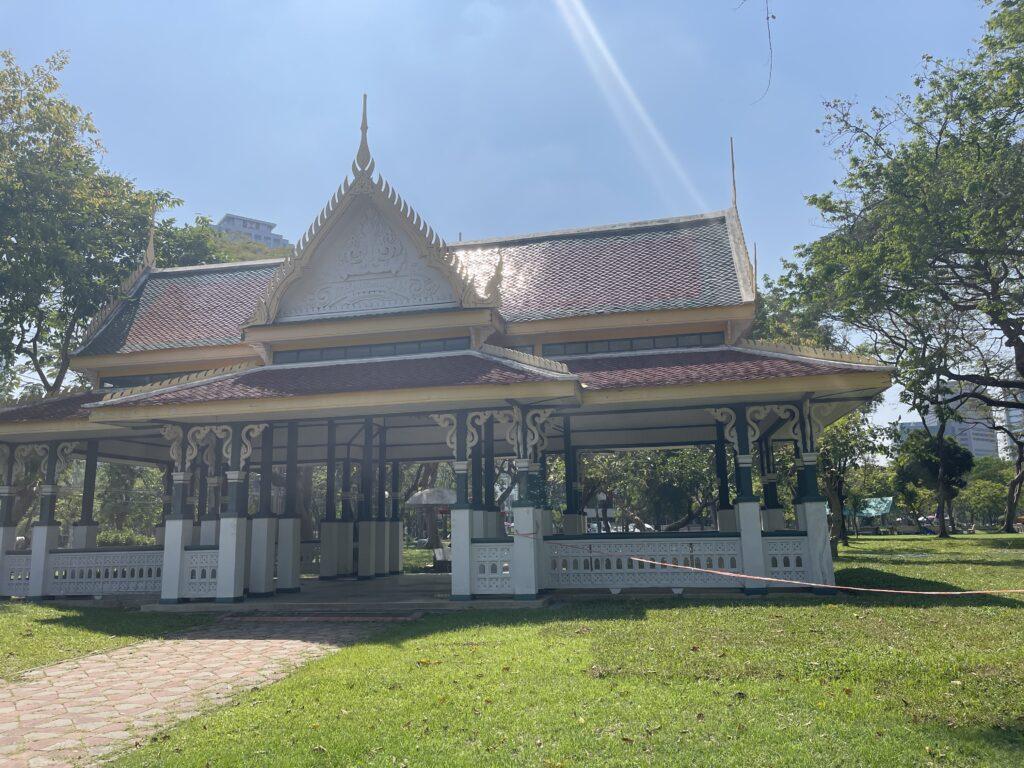 Lumpini Park is not only a place for relaxation and exercise, but also hosts various events throughout the year, such as (free) concerts, festivals and outdoor performances. It also serves as a haven for wildlife, as monitor lizards, birds, turtles and fish are frequently spotted here.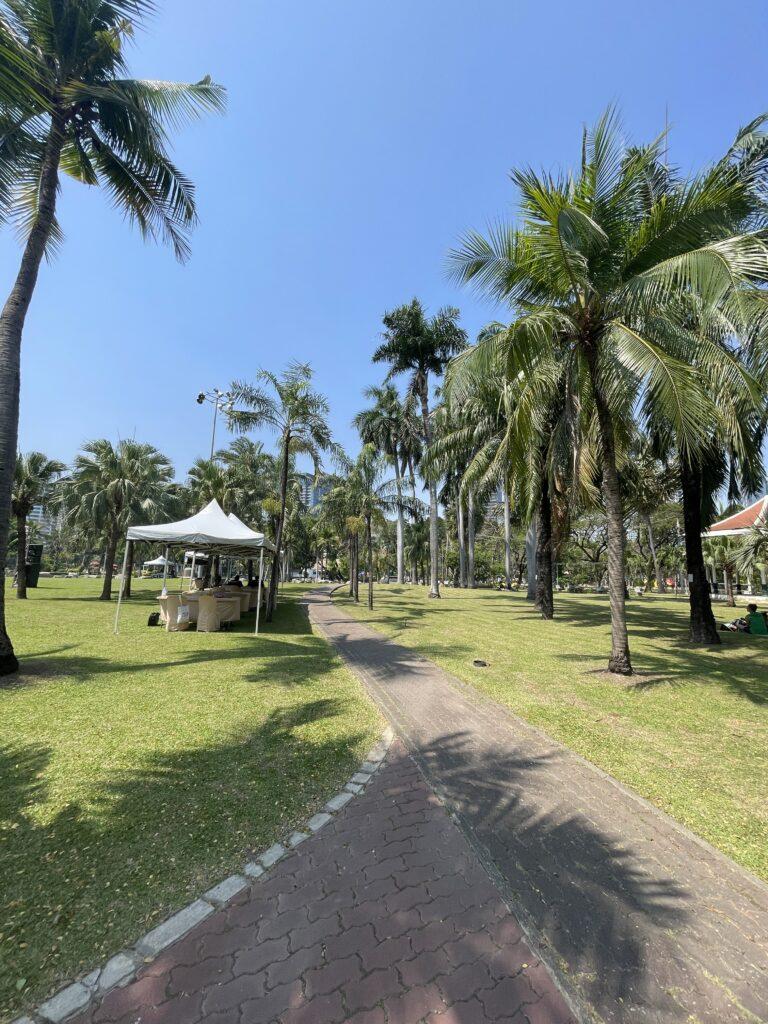 Insider tip: Feel free to go to the park during the first half of the day to join the locals doing yoga and other activities.
9. Enjoy the view from the roof top bar.
Bangkok has countless cool roof top bars. You can find out more about the rooftop bars here.
A rooftop bar in Bangkok is definitely an unforgettable experience. It offers a breathtaking view of the city skyline, delicious food and original cocktails. It's a great way to see the city from a different perspective and relax after a day of sightseeing.