Read this in: German
Naples is a city known for its delicious culinary specialties. Neapolitan cuisine is characterized by fresh ingredients, rich flavors, and tasty dishes. The city is famous for its pizza, which is considered one of the best in the world. But other dishes such as seafood pasta, fried delicacies like arancini and zeppole, and the dessert sfogliatella are a feast for the senses. Sfogliatelle is my absolute favorite.
Here are my top 5 recipes:
Sfogliatelle
Sfogliatelle Neapolitane is a popular Neapolitan sweet made of crispy puff pastry filled with a delicious ricotta filling. If you want to make this traditional Italian pastry at home, follow this simple recipe.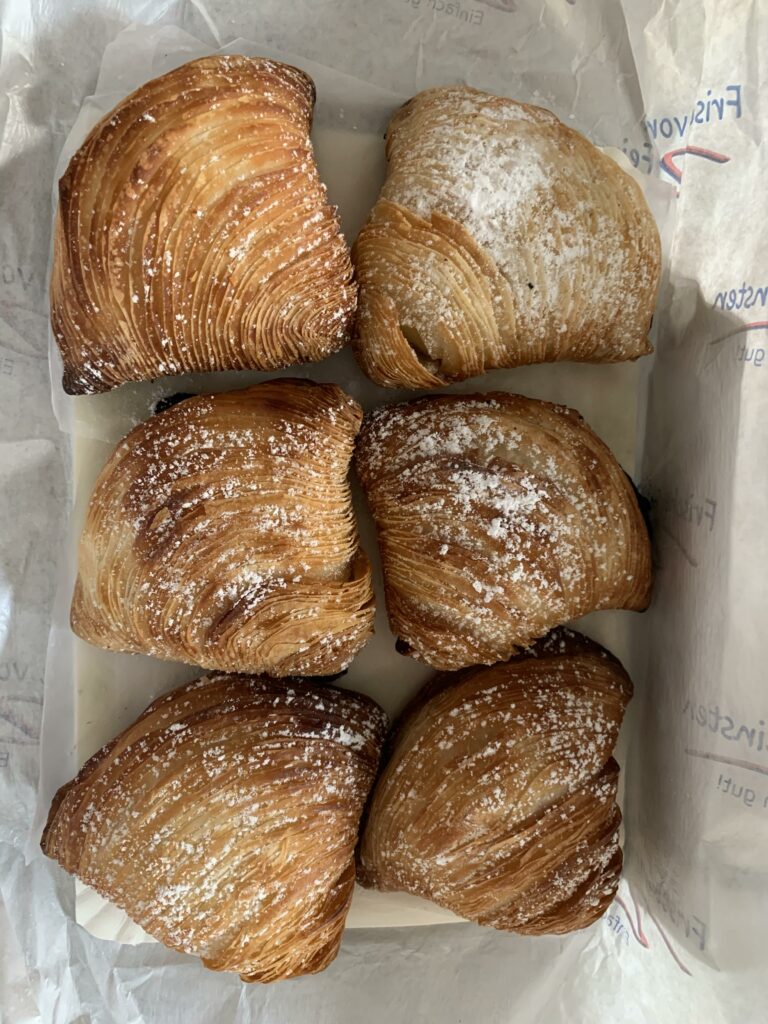 Ingredients:
500g puff pastry 500g fresh ricotta 250g sugar 100g candied orange peel 100g candied lemon peel 4 eggs 1 tsp vanilla extract 1 pinch of salt Powdered sugar for dusting
Instructions:
First, prepare the filling by mixing the fresh ricotta with sugar, candied orange and lemon peel, eggs, vanilla extract, and a pinch of salt in a bowl. Set the mixture aside. Cut the puff pastry into rectangles of about 10x15cm and place them on a floured surface. Roll out thinly with a rolling pin. Roll up the rolled-out pieces of dough and then shape them into spiral-shaped snails by folding one side of the dough towards the center and then placing the other side on top. Wrap the dough in plastic wrap and chill for 30 minutes. Preheat the oven to 200°C. Remove the dough from the refrigerator and roll it out carefully to a thickness of about 0.5cm. Cut the rolled-out dough into three equal parts. Place one tablespoon of the ricotta filling on each piece of dough. Fold the dough over the filling to form a triangular shape. Press the edges of the dough together to seal them. Place the sfogliatelle on a baking sheet lined with parchment paper and bake for 25-30 minutes until golden brown and crispy. Allow the sfogliatelle to cool before serving and dust generously with powdered sugar. I personally leave out the candied fruit, but they are included in the original recipe.
Pizza Fritta (Fried Pizza)
A specialty that my parents regularly prepared at home. Sounds strange but it is an absolute delicacy.
Ingredients:
500 g flour 250 ml lukewarm water 7 g dry yeast 1 tsp salt 2 tbsp olive oil 400 g canned tomatoes 1 clove garlic, minced 1 tsp oregano Salt and pepper to taste 500 ml sunflower oil for frying
Instructions:
In a large bowl, mix the flour with the dry yeast and salt. Add the lukewarm water and olive oil and mix everything well until a smooth dough is formed. Knead the dough on a floured work surface until it is elastic. Place in a bowl, cover and let rise in a warm place for about 2 hours until it has doubled in size. In the meantime, prepare the tomato sauce: Season the canned tomatoes with garlic, oregano, salt, and pepper. Knead the risen dough again and divide it into small portions. Form each portion into a flat disc and spread with tomato sauce. Fold the topped pizza and seal the edges well. Heat the sunflower oil in a pot and carefully place the folded pizza inside. Fry until golden brown on both sides. Remove with a slotted spoon and drain on paper towels. Serve and enjoy the Pizza Fritte Neapolitane hot.
Babà (my father's favorite dessert)
This one is a bit more complicated. Babà is a real treat. My father used to pair it with a good, barrel-aged Grappa.
Ingredients:
250 g flour 3 eggs 1/2 cube of yeast 50 ml warm milk 50 g sugar 100 g butter 1 pinch of salt 1 tsp vanilla extract 100 ml rum 200 ml water 100 g sugar
Instructions:
Sift the flour into a bowl and make a well in the center. Dissolve the yeast in the warm milk and pour it into the well. Dust with some flour and let it sit in a warm place for 15 minutes. Meanwhile, melt the butter and let it cool slightly. Separate the eggs and beat the egg whites until stiff. Add the sugar, melted butter, egg yolk, a pinch of salt, and vanilla extract to the dough. Knead well and let the dough sit in a warm place for another 30 minutes. Divide the dough into small portions and put them into a Babà mold. Let it sit for another 15 minutes. Preheat the oven to 180 degrees Celsius and bake the Babàs for about 20 minutes until golden brown. Meanwhile, heat up the rum, water, and sugar in a pot and let it simmer. Take the Babàs out of the oven and dip them in the rum mixture while still hot. Drain well and serve.
Cuoppo Fritto (simple)
Cuoppo Fritto is a delicious street food from Naples, Italy. It consists of a mix of fried vegetables and seafood served in a crispy pastry shell. Here is the recipe: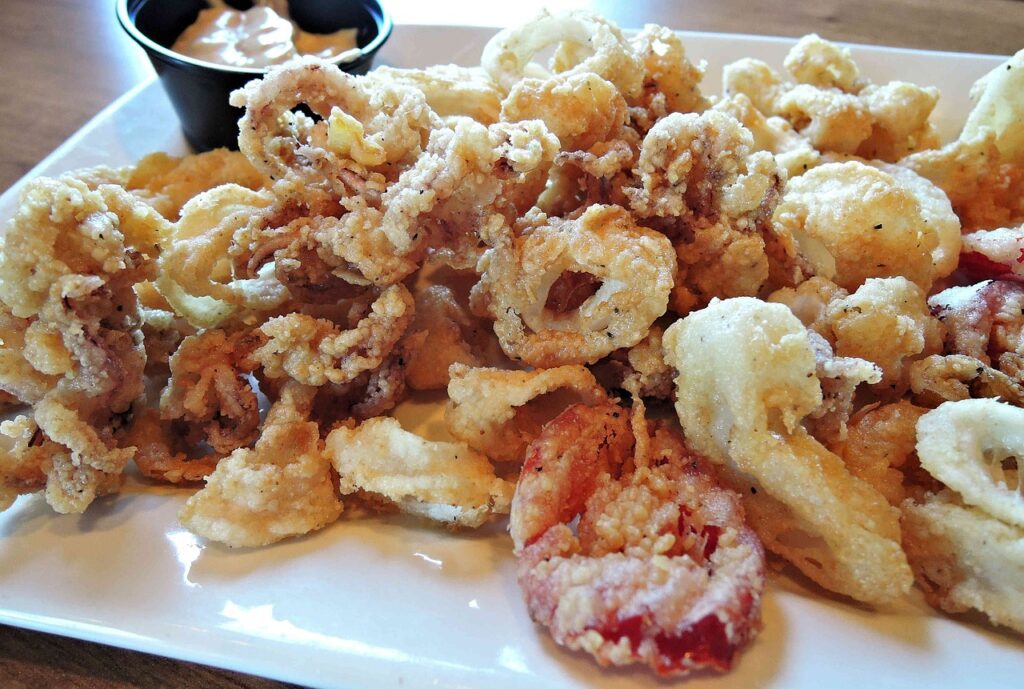 Ingredients:
250 g flour 1 tsp dry yeast 1 tsp salt 250 ml water Vegetables (such as potatoes, zucchini, eggplants, peppers) Seafood (such as calamari, shrimp) Oil for frying
Instructions:
Mix the flour, dry yeast, and salt in a bowl. Slowly add water and stir the ingredients into a dough. Let the dough rest for 1 hour. In the meantime, prepare the vegetables and seafood. Cut the vegetables into pieces and the seafood into rings. Heat the oil in a pot or deep fryer. Dip the vegetables and seafood into the dough and fry them in the hot oil until golden brown and crispy. Drain the fried vegetables and seafood on paper towels. Serve the Cuoppo Fritto in a paper bag and enjoy it warm.
Pastiera Napoletana – Easter pastry (my favorite cake)
Pastiera Napoletana is a traditional Italian Easter pastry from Naples. It is made from a mixture of wheat grains, ricotta cheese, eggs, sugar, candied orange peel, and candied lemon peel, and has a crispy crust. Learn how to make Pastiera Napoletana here. I don't just bake this pastry for Easter, as it's simply delicious.
Ingredients:
500 g cooked wheat 500 g ricotta cheese 300 g sugar 6 eggs 100 g candied orange peel 100 g candied lemon peel 1 packet of vanilla sugar 1 pinch of salt 1 tbsp orange blossom water 1 tbsp butter Powdered sugar for dusting Flour for rolling out the dough
Instructions:
Put the cooked wheat into a bowl and add the ricotta cheese. Mix everything together well. In a separate bowl, beat the eggs with the sugar, vanilla sugar, and a pinch of salt until foamy. Add the candied orange and lemon peel, orange blossom water, and melted butter and mix everything well. Add the egg-sugar mixture to the wheat-ricotta mixture and stir everything together well.Roll out the dough on a floured surface and place it in a buttered springform pan. Fill the pan with the wheat-ricotta mixture and smooth the surface with a spoon. Trim the excess dough and bake the Pastiera in a preheated oven at 180 degrees Celsius for about 50-60 minutes, until it is golden brown. Allow the Pastiera to cool completely before removing it from the pan and dusting it with powdered sugar.

Buon Appetito