Read this in: German
Sponsored Post*
Milan is known to be the city of fashion. Fashion, design and good food are three cornerstones of the metropolis.
I recently made a press tour and had the opportunity to get to know the real trades in Milan.
Come with me on the journey through the Milanese craft …
Flowers
"Earth laughs in flowers." Ralph Waldo Emerson
Offfi Milano is located in one of the artistic areas of Milan and is a very special flower shop. Mario Nobile is the owner of the flower shop and runs it with heart and passion. Actually his background is characterized by pharmacy and chemistry and has nothing to do with creativity and flowers. But since he was always asleep, he chose a completely different career. He has made it his mission to carry something "romantic" into the world. His compositions are extraordinary. Just like his flowery taste. I found the store wonderful and could have a cup of tea (or two).
offfi – milano | isola
via carmagnola 8
20159 milano
Delphine Diary
The somewhat different vintage shop …
When you enter the store, you feel immediately moved to another time. Even the owner looks like from the past. It perfectly embodies the style you can discover in the vintage shop in every corner.

The vintage dresses are all perfected and then sold. No matter if you want to celebrate in the style of the 20s or 30s. You will definitely find something here. I especially liked the accessories. The delicate brooches and earrings.
If you want to get an exact overview, as it looked 30 years ago, then you should set the course to Delphine Diary necessarily on his list. Here everything is unique.
Selected vintage Shop in Milano –
Via G.Pepe 16
Isola District
Gold
This jeweler is different and the people working there are also. We all hear and read that you have to do something for people who do not fall into social conformity. But, how many companies are there that actually employ such people? Uroburo in Milan does this. Uroburo is a kind of cooperation that was launched in 2015 to help people with mental or physical problems and give them a chance. At present there are 6 people with handicap engaged in the small handicraft business, 2 more are doing an internship and 2 are still in the assistant. Many of the specimens produced there are unique. With passion and heart every piece is handmade. You can come with drawings and make the jewelery to your heart's content, or buy a piece of the exhibits.
I was allowed to make my own jewelry. I found it very exciting how to create different patterns with different hammers.
Uroburo
Via G.Thaon di Revel, 19 –
20125 Milano
Coffee & Benzin
A small break can be found in the mega-cool shop of Deus Cafe. DEUS EX MACHINA is actually a brand that has emerged in Australia. Specializing in motorcycles, surfboards and bikes (bicycles). In this Milan shop you can find special products of motorcycles and bicycles. Everything to get adrenaline in your body. The location is exceptional – especially the outdoor area is great. I love places that are different than the common. Here in the Deus not only the coffee tasted good. If you have benzine in your blood this is the place to be.
Deus Cafe,
Via Thaon Di Revel 3,
20159 Milano
Ceramic and more..
Every time I see people shaping beautiful shapes on a rotating plate … I have to think of Ghost. The younger of you probably do not know the movie with Demi Moore. But all the others know what I mean.
My absolute highlight (without Patrick Swayze unfortunately) was the visit to Ceramiche Milesi's ceramics business. Egidio Milesi creates true works of art every day. And what looks so simple, but it is not. Believe me. I tried. See for yourself in the small video. It was really had a lot of fun.
My little workshop in MilanoToday I show you my little video of me trying to build something. I can tell you. It was NOT easy but so much fun! Thank you Ceramiche Milesi and inLOMBARDIA for this great day.
#inlombardia365
Claudia Scheffler

Posted by Reise-Blog on Freitag, 30. Dezember 2016
Resume:
Looking at Milan from a completely different side is simply fascinating. I could list quite a lot of these shops, which are different and where a visit is worthwhile. Try it out, have some addresses and suggestions from the tourist office. They know each other and work with many extraordinary crafts. Let yourself be inspired and even if you know the city, there is the possibility to discover something new. I've been to Milan a lot of times. I have lived close by for a while. And I have discovered a great deal, which I had not previously anticipated. My conclusion is over all positive. It was fun and opened my eyes – again.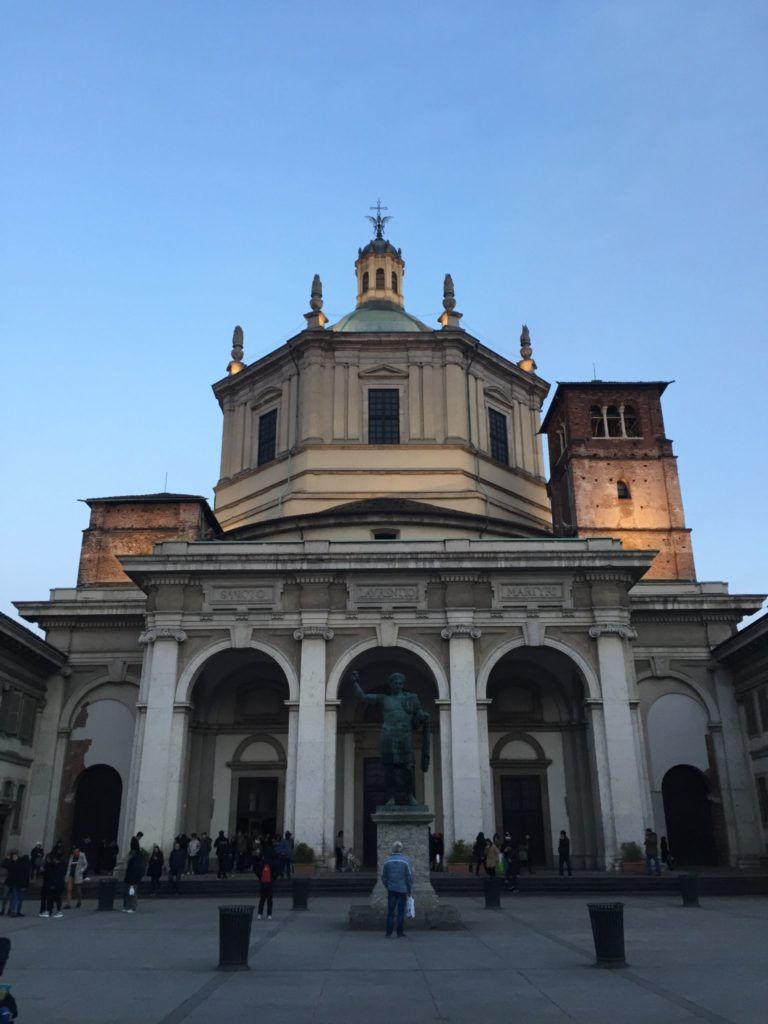 *Thank you to the tourism office of Lombardia who invited me to this great and fun trip. This may be a sponsored post but this is 100% my own opinion like everything else I write on this blog.