Read this in: German
Michelin Stars
… Michelin Presentation and an absolutely wonderful and unique location in Italy. This is what I experienced in Parma…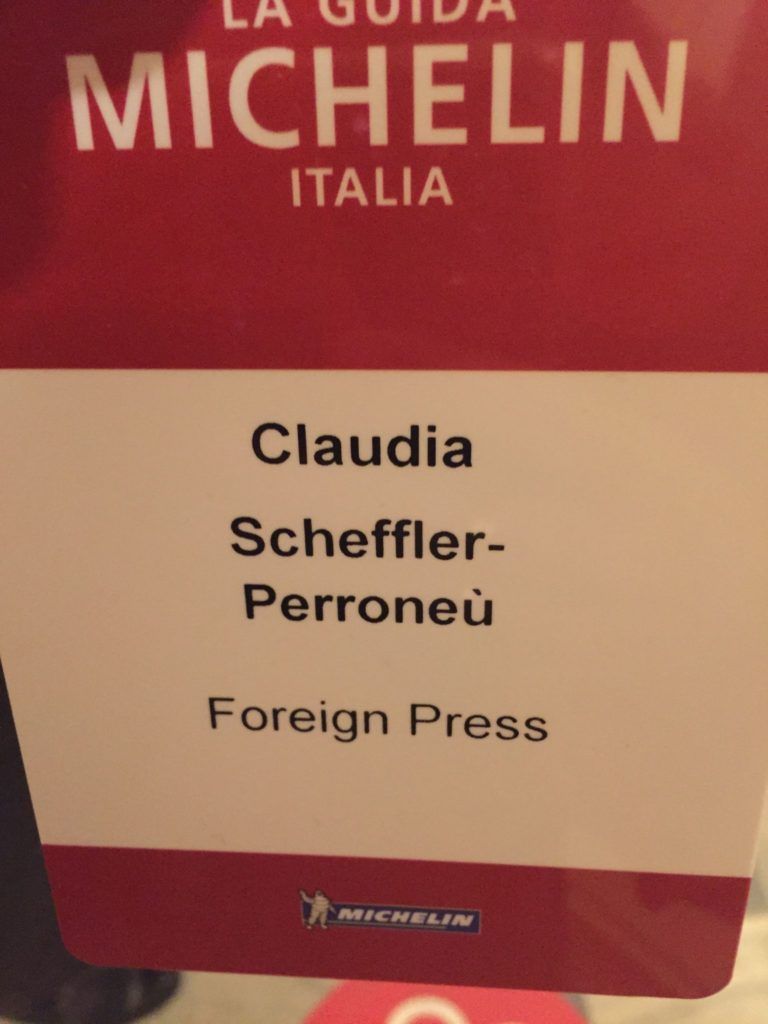 Michelin Guide Italy
Michelin is THE guide to all who are looking for a winning restaurant. Michelin had invited and NATURALLY I was there. Michelin is actually a tire manufacturer and was initially intended to be a workshop signpost for France. In 1923 there was the first Michelin restaurant guide. Since then, the travel guide has evolved more and more and it appears now in many countries all over the world.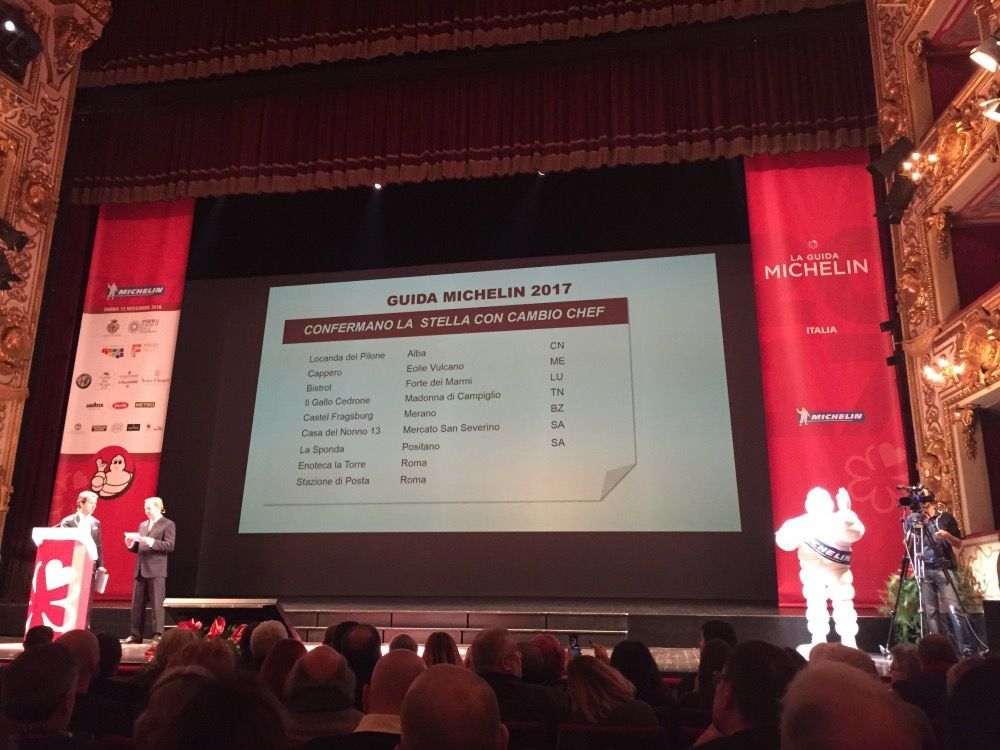 The stars in the German restaurant guide are described as follows:
A star – "A very good cuisine, which deserves the attention of the reader"
Two stars – "Excellent food – worth a detour"
Three stars – "One of the best kitchens – worth a visit"
If you love a star kitchen, you probably will come here to get inspiration from the Michelin Guide.
This year the Italian Michelin Guide was not presented in Milan (for the first time ever), but in Parma.
Parma
Who has not heard of Parmigiano Reggiano or Parma ham? Exactly, hardly any. These are just two things that come from Parma. What few know, Barilla and Parmalat is also settled there. Parma is one of the leading business centers in Northern Italy with a focus on the food industry.
Presentation
Teatro Regio di Parma was the location of the presentation. Chefs of the star restaurants were awarded there. In the theater are held each year in honor of Giuseppe Verdis a festival. An absolute wonderful and impressive location. But see for yourself.
In all, there were 343 restaurants were awarded. Of course not all of them were in Parma.
Dinner
Of course, such a day can not simply end with the award. In the evening there was also an event aperitif and tasting in the Teatro Farnese. Also this location – breathtaking. Just imagine. Going through the works of the best-known artists and sitting in an ancient amphitheater. This atmosphere is unique and you can not get out of the astonishment. Later you were served with the dishes of a star chef. Of course you have to judge by yourself whether you have correctly received the star. 😉 I would say yes.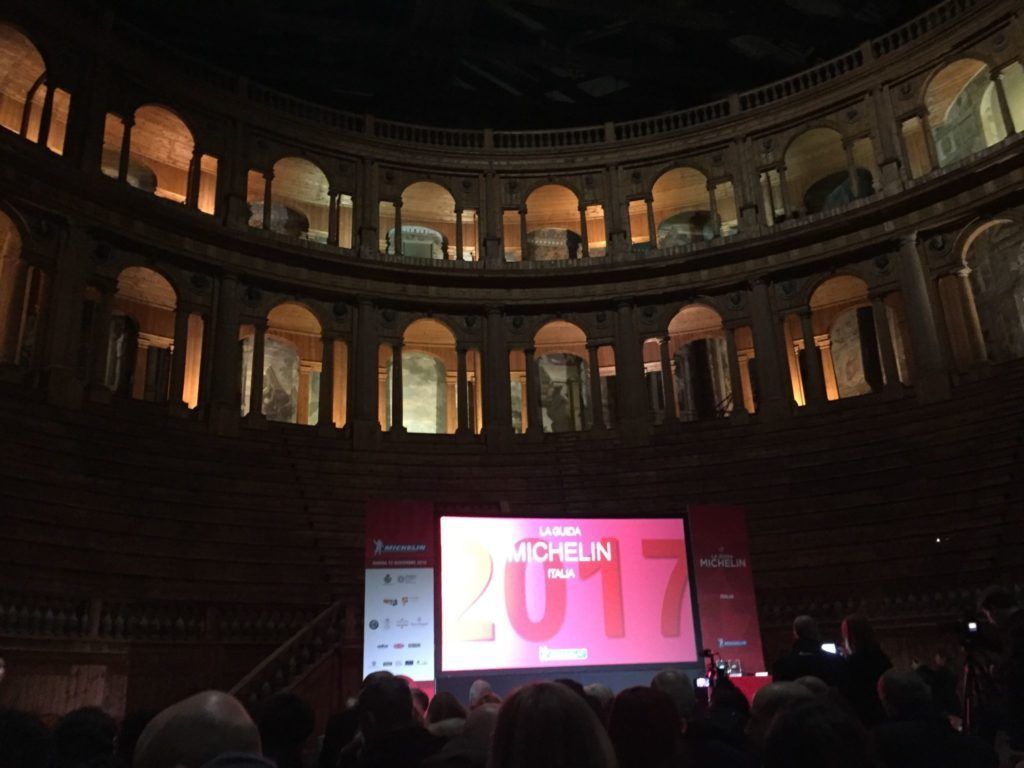 But where do cooks learn to cook? In Parma! There is a school that is worldwide the best school for italian cuisine.
ALMA
I must  swarm over a location again. This school is located in a regular castle, with a castle garden including a maze. Everything here is class. The most modern appliances in the middle of an ancient atmosphere.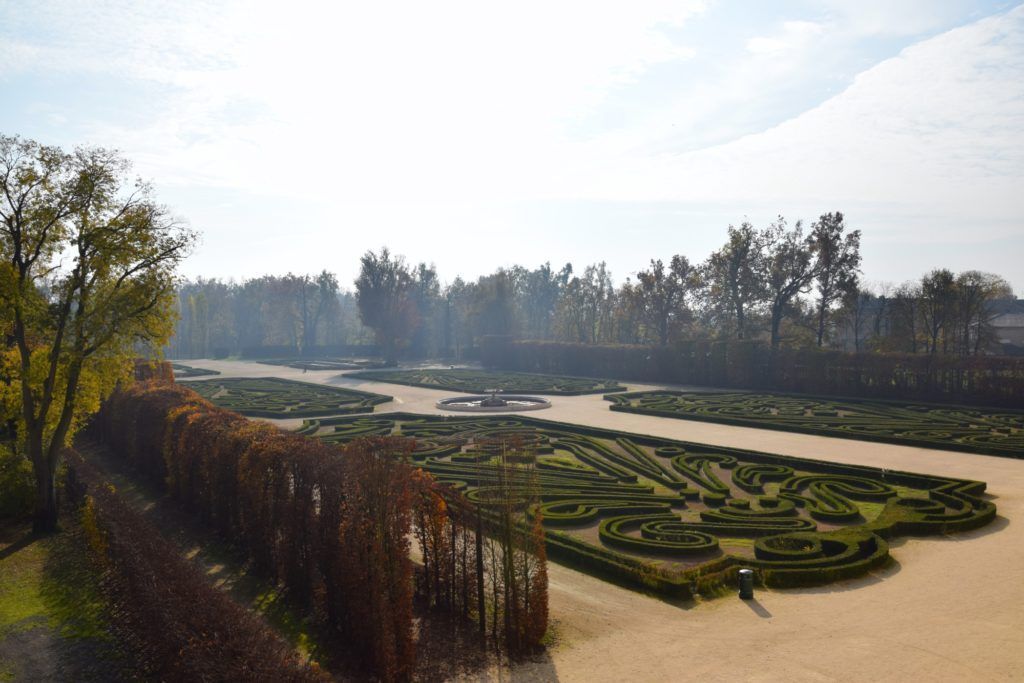 But what is ALMA at all? ALMA is a school for young chefs, established chefs and sommeliers. There are different levels in a training programs. Some want to refine their skills, improve or enhance others.
I found it incredibly exciting what is taught here in a relatively short time. This is not just about making the right tortellini, but also about the history of Italian cuisine. It is also about general knowledge. Because ALMA says (and it's true), nowadays, cooks do not just stand in the kitchen. Good chefs have become a brand and must promote themselves and present themselves.
At Alma the chefs get a full education and the opportunity to do internships in good restaurants. Whether directly in a star kitchen, or in an up-and-coming restaurant.
Thanks to the region Emilia Romagna and Michelin, who invited me to this trip. For legal reasons, I must say that this is a sponsored post. However, this is 100% my opinion and my feeling. As with everything I post on my blog !!