Read this in: German
These days I'm reading a lot of articles "I quit my job to travel the world." "I'm a full-time travel blogger and I love it". Yes I totally understand that and I think that this is great but not for everyone.
Why I'm not going to be a full time travel blogger….!!
There are many reasons why not. But let me start step by step with 5 reasons why I will not be a full time travel blogger.
I'm not 20 anymore
Ok, I know there are lot's of people out there that passed the 20th even some a long long time ago. And they are full time travel bloggers. So this is not an excuse. You are right but for me it is. I used to travel a lot when I was younger. I always traveled. I studied in another country, lived in many different cities and countries but then I wanted something stable. Normal hours a normal life. I had this kind of "unstable" life and it was fun. It was great at that time and I will never ever forget that. But its over.
2. I have a job
I did so much for my education. All the years I studied and worked so many hours. I helped many companies to be successful. Then in 2009 I decided that I want to focus only on my own business. I don't want to work for others anymore. Everything I want to do I want to do for myself. Just me. If I work 60 hours a week – so what – it's for me. If I take a day off because the sun shines. Yes still my business. I'm the boss. But of course everyone who has an own business knows that it's not easy at all. You have to work harder and more and you still sometimes will not get what you want. You don't really have holidays because if you work on your own your "company" has to go on. If you don't work – no money comes in. And it's not a nine to five job. At least not mine and I don't know any business owner that has this kind of office hours. Your head is always there thinking of new thinks. New ideas, new clients and so on. Make a long story short. All the time, the efforts, the passion I put in my business. It's starting to get better and better from day-to-day – all of it – my blog and my business. I will not leave everything to travel the world.
3. Balance
I have different jobs. I'm a Journalist for different magazines, blogger for my blog. I'm a Speaker and I do coaching (off- and online). I'm even starting a new project with a friend soon. I have a family, a dog and a house.
And sometimes I feel being in a cage. So many appointments and so many commitments.
I get many travel offers but I don't take them all. That would not be possible. But from time to time I enjoy being on press trips or traveling for myself and expiring new places. Having time for me, the destinations, the photos, my blog and to know new people, new Cultures and Countries. This is my balance. I need this to be happy. Both sides – the working time in my office, my family and on the other hand the traveling part of my job in a (possibly sunny) place.
Just to be clear – press trips are not holidays. But it's ok. It's perfect for me.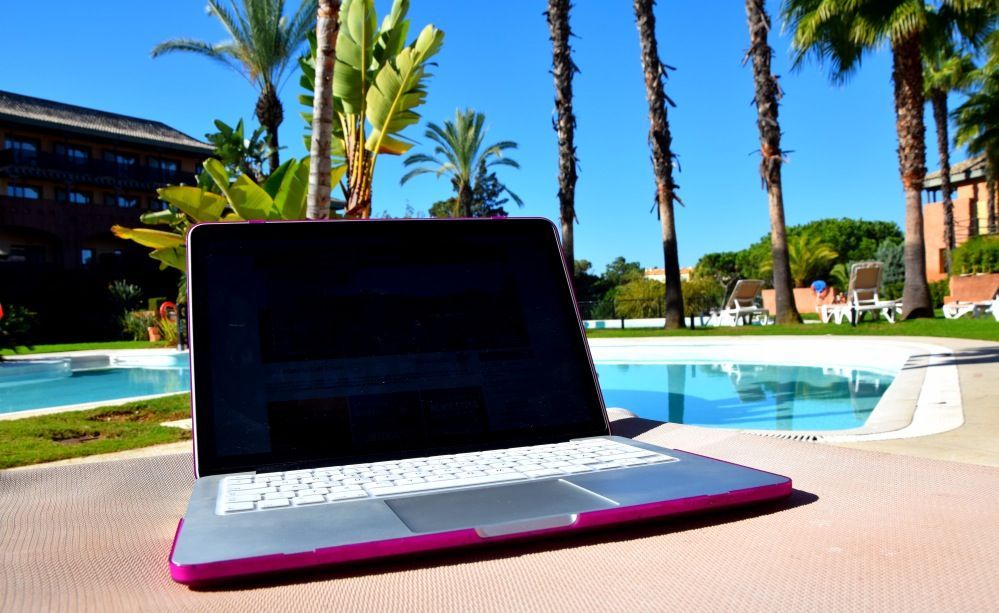 4. Freedom
Having an independent job that pays my bills, my nice clothes and lot's of other stuff gives me the freedom to write whatever I like on my blog. I don't need to compromise. If you have only a blog you have to rely on you have to write lot's of things you may don't want to. Sponsored posts that maybe wouldn't find the way to your blog. Advertising all over. Sometimes I see blogs full of advertising campaigns on the blog. Sometimes I have to leave the blog because they are making me crazy. Pop-ups then more pop-ups, bling here, bling there.
5. All that glitters is not gold
Being a full time travel blogger. Quitting the job. All that is not easy. It is not being all the time on vacation. Traveling the whole world costs money. You may get some free stays but you also need to pay for lot's of other stuff. I'm not the hostel type. But many travel bloggers are. They have to. I think there are very few that are full time travel bloggers and sleep only in 5 stars Hotels. Hm, let me think. Don't know anyone. They post great photos of wonderful places. Always smiling and having fun. But the reality is different. It is not all that gold that glitters. Trust me.
Resume:
The most important thing is – I love my life the way it is. I wouldn't change it. Of course there is always something that needs to be optimized. There is still room for improvement but I think this is normal. Sometimes I want to change and do things differently. And then I do it. Because I'm the owner of my life. I can do whatever I want. Even having commitments doesn't mean not having possibilities. Otherwise it would be boring. 
I think everybody should do what's the best for himself. If you are free, alone or whatever then do what you feel to do. You want to change your life? You want to travel the world – then go. Time flies. When I was younger there wasn't so many possibilities as they are now. But even then I did what I wanted to do. I already wrote in another post about "what makes you happy". I think that much more people should try to do the best out of their life. If you decide that quitting your job is that what makes you happy. Perfect. But don't forget. There is no perfect life, perfect work or perfect solution. Whatever you do – it's work. Relationships – work. Travel blogging – work. Earning money – work. The most important thing – if you love what you do it doesn't feel like work. The passion and love for the things you do is like an engine. It keeps you going. And sometimes it let us grow beyond ourselvs.
I think that is the beauty of life. There is no stencil for it. You have to find your own way.