Read this in: German
How do I get a fish? And not just a small one, but the biggest …?
Florida is for me always a place on the map where I like to travel. A few years ago I even lived in Miami for a while. A Florida holiday or a round trip is always worthwhile. Not only because of the weather.
On this trip we went to Panama City Beach. For many perhaps rather unknown, Panama City Beach borders on Louisiana and Alabama. The Americans also often say "lower Alabama".
The beaches are a dream. White, fine sandy beaches and turquoise blue water. However, those who swim there must be aware that they must share the water with many, small and large fish.
I was for 5 days on a press tour and had a lot of fun. I had three incredibly, great and fun fellow travelers, which have made the time for me even more enjoyable.
But here is only one story from it. Others will follow… 😉
Fish / Fishing
Fishing is pretty much the last thing I usually get in my head when I think of sports. Of course the fishermen are now shouting out loud. Hey, do not worry, I've revised my mind a bit. Because I always imagined to sit quietly somewhere on the beach or lake and wait for a fish for hours. Since I don't even like touching a vidid fish (disgusting and slippery), of course, fishing for me anyway was not question.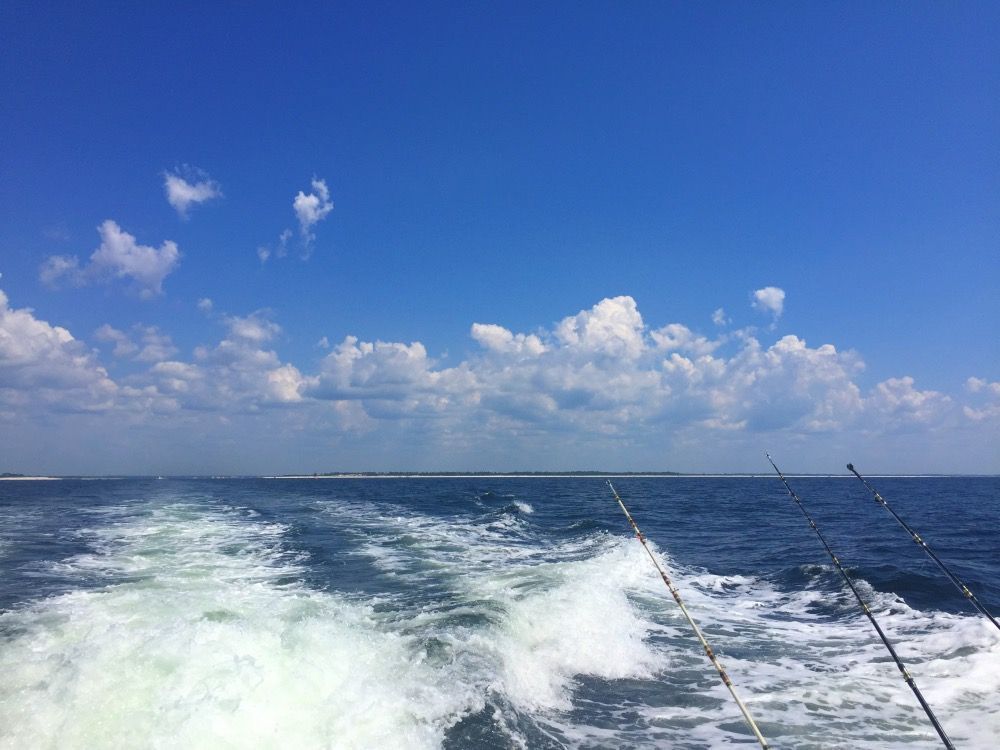 Deep sea fishing
Ok, so the seaside and the sea was from the table. It should go out on a boat and fishing from there. Boats have less fascination on me than on other people. My stomach does not always play with it. But that day the weather god seemed to have meant well with me. The water was mirror-smooth.
4 women and no clue
We – 4 women got our own boat with captain and Ashton (more about him soon). We 4 had no idea what was going on at all. How to attach a bait or pick a fish. Or at all. The good thing about it, as we were not just sitting in a boat, we were also practically in a boat. Fishing Knowledge from us: 0.
Ashton was responsible to instruct us and support us. I believe he never had to look after a troop of women in his entire young career like us. Because usually on a boat everyone helps somehow. And usually, more experienced people charter such a boat. Now the poor guy meets 4 German / Italian women who look at him with big eyes and are even disgusted with small baits.
Ashton had to prepare 4 fishing rods. They were first thrown in to produce bait fish. The angling was also quite fast with small fishes. And then? Yes, none of us dared to touch such a baiting fish  thing and everyone shouted for "Ashton." So the poor man had to remove the small things by himself at each rod and throw them in a bucket. But that was only the beginning….
From small to big
When we had enough bait fish, we drove to the open, wide sea. After Ashton had told us the angling (which was not really difficult). He prepared everything and even threw it out for us (wisely). We waited and after 7 minutes we asked impatiently when a fish would bite. After 8 minutes again. After 9 minutes the captain, who was sitting above and could probably only shake his head, decided to take a new spot. New spot. Four women stared (again) at the sea and made silly sayings. Nothing like "psst, we don't talk when we wait for fishes". Even without Prosecco and at 40 degrees our good mood uninterrupted.
Nicole, a journalist from the group, started first with her fishing rod. He screamed kind of frantically to Ashton, who of course stood aside. Unfortunately her fish did not want to and disappeared in the sea.
Barracuda or white shark
On my side of the fishing rot, it started to move. Wild and incessant. Panicky, I called "Ashton", who ran from one side of the boat to the other. He handed me the fishing rod and told me what to do. What was quite simple in theory, it was not in practice. The reel, which I should roll up relaxed, was not easy to roll up. With the right hand I tried to roll up, with left hand I held the rod. Which kept pulling more and more forward.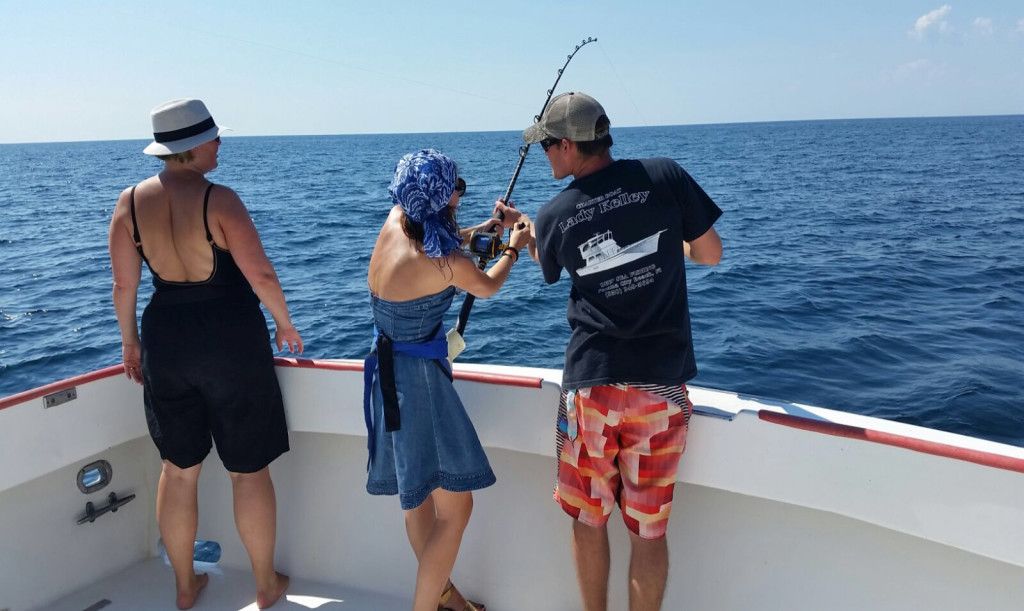 After about half an hour (exactly 2 minutes), my powers were pretty much at the end. Because this fish was a monster. A white shark. An unbridled force. Ashton tried to help me with my fishing rod and at the same time to use another fishing rod, which also shrank, was already slightly desperate. The captain, who shouted down orders from above and seemed to be afraid that I could go overboard with his rod, was no help either. Nicole hurried to help and held me from behind so that the monster could not tear me down. We tried to combine the thing from the sea. I spooled and spooled, Ashton and Nicole helped and there, I could see it. A large (rather ugly fish) came to the fore. Ok, the thing was definitely big and too big, as I could have pulled it up alone. Together we pulled the fish that seemed to fight with all our might, out of the water.
The fight
Ashton took a kind (caution – sounds a little brutal) of spear and spit the fish on. So he pulled him into the boat. But the fish did not want to give up and Ashton cried we should "go to cover". I did not want the sharp teeth of the fish in my legs. Or in my beautiful Italian shoes, which I had specially dressed for fishing. So we disappeared behind a box and let Ashton run our fight. At last he had him so far and could have him disappear in an extra reserved box. Some blood, however, remained behind. Our noses curled a little at the sight.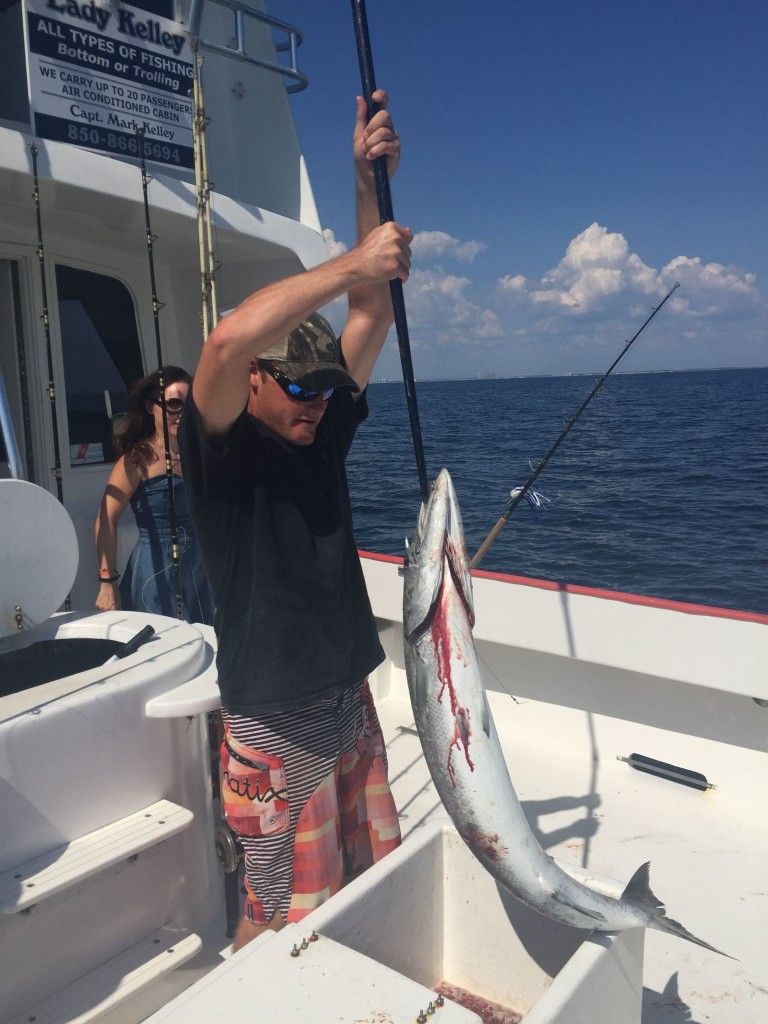 Showpiece
Ashton was impressed (what he said), and from above the captain seemed to be too. Barracudas are not rare, but this size was probably not commonplace. Whether this was a bit exaggerated by the dear Ashton, because he wanted to be kind. The whole group had to laugh, because the smallest woman actually fished the biggest fish. 😉
Of course, our tour was not yet finished and "we" still fished some more fishes. Ashton was still able to sweat and work. But … no fish was as big as MY Barracuda.
Muscle soreness
Fishing is not a sport, I thought. It may be, but my arms ached for days. I had to tighten my body and feel every muscle to hold this rod and pull that big, fat fish out of the water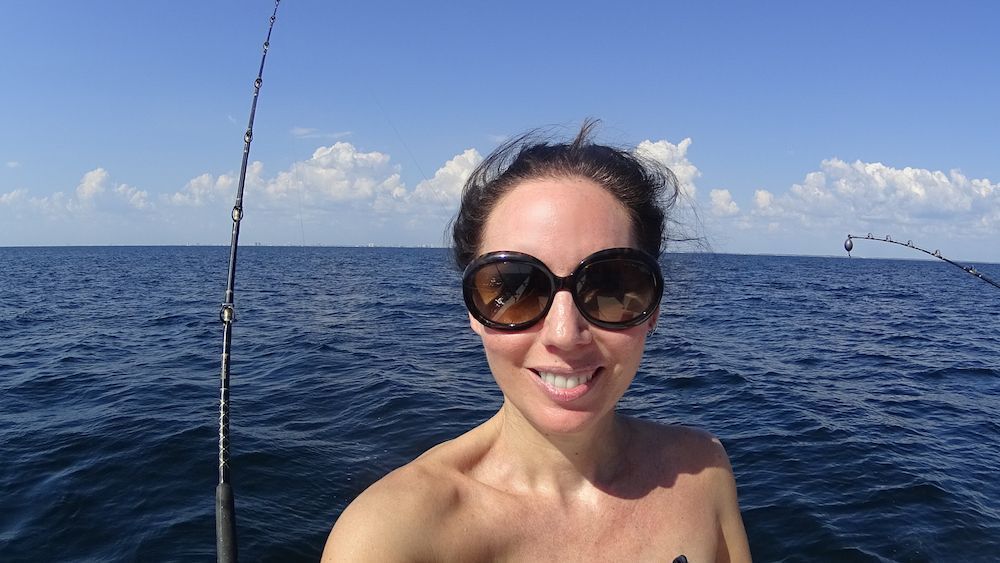 Resume:
Am I now converted to be a fishermen? Hardly likely. This day on the water was just wonderful. What I laughed (more than Ashton with security). We had an amazing blue sky, sunshine, wonderfully pleasant water, delicious food and lots of fun together. Can I recommend it? Absolutely!! YES!! If you have the opportunity and are in a great location with some cool people, do it. You will never forget it. Of course you should not be too fussy with blood and killed fish. If you can not stand it, then you shouldn't. But do not worry, these fish were all intended for consumption. So nothing wasted.
Returning to my question: How do I get a fish? And not just a small one, but the biggest …?
LUCK!! Very much luck!
1-800-PCBEACH (800-722-3224) for Panama City Beach information and assistance. Email info@visitpanamacitybeach.com.
Thank you so much to the tourism office of Panama City Beach, Florida and Annika (PR) for this great opportunity and organization. Thank you to my fellow colleges Katrin and Nicole for the nice company.