Read this in: German
I think everyone has been to a Hard Rock Cafe somewhere in the world. Maybe not necessarily in the Hard Rock Hotel Pattaya.
The very first Hard Rock Cafe opened in London in 1971, owned by two Americans. They were fans of rock music and wanted to create a mix of rock music, American cuisine and a small rock museum. Soon they added Canada, USA, Germany and co.
Now there are cafes, restaurants, hotels and even casinos.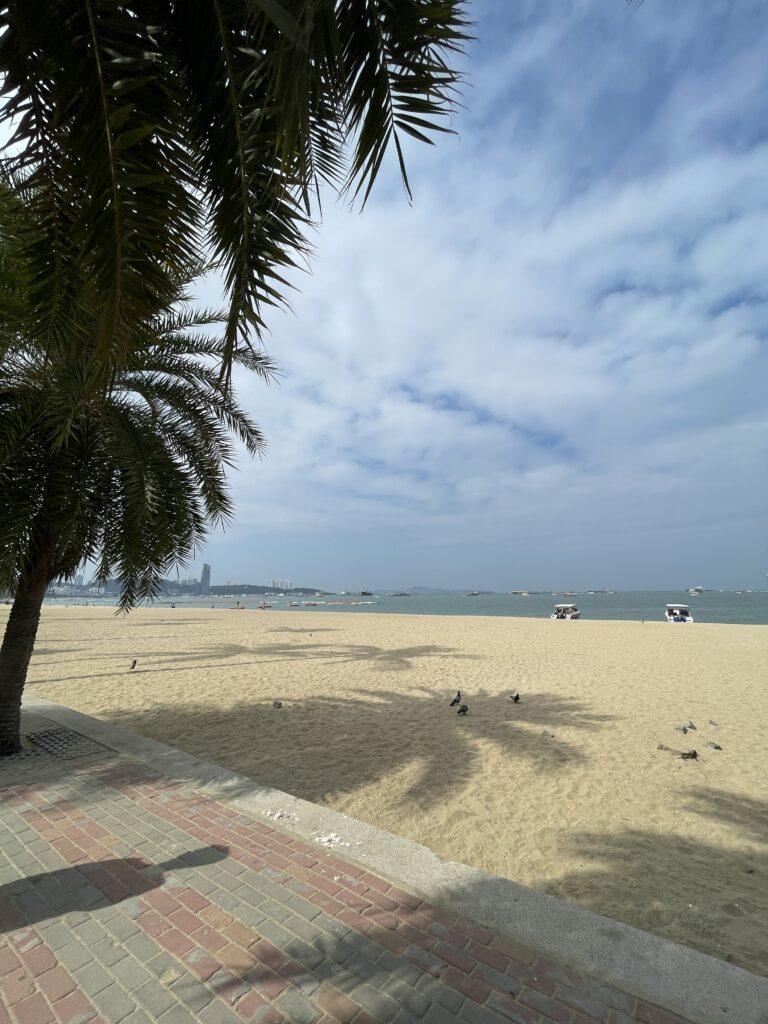 The focus is on the music and of course all the items that stem from famous stars such as guitars, outfits, accessories and Co.
Hard Rock Hotel Pattaya

Location
The hotel is located in the center and directly on the beach. You can walk to various malls and is also directly on the party mile.
During the day it is rather quiet. In the evening everyone wakes up and then it gets louder and more turbulent.
If you want to relax for a few days and stroll a bit, you don't need a car on site. And if you want to go further away, you can take a cab for a reasonable price.
Zimmer
The rooms are almost all similar and yet they differ in the small things. Common features are definitely the carpet and the dark, stylish bathroom.
All rooms have regular set of amenity kits. It includes shampoo, conditioner, body lotion, toothbrush, bath cap, sewing kit, and even a disposable razor with cream. All in the classic Hard Rock design.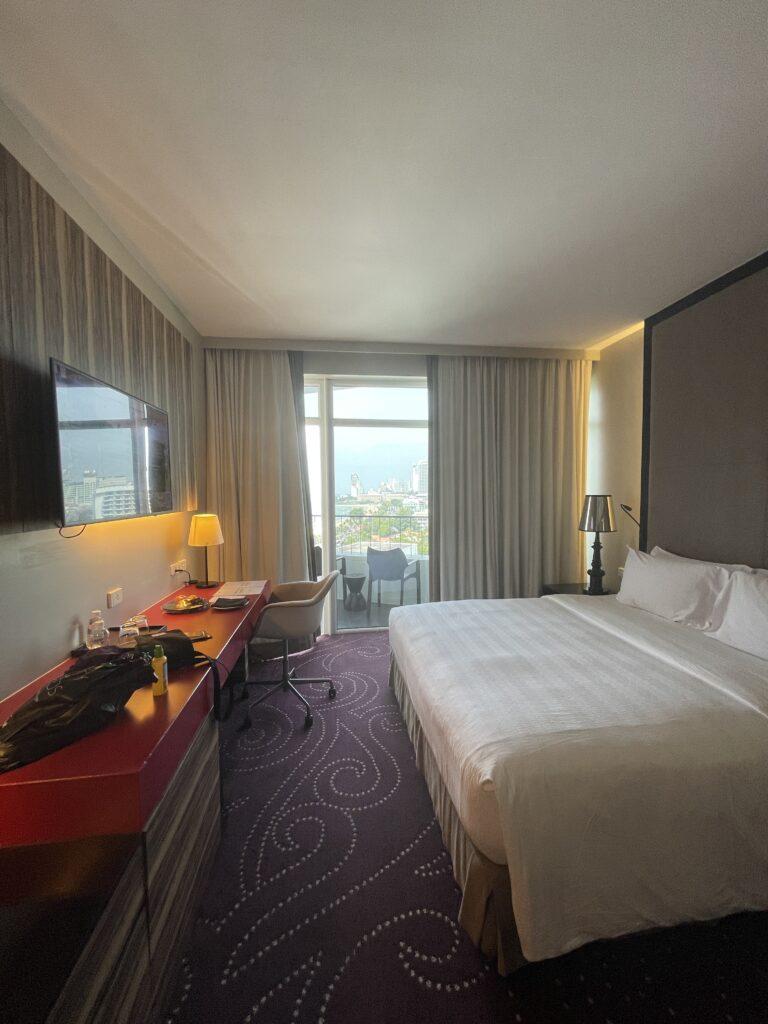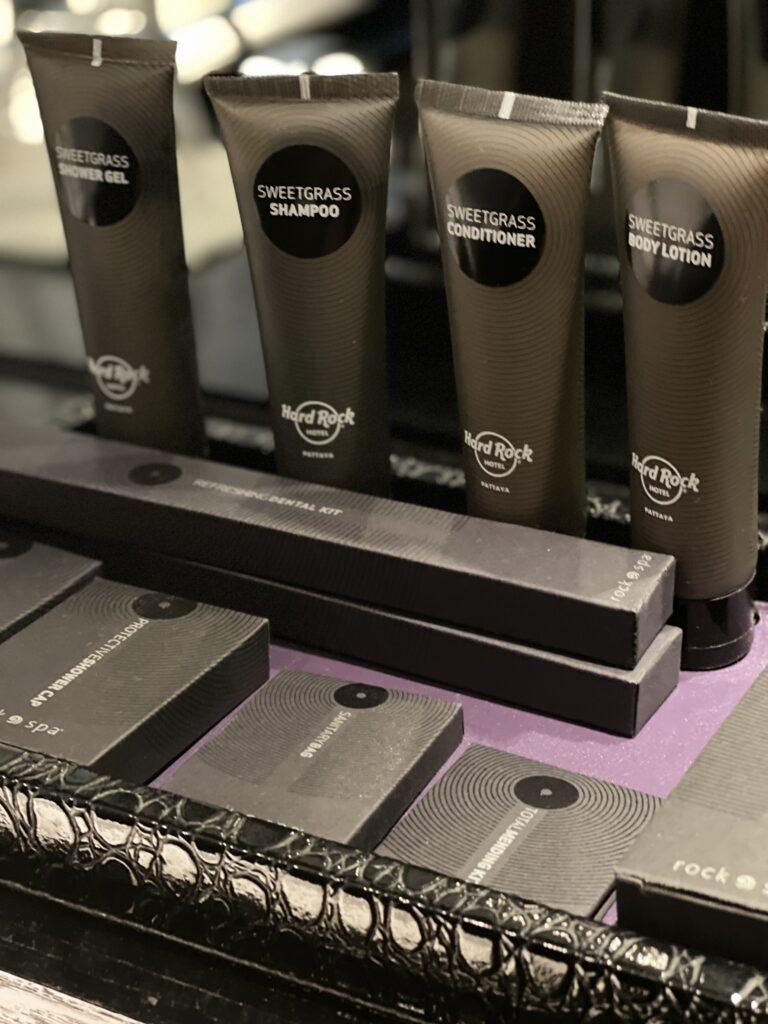 I found the beds and especially the pillows to be very comfortable. There were different pillow thicknesses and the mattress was not too hard and not too soft. You see, I hate it when the mattress is so hard that I get pain when I lie on my side because it doesn't sink in at all. Fortunately, not the case here.
There are also bathrobes hanging in the room for the SPA area.
Coffee, tea and water is available for free. Minibar and snacks cost extra.
The rooms are bright and flooded with light.
My room had a side view of the sea and a balcony, which I thought was great. I am such a fresh air person. I like to sit on the balcony and drink my coffee in peace.
The room service is super fast. When I ran out of coffee, I really got a refill within minutes.
Hotel
The hotel is decorated in cool gold and black tones. What I especially liked. The rock star design comes through everywhere. In the lobby I could admire the cool outfits of some stars. Among them was Madonna's dress from one of her videos. I am a self-confessed Madonna fan. Always have been. But there are not only Madonna dresses to admire. You can also see Elton John's outfit or Slash's or Marylin Manson's and so on. If you love guitars, you will surely stare and admire the wall with the many guitars for a while.
Of course, there are also pictures of stars like the Beatles hanging on the walls.
The entrance hall is very large and there are many places to sit down. The reception is around the corner, so to speak, and at least 4 out of 5 seats are occupied at all times.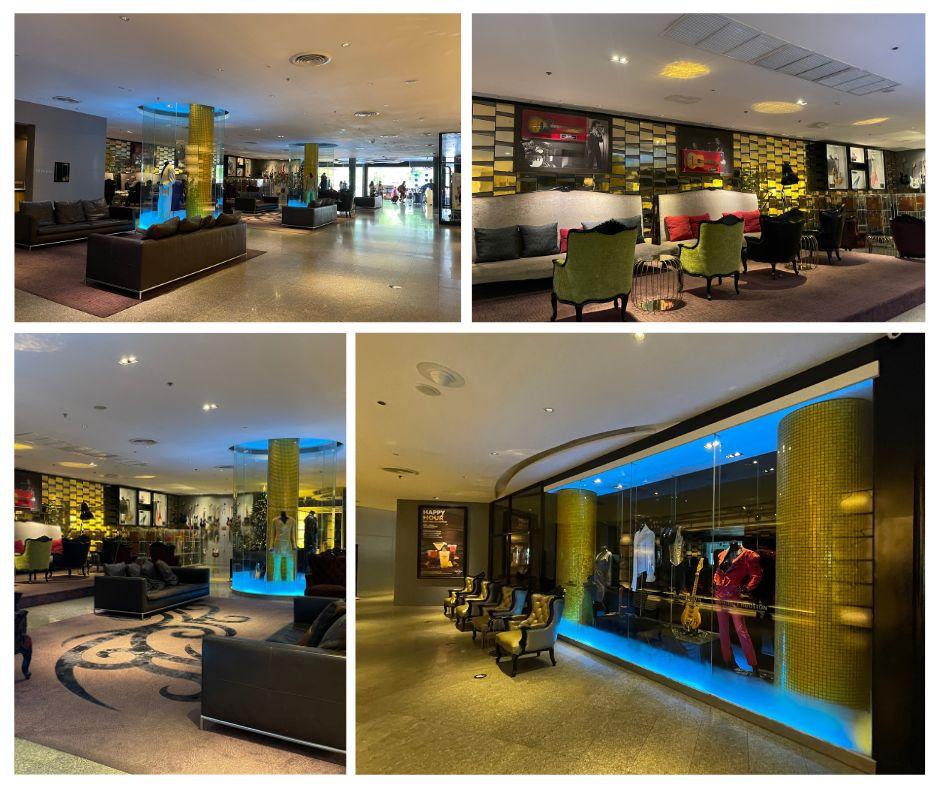 The staff wears masks throughout. Whether you like that or not is up to you. But that is a fact. No matter where in the hotel and no matter who of the staff.
The building from the outside is not the hammer, but the details inside and also partly in the pool area are very cool.
Pool
The pool is really big. Especially cool is the immense hard rock guitar that stretches across the bottom of the pool. Guitars are found throughout the resort.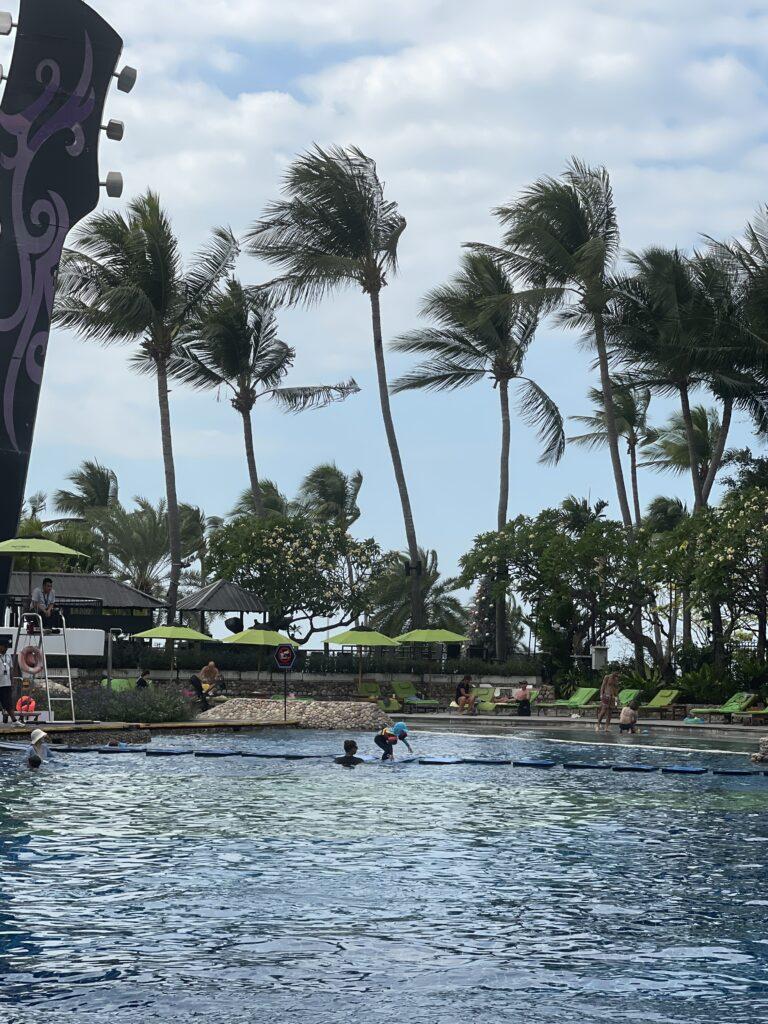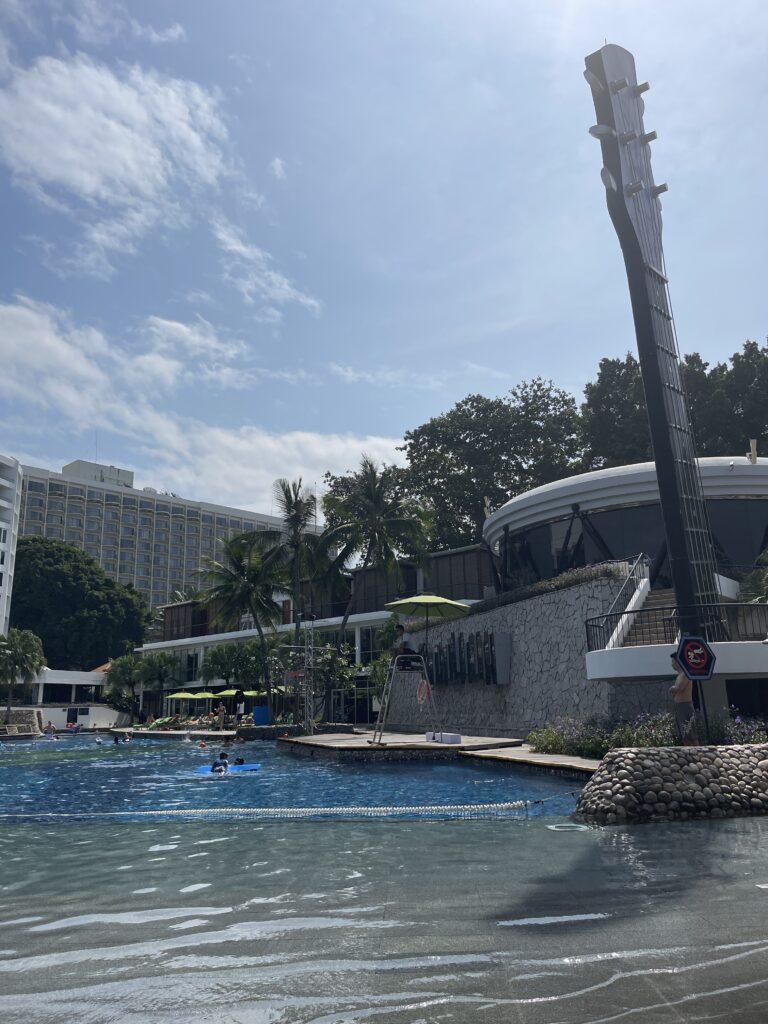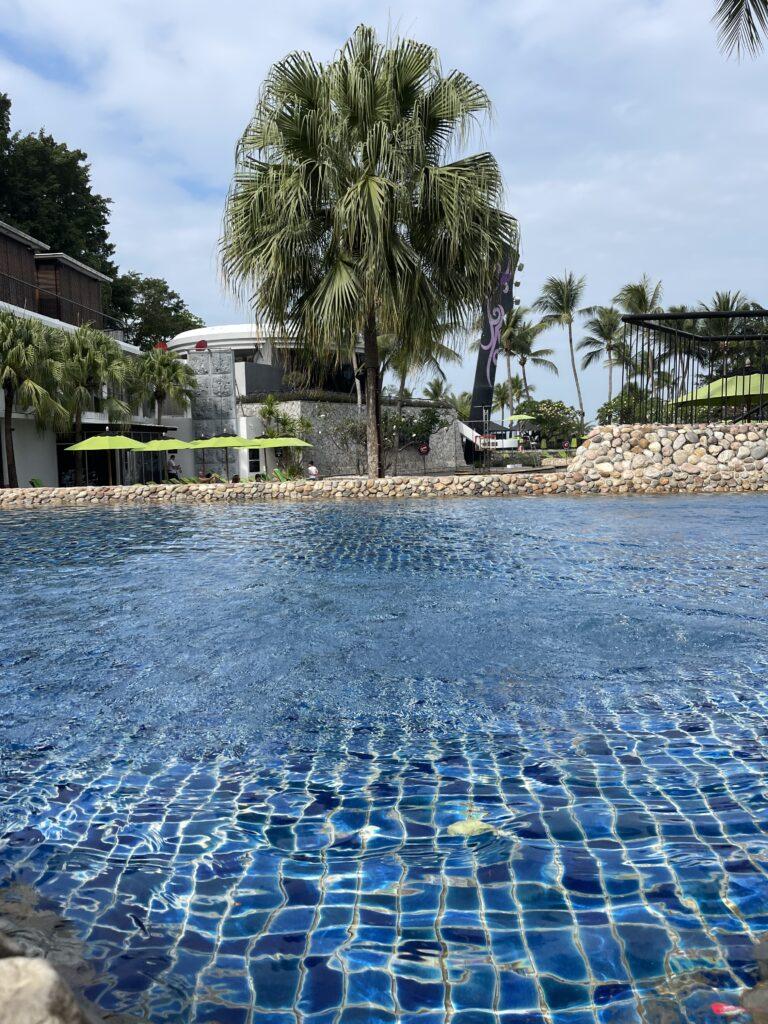 There are three areas, so to speak. One area is set up a bit like a beach. With sand and chilly loungers. This area is more for families with children.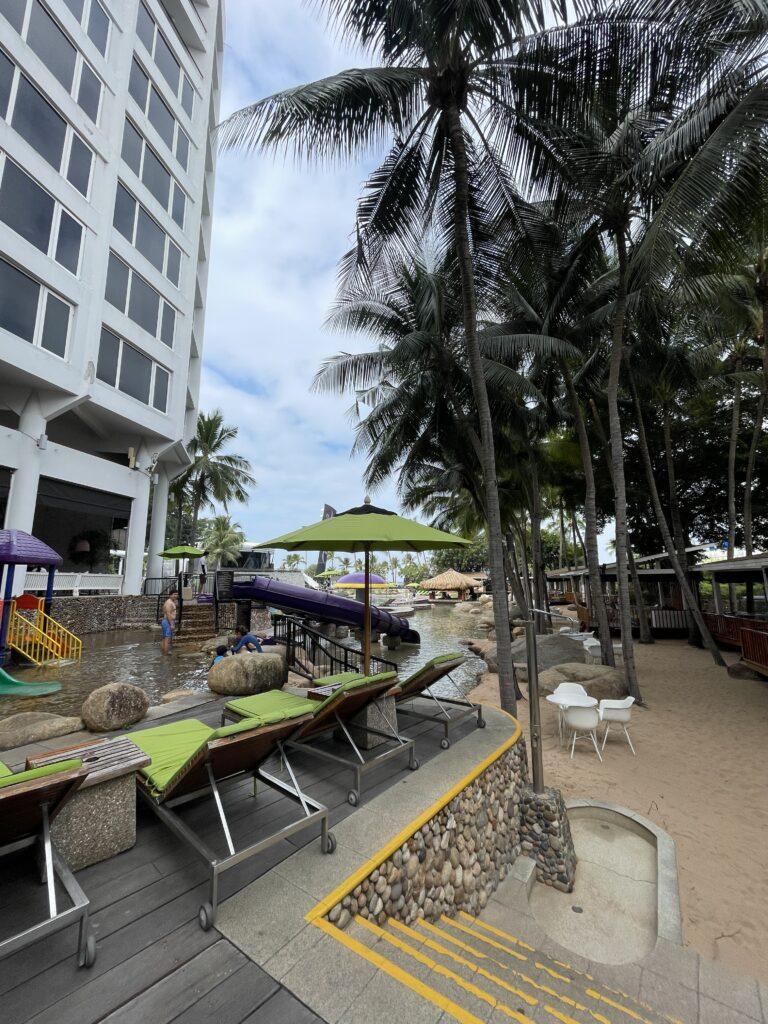 Then comes the large pool area. And there is another side, where again from the big pool a small part for children is separated. Large stairs lead into shallow water and then slowly into deep.
The pool is really big and you definitely don't get in each other's way.
Food
The hotel basically has three restaurants, if you can define it that way.
Breakfast is taken in the main part. You can take tables inside and outside. Which I personally always prefer. I often can't understand why hotels don't offer outdoor seating.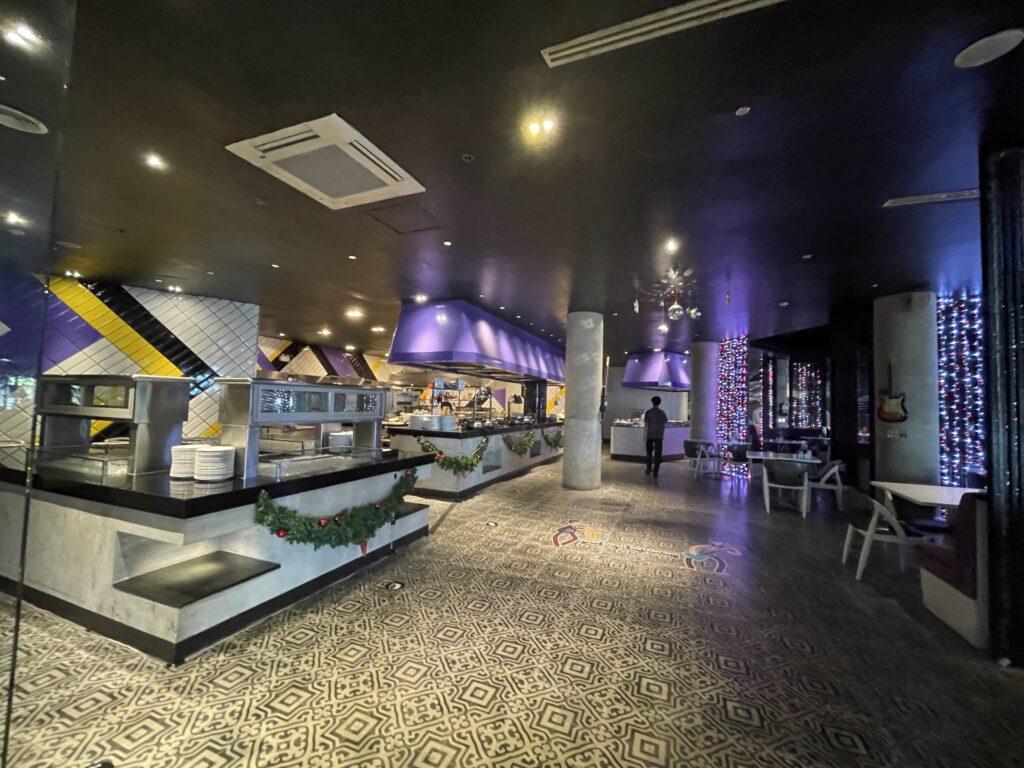 The breakfast is more than just "extensive". Here you can eat Vietnamese soups (freshly prepared), English beans, egg dishes up and down, bread, sausage, meat, curries, waffles and much more. So here really everyone finds something. And by the different nationalities one sees also the influence in the breakfast tradition. In Germany, people tend to eat bread and hearty things, the Italians love sweet breakfasts and the Asians like to eat rice with various other things in the morning. There is something for everyone here. Even for those who want to try something different.
Evening
In the evening there are two restaurants. One restaurant is the so-called Pizzeria.
I was a bit "afraid" that there is only pizza. I would rather eat their food in another country. But my companion ordered a pizza from the wood-fired oven and it was quite good. I opted for local cuisine and was not disappointed. The food was excellent. I had a choice of vegetables, meat, soup and a white wine to go with it. Simply delicious.
The menu is also quite extensive. There is of course pizza and various European-inspired dishes, as well as Thai and Kosher dishes. You will find what you are looking for in any case. The restaurant is basically located on the outside of the breakfast restaurant. However, in the evening the blinds are pulled out, so that everything is a bit cozier. And of course the pool is nicely lit.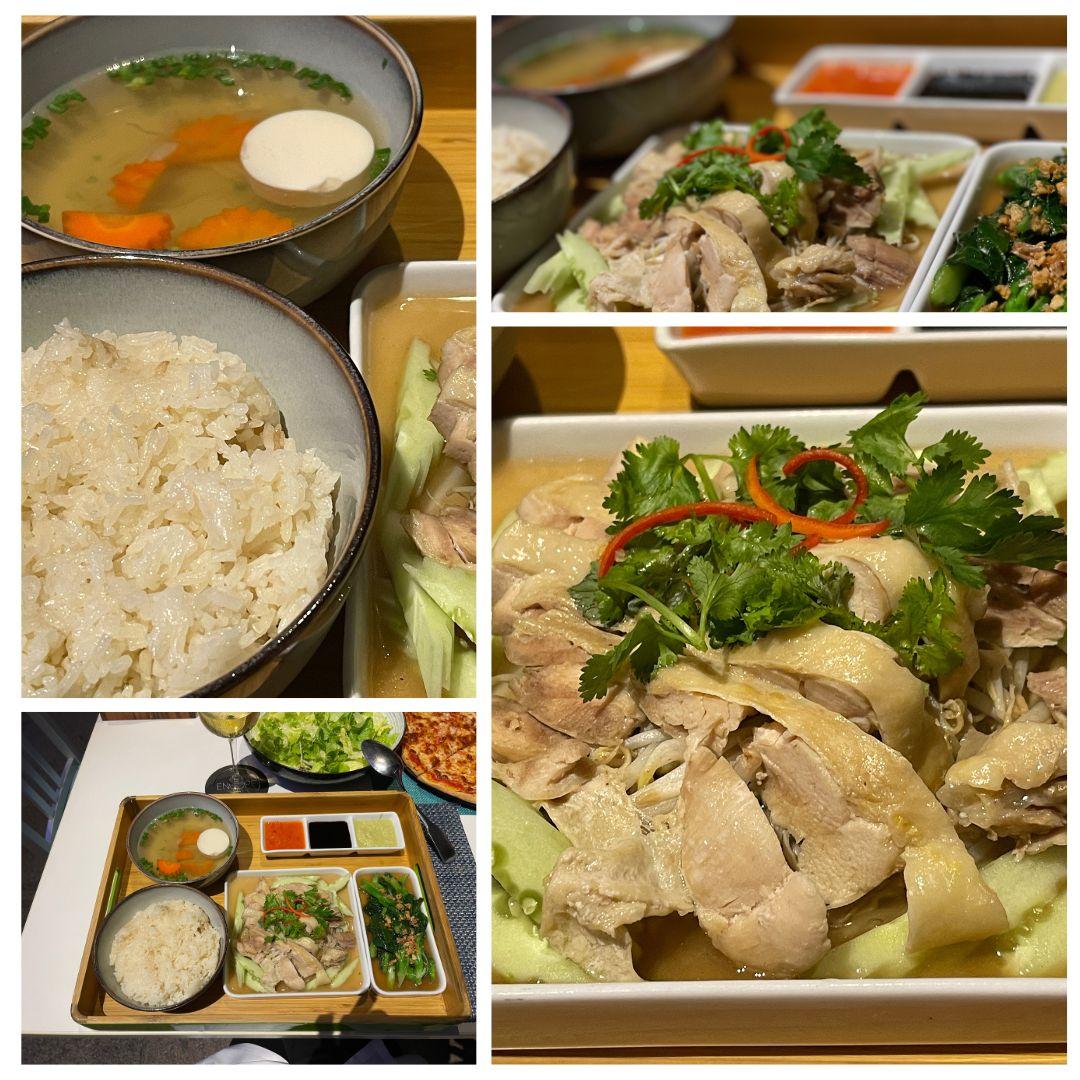 Hard Rock Cafe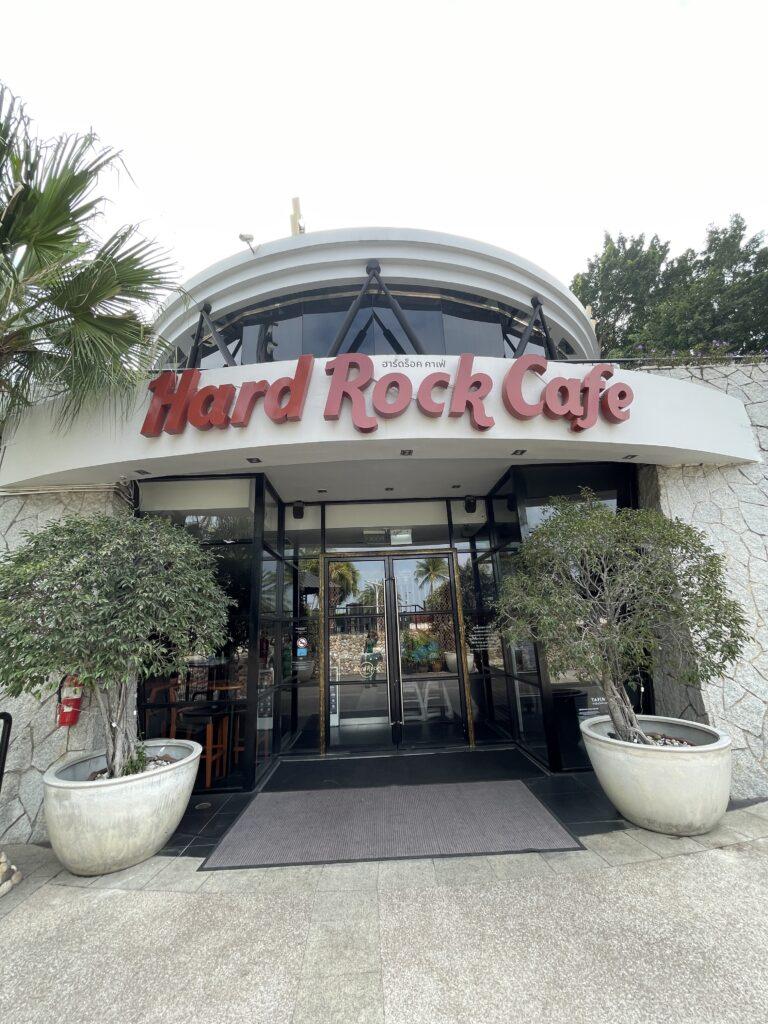 Maybe one or the other has been in such a cafe before. I was already in Hamburg and I must say, it differs here already (fortunately). Of course there are the standard American dishes, but there are also many great local ones.
First time we had nachos and they were so delicious with the fresh guacamole. My companion had a vegetarian burger that tasted so authentic that we were briefly irritated. Our super nice waiter then told us that he often has to ask the kitchen to get the wrapper for the paddies, because customers can't believe that it's actually not meat. So it wasn't just us. World Class. With lots and lots of cheese.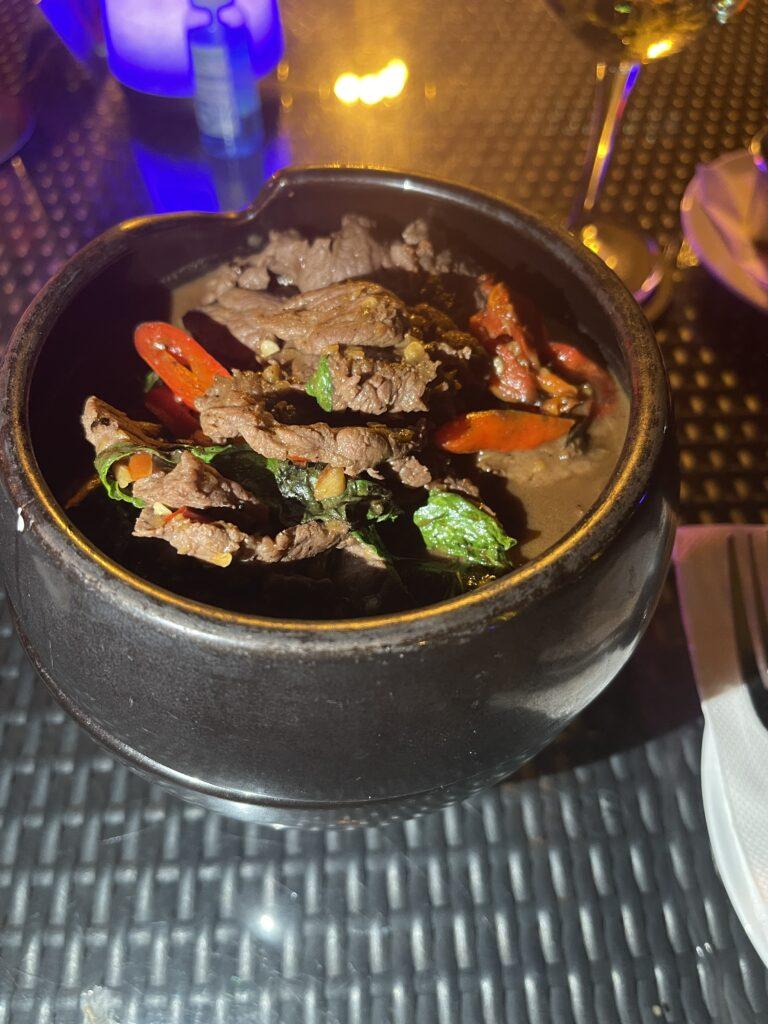 I had a dish of Wagyu beef and rice. The meat was exceptionally tender and the spices were perfect with the dish. A bit fiery, like so much in Thailand, but perfect for my palate.
We were so full of food that unfortunately we couldn't order dessert. Just couldn't get any more. Very sad.
At the Hard Rock Cafe you sit right on the boardwalk and there is live music playing. I thought it was great. The small lights, the glitter of the sea and the music in the background. I can only recommend everyone to eat there or at least have a drink when you are in Pattaya. The atmosphere is really intoxicating.

Fazit:
For me a very nice, chic and above all stylish hotel in Pattaya. The Hard Rock Hotel is in a perfect location and has everything to spend a relaxing vacation. We were only there for 2 days and it was perfect.
The staff is very attentive and quick.
The food and especially the breakfast is excellent. If you can "find fault" with maybe one small thing, it might be that there were only pancakes in the morning. But I learned that in Thailand the cheese must actually be imported. Very few supermarkets even carry cheese like Gouda or Emmentaler. And if they do, it's very expensive (relative to the other stuff). Cheese is really not that popular here and apparently quite unimportant. Well, other countries, other cultures. That's the way it is. There a vegetarian must first come to terms with. I am not meant with it, since I am no vegetarian, as one can recognize easily by my menu choice 😉
The Hard Rock Cafe Pattaya is also great and should I be back in Pattaya, then I will definitely go there again. We also liked it very much from the clientele.
If you prefer a cooler ambience, the Hard Rock Hotel Pattaya is just right.
Diese Reise ist im Zuge einer redaktionellen Recherche entstanden. Meine Meinung und keine Beeinflussung.