Read this in: German
I've been to Switzerland before, but I can not remember this trip. It was my second birthday when my parents bathed with me in a lake. I was sitting in a swimming ring near a liquor factory and I then had a conspicuous good mood. Everywhere there was a smell of apricot liqueur. Switzerland was always a desire destination for me. I come from a place where others go to vacation – at the German Northern Sea. But you want to know what you do not have at home and that would be mountains in my case.
Yes, there were also some hills on my summer vacations in England. Bristol was hilly than expected. But that is of course no comparison to the Alps.
Fortunately, in the form of a press trip, I had the opportunity to explore a region that sounds a bit too good to be true. Beautiful mountains, opportunities for outdoor sports, but also swimming in lakes, driving through winding roads, stroll around in city centers or just enjoy the beautiful weather. Villas and promenades, mountain villages and wild nature, both just a stone's throw away.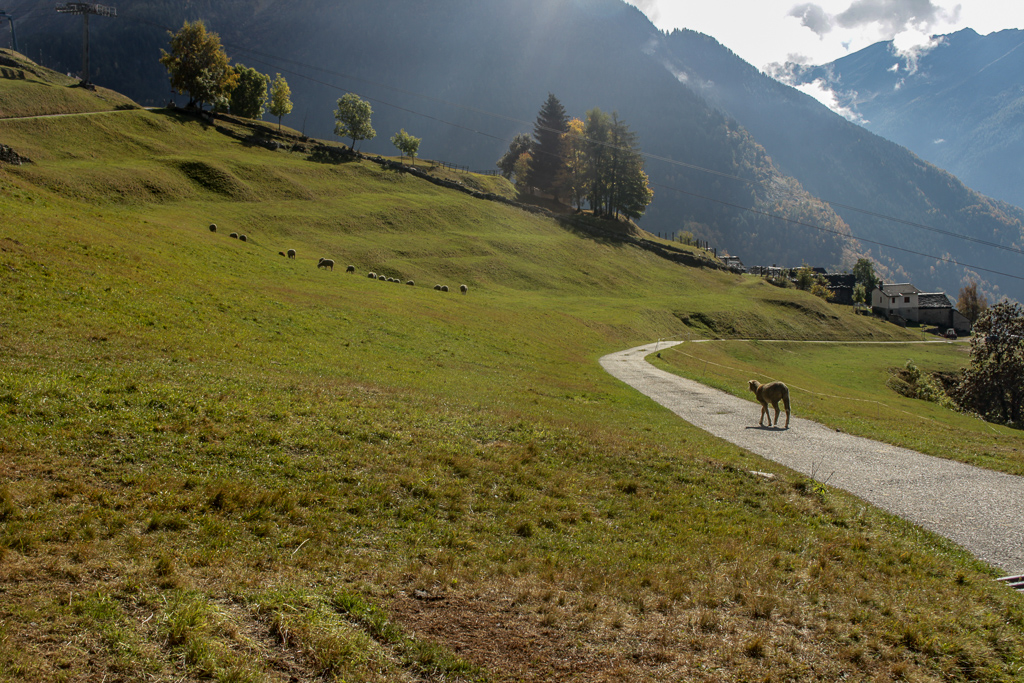 The fortresses of Bellinzona
When I arrive in Switzerland, it's raining heavily. So I already know that I can't take good pictures on this day, but later I learn: It does not rain so often in Ticino. But when it rains, it really rains a lot of rain. Rain is rather unusual after this summer, but rather annoying, if you want to orient yourself in a strange place and looking for the way to the hotel. WIFI is a rare commodity in Switzerland and holidaymakers should not forget that there is no data roaming in Switzerland and thus mobile data can be very expensive. So take care and look for free WIFI.
For the first evening of the press trip, a short walk through Bellinzona was planned. That walk isn't that nice 'cause  of the heavy rain. We climb the steps of the lowest fortress, the Castel Grande. Unfortunately, I have not seen much of Bellinzona on this trip, but I really liked what I saw. If you want to travel through Ticino, you can take this city as a starting point for your day trips. In the city there are three fortresses, which can also be climbed on a 5 km long circular route. That evening, we ate in one and amazingly even had something vegan ready for me. Dear vegans, this is not self-evident in Switzerland. Anyone who is vegan or allergic, should also stock up enough with food that he tolerates. In my case it was nuts and humus.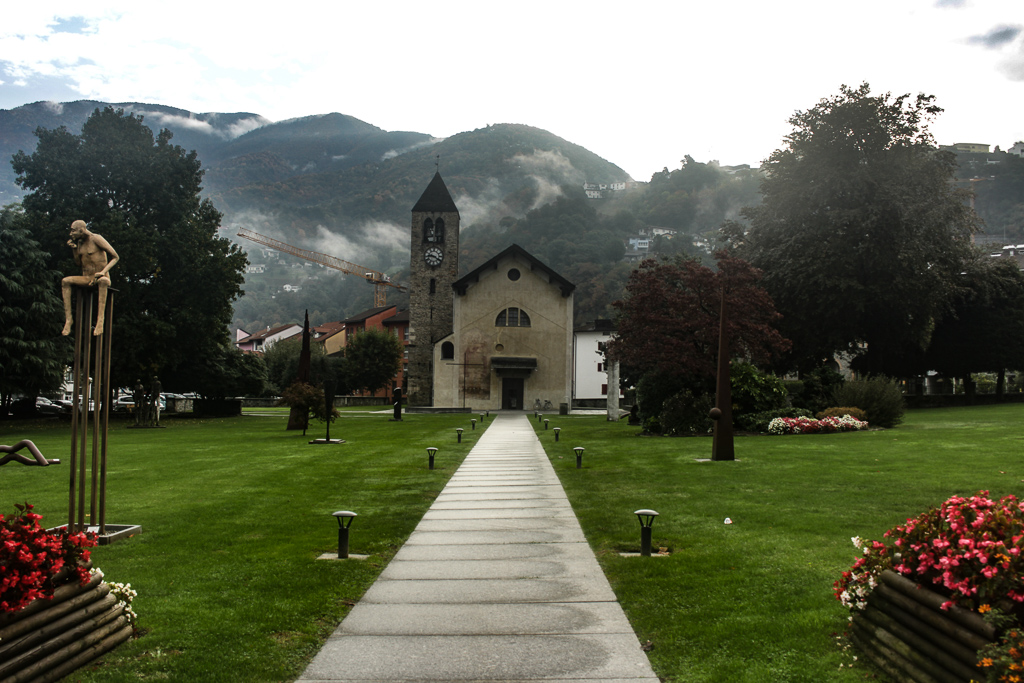 Everything is different than planned
At 9 o'clock in the morning in a small village in Ticino near Bellinzona. I've just come out of the pharmacy when a hell of a noise breaks out. Several men discuss with a police man, an elderly man sprays his flowers in front of the lime green house, next door is built and, behind it, a move takes place. A lady, who seems to be bleached, rages furiously in full barber's outfit from the salon self-confidently on the square and talks to the police in prevailing tone and waving barber's cloak.
Her husband and a hairdresser stumble awkwardly afterwards, felt half the village gathered there. Only the old man continues to spray and gives me a dirty look because I did not greet him. "Buon dio" I stammer, in this region I never know what to say. German? Italian? Sometimes they also speak a little French words. Very confusing for me, since I mostly travel in English, but here with German on. The old army considers me with a toothless smile and greets me back wordlessly.
Almost like in a novel by Heinrich Mann, I think. This is such a weird scenery, you can not imagine that. This scene feels so unreal, while I'm on my way to the pharmacy. I have probably already started on the way an infection and I do not want to go into detail, but my family doctor has given me exact order from Germany, which drugs I should get me.
Be active or relax over the clouds
Actually, I should have made a mountain bike tour with the other journalists on this day. But apparently the universe had other plans with me. So I found myself in a car and drove to the cable car Malvaglia-Monte Dagro. The driveway takes about 10 minutes and now in autumn it just looks stunning. The view of the valley and the colorful foliage of the chestnut trees offers good photo opportunities in addition to rocky slopes and also one or the other goat in the rocks.
The lift for up to 4 people can also transport 2 bikes at the same time and costs 10 francs for a return trip. The lift is 22 years old, but was closed in 2012 and reopened in May 2016.
A region for wine connoisseurs
But not only in autumn is this region for traveling. Every May is the day of the open wine cellar. Then you can personally take a look in the cellars of the region, look at techniques and how the wine is made. You rarely get wine from this Swiss region outside of Switzerland and also outside of Ticino, since many winegrowers produce wine only for themselves privately or in small quantities. That makes the price accordingly expensive compared to other wine regions.
A touch of mysticism
Looking at the beautiful mountains, the question naturally arose for me whether there are mystical cults or a belief in nature similar to many other cultures. In Scandinavia one believes trolls, in Ireland at fairies and elves. So what is it here? The Ticino region is very catholic, everywhere you will find pictures of Mary and small churches with high, pointed towers or small chapels in the midst of old mountain villages. Here is a belief in places of power. Unfortunately, I have not been able to learn so much yet – but next year I will go on a private trip to Ticino with friends and can then perhaps write to you more about what power points are all about.
The diversity of buildings in Ticino
In Ticino you will find a colorful mix of very old stone huts, typical half-timbered, which one is used to from Switzerland and in turn downright splendid villas. Ticino was historically very secluded for a long time from the rest of the world. Therefore, this was also a very poor region. Especially in the time of the emigrants many Ticino sought their luck not only in Italy and all over Europe as migrant workers. Many went to America and Australia. Some of them then moved back home. There they built small palazzi with their earned money, which make the today's cityscape down in the valleys even a little more colorful and diversified.
Between mountain village and cooking
After a little refreshment in the Osteria Sass Malt, instead of sunbathing, there is a short walk to the neighboring village. Twice I have visited this enchanting place with the ancient Rustici, because the first time I overlooked the fact that there were stone plates with chain marks on the well, which were found elsewhere on the mountain. Everything in this village looks like something from another time. Most residents use their Rustico as a weekend house or it is rented for tourists. An old cowshed can become a beautiful holiday home with breathtaking views over the valley.
After the walks, the mountain bikers arrive. For starters, there are sausages, which has matured here in stone caves and a vegetable soup for me. The Osteria gets all products from the region, as close as possible. The Tuscan-style sauce was even cooked in August and gives the penne a very special taste as a main course.
By bike through forest and mountain
Unfortunately, I was denied the experience on the mountain bike, but nevertheless we plan to drive once again for hiking and cycling in this region. At the station of Biasca, my fellow travelers borrowed the bikes for the quite demanding tour Malle Malvaglia Bike, which was 18km long – including 8km single trail. Who plans such a tour should expect a total of about 70 km.
I have learned for you, which prices apply in this bike shop: Currently e-mountain bikes cost 55 francs per day, normal mountain bikes 40-45 francs. Often the bike rentals in Ticino are right next to the station and on smaller tours it is also possible to rent half a day from 9am to 12pm or from 2pm to 6pm. Of course, those who rent the bikes for longer than a day also pay less – 7 days is about 20-25 francs for a mountain bike, a city bike costs a little more.
If you need a guide to do a technical course or drive a certain distance, you pay 400 francs for groups of up to 8 people.
Hiking on the turquoise water
The next day we went to Brione by minibus. Past a dam that once appeared on the James Bond movie "Golden Eye". There begins the true magic of the valley, through which a turquoise river makes its tracks. Actually I had hoped that I feel better today, but unfortunately I have to continue my journey here differently than on a bike.
The small villages here all have a public oven, which of course is no longer used daily, but is now and then used for school classes or special occasions. It is not only possible to hike through the valley by mountain bike, there are also picturesque hiking trails, which are especially enjoyable in spring or autumn. Behind the picturesque village of Sonogno, which looks as if it has sprung from a picture book with all the beautiful flowers and the market square, an impressive waterfall awaits you, and as it is Saturday, many day-trippers from Italy are on their way.
Chestnut Festival in Ascona
We are fortunate to be part of the Chestnut Festival, which attracts many tourists every year. In addition to stands with sausage, cheese, schnapps, Farina bona and all sorts of other local products, there is live music, the view of the shining lake in the sunshine. The Chestnut Festival takes place on the first two Saturdays in October and the President of the Chestnut Festival Matteo Rampazzi leads us directly to the places where long lines wait for roasted chestnuts.
2000 kilos of chestnuts are expertly roasted over the hot fire at two stations. No, unfortunately I have not tried it – I have too much respect for this hard and sweaty job. I also use the time to stroll through Ascona for a while. For me, this place is a great contrast to the mountain villages with its palm trees. This may not be the taste of anyone who travels to Switzerland to look for nature, but is a nice contrast to all the nature and peaks with the first snow. Next year, I would like to explore this city even more, because I heard there was a botanical garden right on an island on the lake. And that really sounds like a worth seeing tourist attraction for me.
In the footsteps of the chestnuts
If you have really arrived in Ticino, then unfortunately the journey stops again. That was the case, at least for us. On the last day of our trip we went to a chestnut festival of a different kind. Here we were not alone. Quite regularly you could book as a tourist for 40 francs a chestnut day. This offer includes a breakfast of local produce, a guided hike on a piece of the 12 km chestnut path, and a lunch at a traditional chestnut festival surrounded by traditional chestnut woods.
But outside the Chestnut Festival you can also explore the trail all year round on your own. If you want to be part of the Chestnut Festival, you should remember the second Sunday in October. This was created by the forestry engineer Carlo Schiegga, who presents us this way and answers all sorts of questions. And my personal advice would be to visit this path in the fall, as you can then pick your own chestnuts.
I would not like to say too much about the chestnut at this point, but in principle it would be important to know the following. In the past, the Ticinese cultivated the chestnut, as it was the main meal of the inhabitants for 3 to 4 months a year. Today it serves as its own and has been recultivated in this region for 30 years. Out of a total of 4 hectares, only 50 and currently 100 hectares have been created, and a total of 250 hectares in Ticino.
The chestnut comes originally from the Middle East and came to Ticino 2000 years ago with the Romans. Of course it is an interesting fruit as it is very nutritious and gives a lot of energy. Later, however, the long chestnut culture in Ticino was replaced by corn and potatoes. These crops have a different taste and yield. After the Second World War, the chestnut tree slowly fell into oblivion, as it focused more on the economy of the center Lugano. Chestnuts were used only for personal use, trade and sale and so they lost relevance. For recultivation belongs today that other trees such as linden or birch must not keep unique in the chestnut forests. And although I'm talking about chestnuts, there are about 50 different varieties in Ticino. Different varieties guarantee that there is a variety – some deliver fruit earlier, some later.
Today, some are collecting for themselves again. There are also collection points where you get 3 francs per kilo of chestnuts and 1.50 francs for smaller ones. The harvest is still handmade. 30 to 40 kilos a tree delivers on average, a very large specimen can sometimes deliver 100 kilos. So you see, so I learned a lot about the chestnut. And I do not want to tell you too much. Because on Kastanienweg there is enough indigenous material for you to learn even more about fire safety, the benefits and the enemies of the chestnut forests of Ticino.
Comfortable beds
If you stay in Ticino and use a campsite or a hotel or a guesthouse, you will receive the Ticino Ticket. This is a very handy thing for people who like traveling by train or bus. Because Eco Tourism is important to me. In Ticino, for example, you have the opportunity to leave the car at home and still be able to explore the entire region.
During the press trip we stayed at the Hotel la Tureta in Giubiasco. This is a 4 star biking hotel that has a nice ambience and offers a generous breakfast that I unfortunately did not have much of besides the variety of teas. Especially the breakfast hall pleased me with its beautiful murals.
But there are other ways to get a good accommodation in Ticino. In addition to guesthouses or guesthouses that rent rooms there are also other options. For example, you can rent a cabin on one of the campsites. Or you can rent Rustico on a weekly basis and be on the road from there. Airbnbs is also available – but there is no Ticino ticket included.
This blog post was created as part of a press trip. I thank all of Switzerland Tourism and Ticino Tourist, that I could be part of this trip and get to know this really extraordinary region. And I think that there will be a private reunion for me and Tessin next year in any case. But then with my husband and possibly one or the other friend.