Read this in: German
Interview with Designer Duo
The press defines them as "Young & Revolutionary" designers. When they first started they were considered as the "new Dolce & Gabbana". But this is the past because this designer Couple from far south to the far north of Italy are now famous for their unique style and their creativity.
Since 2006 this strong Duo – Dario di Bella and Giovanni Premoli (Premoli Di Bella) creates women's, mens clothes and accessories. They also started with their own national project "Anorexia Stop" in favor of size 42 (italian).
The Italian Celebrities loves them. Elena Santarelli, Alessia Ventura or Jeanine Fox are only three of many "Celebrity Fans".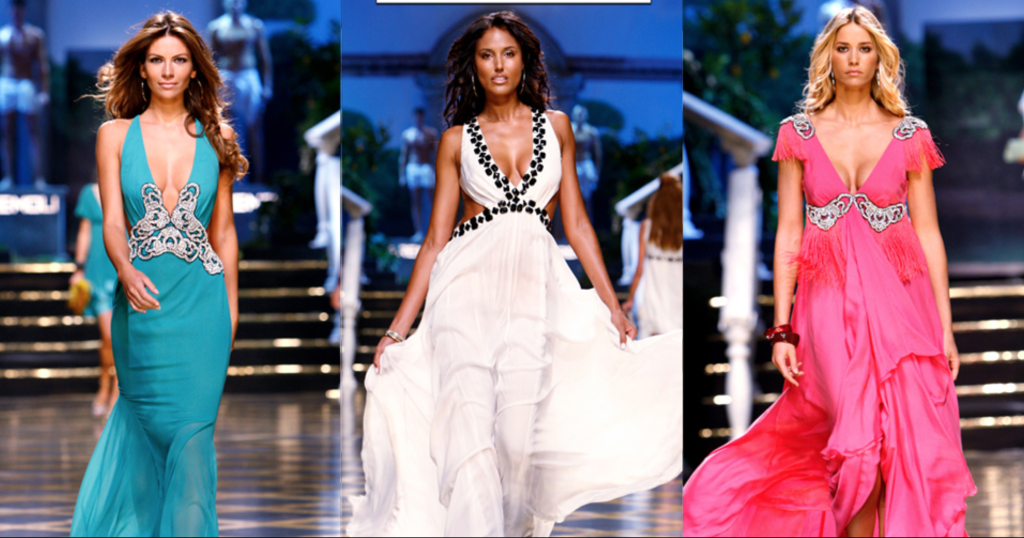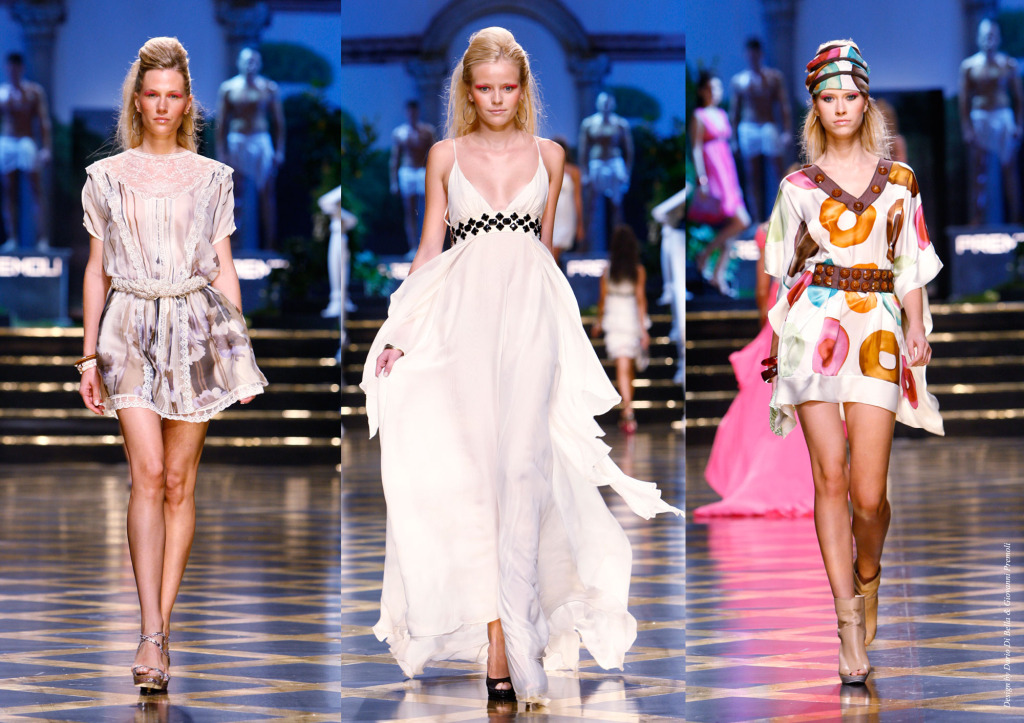 First of all – I love your fashion. It shows how women could look fabulous with the right clothes on. You have that wonderful, female dresses that make me feel like a superstar. But you also design clothes and accessories for men. Even ordinary men look clean and chic in your clothes.
I have a few questions – you absolutely have to answer that. No, just joking. I think you are such great designers and I want my readers to know you a little better.
What is a typical day of you guys?
Given that during the year we live in three different continents: Asia, Europe and America, our days are very dense of different situations and our days are very chameleonic, it change a lot according to the place where we are. Anyway basically our appointments do not start soon because we work until late at night, the best inspirations come just at night. Every morning, we have a meeting with our staff, we focus a lot on various collections that we follow, on campaigns  and  projects opened. The late morning is dedicated to view the new fabrics and new materials. Lunch time, we have often business lunches, is a pleasant way to meet and discuss new projects, often we  meet with  photographers, costume designers, journalists or some our friend celebrities.  When we are free we do a random walk in our stores, to check that everything is in order, given that we also  supervising  the entire image of the brand, including visual and merchandaising. The early afternoon almost always is a time of day that we devote to the control of prototype and development of new collections. The time in the evening, often we are guests at events or happenings. And when we can we love not to go out and cook Italian and spend the evening at home with friends.
How do you get your ideas? What inspires you? What is your process?
Our ideas start from our inspiration. The inspiration is the spark that comes without a particular process but you understand that is the right thing to propose or to do. Our inspirations start by knowledge of the people and their lifestyle; we have the good fortune to live in three different continents with their history and their culture, you can discover several different peoples lives, behold this gives  you adrenaline-charged and knowledge that goes beyond the inspiration. Then  when you will start to study a collection, you will think about the needs and customs of those persons and then you will carry it inside the creations.
What do you think of "fashion bloggers"?
The fashion bloggers have given new voice and a new point of view in fashion. A mom, a family worker can interact with a machine that has always been in the past very niche and closed not for many. Today the fashion bloggers are invited to parades and fashion events and this has made it possible to have multiple opinions and then to tell more and more what happens behind this machine called fashion.
Many "stars" start to create their own fashion lines. What do you think about it?
We think that a star needs to focus on her work; to be a star involves a lot of effort both in social and in daily,  then at some point in their career, some decide to have own fashion line.  We ask … why, it's so nice to think that a star could be free and spontaneous, can be the muse inspiring for us designers, without attaching it to a precise brand, in short, a bit of all of us !!!
How would you describe your style?
International, fresh, contemporary, wearable, and researched.
What does fashion mean to you?
Knowing how to interpret and satisfy the needs of a market.

Your Celebrity List is so long. How did you get into this Celebrity World?
With the pass word, often a celebrities presents us with a friend; or during the events where we have the opportunity to get to know each other.
What was your coolest or funniest Celebrity you met and why?
Celebrity we meet are all very funny, each of them is our friend and we have fun anecdotes that we keep in our memory.
What do you love and what do you miss in the fashion industry?
From the world of fashion we love the creativity and the ability to renew. What is missing is a little more humility.
What is you favorite "it piece" and why?
We like honest people, why there are too many dishonest.
Any fashion advices to the people out there?
Choose with your instincts and always try to be yourself, using the fashion to show what you are really.
Any advices for aspiring fashion designers?
Please, don't think that fashion is just fashion shows and celebrities, behind this semblance there are hard months of work and profound expertise.
What are you plans for the future?
We have many projects in our future, we are just beginning. You can discover them only when we reached the goals … just for good luck … 🙂 🙂  !!!!
Thanks a lot, we are looking forward to the future with you.
CSP