Read this in: German
Travel Tattoos
Tattoos – they are so fascinating since… ever. You can find cave painting where you can see tattoos on people. Even the Iceman from the area of the Italian-Austrian border who was found in 1991 was tattooed and he is almost 5200 years old. It's not anymore that only prisoners are tattooed. I don't know if you remember that they used to tattoo tears under their eyes.
Stars are tattooed. Over and over their body like Angelina Joly or David Beckham.
But also traveler or people who like to be inspired by their tattoos to travel have them. But why? Why do you get your tattoo while you are traveling?
Inspiration Travel
Whan you travel you see so many great things (sometimes more, sometimes less). But in any case your head is full of impressions. Sometimes wonderful things happen to you while you are traveling. You do want to keep that memory or you want to have a reminder of what you experienced. But some just want to have a great inspiration on their bodies – forever.
My Tattoo
Ok, now the one or the other may be shocked. Yes – I have a tattoo. It is really, really old. I traveled many years ago (I was student) for one year through the US. Something I will never (ever) forget in my life. It was an awesome and indescribable experience. To be sincere – I never wanted a tattoo. Really. But what can I say. I was in a Hostel with some girls and they persuaded me. So I went to this tiny Tattoo Studio in this beautiful city San Diego. It seemed to be destiny. I walked into this place and I really didn't have a clue what tattoo I wanted and where. The other girls were much better prepared. They had their own designs. I looked through some of the paintings and I found it. There it was – made for me (seemed to). It is nothing special or maybe nothing extraordinary but it was (and still is) absolutely me. Nothing could explain my state of mind better than this – a heart with flames. Yes my heart was in flames. When you travel you meet people and places that you have to leave. You always be kind of sad. And my heart always felt a little strange, like it would burn or something.
And it still is like that.  I'm very emotional and when I do things I always do it with my whole heart. So no – I never regret doing this. It reminds me that great time I had there but it also reminds me that my heart even today is on flame (sometimes). 😉
Travel Tattoos
I asked some girls to show us their tattoos and to tell us their stories…
Daniela Huber from Vienista
My tattoos were ment to showcase something the most precious thing in my life: my family. My family is my rock, my guard and my peace place. We all love to travel separate or together. When I was 19 I decided I was finally ready to get my first tattoo. And since then they keep coming.
The one in the neck stands for enjoying the life and not thinking too much about what will happen in 50 years and the other one means I´m home where I decide home is.
Ashima Sharma from "the logical traveler" 
The Anchor tattoo signifies my love for two places – Thailand and Hyderabad, India. Done by a Tattoo artist in Hyderabad, India.
On my last trip to Thailand I was offered the chance to receive a very special piece of protection which would stay with me forever. A tattoo which can give you power, enhance your attributes and bring fortune, pure goodness and fairness your way? I couldn't decline! I visited Ajarn Roong, a kind-hearted and revered monk who took his time to speak with me and learn what I was seeking. I left with a Sak Yant Tattoo to attract and radiate love, kindness, fairness and beauty. It's my favourite memory of Thailand so far and a gift I'll carry with me onwards on my solo journey.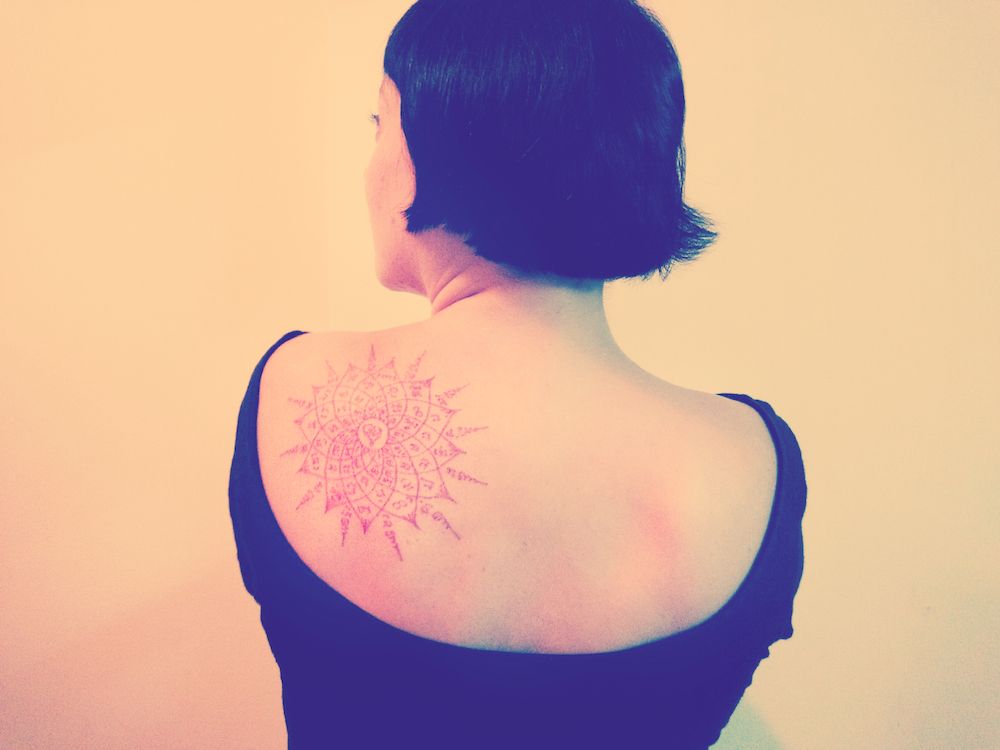 Kristine from ART LAB KMA
This means "Kapalaran" which means "Fate" or "Destiny" in Tagalog, and the script is an ancient Filipino script called "Alibata".  I chose it for my left side because I was born with a condition called Sprengel's, and it affected my left shoulder/arm.
.
Jaimee Nicole from Travel Pray Love
My first travel tattoo is a little heart and an airplane. I designed it myself and my sister actually tattoo'd me with a Stick and Poke Tattoo kit. It turned out really well and ended up being my blog icon/logo.
My other travel tattoo is a dandelion with the word "Family" along my shoulder by the stem of the flower, and the word "Adventure" surrounded by some of those whispy little fluffs that you blow off of the flower on my chest. I like it because that's how I want to be; my family (my boyfriend, our home and our pets) are my stem or roots but I can sometimes go off on a crazy adventure and be free. Best of both worlds!
Amanda from Travellust 
I got the Wanderlust while revisiting my home town. I had been through a lot and visiting my hometown made me think about where all I'd been and how far I've come. Also I've always wanted a pirate ship tattoo 🙂
A beautifully designed Nothern landscape with pine trees and the moon. The story behind it is very simple: I'm of Siberian origins and my dream destination has always been Iceland, ever since I was a child. I moved to Finland at the age of 20 and have fallen in love with its surroundings immediately. I want to remember these beautiful memories by looking at my tattoo every day.
Hannah from Drifter Hannah
I got it 6 years ago after travelling around South America for 6 months. It was my first big, solo trip and I wanted to get something to remind me not of the places, but of the person I was at the end of it all, because I liked that person. It's a reminder to always see new places and explore new ideas. I also made a promise to myself that if, at some point down the line, I grew to dislike it or felt embarrassed by it, then I would know that I'd turned into the kind of person I never wanted to be.